Gazebos - spa shelters

Bali spa shelter
Bali spa shelter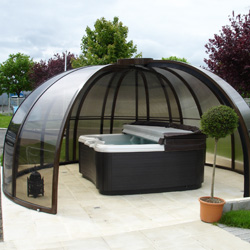 Recommended retail price 2023 starting from :
Our Price starting from :
Ref. Abatik 008889
Ref. Provider ABRI-SPA-ATLAS
BALI spa shelter
Aluminium structure,
Multi-walled polycarbonate wall panelling (full, clear polycarbonate available on option)
Two dimensions : 4m in diameter (round) or 4,4m x 6,5m (oval).
Two standard colours : brown or grey.
Possibility to choose your tint or request.
Conforms to norm NF P 90-309
In stock
The Bali spa shelter covers and protects your spa, creating an intimate relaxation zone where you can enjoy your spa all year round.

Designed and manufactured in France from choice materials that guarantee a quality structure with a long lifespan. The shelter's structure is made from 6060 T5 aluminium which is particularly adapted to the universe of furnishing. Its Polycarbonate wall panelling is complete with an anti-UV treatment inside and out.

The Bali is composed of 2 sections : The mobile section is complete with a stopping system that slides on the static section, without using a floor rail. The mobile section is equipped with 4 wheels mounted on stainless steel bearings, using a rubber track, for perfect guiding.

One person can open and close the shelter. The mobile section is equipped with a key lock.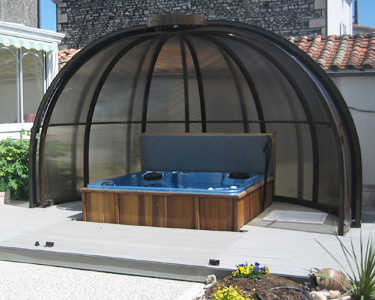 Two available dimensions : 4m in diameter (round) or 4,4m x 6,5m (oval).
Two standard colours: Brown or Grey
You can choose another colour on request.

Advantages for a spa shelter
A shelter secures your spa, protecting it from pollution, contributes to maintaining heat, reduces the use of chemical treatment products and equally gives protection from weather conditions. The shelter also creates a private area, protected from the view of others.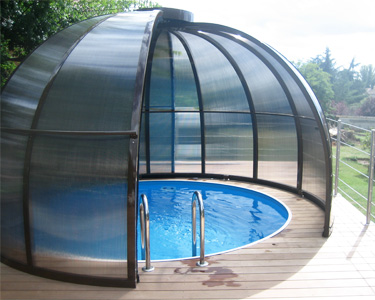 The strong points of Bali spa shelter

• Its height and volume are perfect for relaxation.

• Modern design featuring lacquered aluminium (tinted grey or brown).

• Polyamide brushes ensure sealing against pollution and are installed on a stainless steel track situated on ground level and between the modules.

• Key locking system.

• Opening and closing possible by 1 person only.

• This model is also adapted for use over a small pool or garden furniture.

Technical characteristics
• Light structure made from 6060 T5 aluminium.
• Multi-walled 8 mm polycarbonate. On option : Smoked glass panelling on one or two sections.
• Anti UV treatment inside and out.
• Panoramic view towards the outside by the 180° opening.
• Dimensions ensuring a fluid inner circulation (4m in diameter or oval 4,4m x 6,5m).
• A4 maritime quality stainless steel hardware or A2 (rivet nuts) or aluminium. All these accessories have an anti-corrosive treatment.

Dimensions and colours
• Two available dimensions : 4m in diameter (round) or 4,4m x 6,5m (oval).
• Two standard available colours : Grey or brown

Options
• You can choose another colour of structure on request.
• « Ready to install » (precut wall panels already fitted).
• Installed by a professional
• Full polycarbonate smoked panels on one or two modules.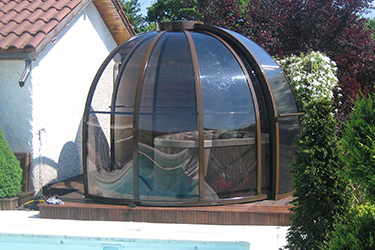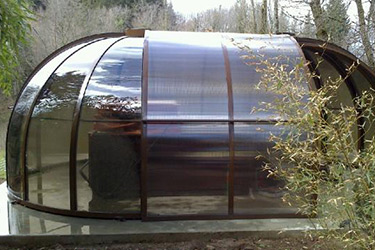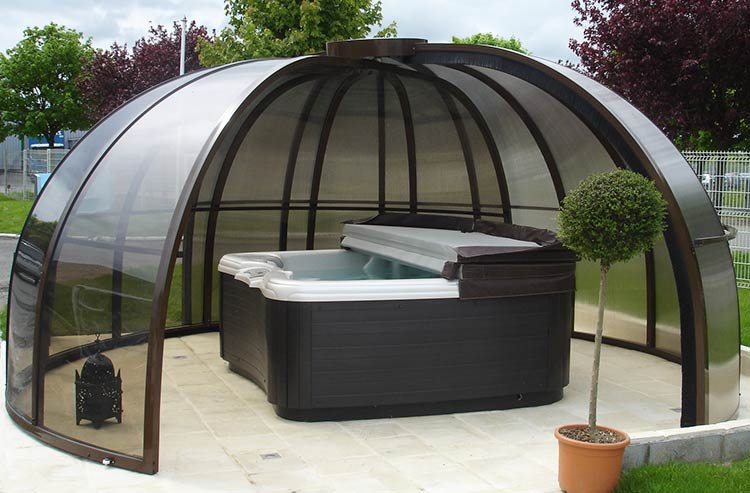 Maintenance
You can remove dust and dirt from the inside and outside panels and structure of the shelter using a soft cloth or sponge with soaped water.
Rinse using a sponge or cotton cloth with clear water once you have finished cleaning.
Do not clean in direct sunlight.
Do not use :
• Detergents or cleaning agents other than gentle soap and water.
• Scratch pads, abrasive sponges, etc.
• High powered jets (over 0,2 bars) or any other jet.
Recommendations
- The ground surface should be adapted to fixation and sliding elements of the shelter (Tiles or paving on a concrete floor for example).
- Standard delivery : self-assembly kit delivered on pallet, pre-assembled structure with wall panels to cut on site.
The Bali spa shelter following purchase from swimming pool online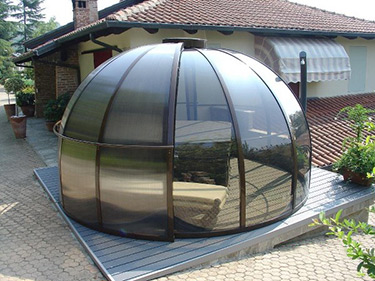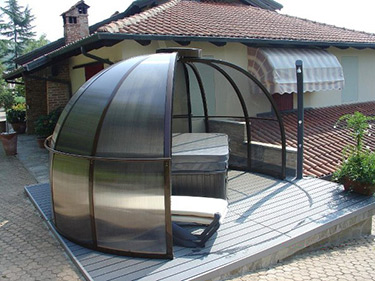 Warranty
2 years
Photos non-contractual
Price incl. VAT
Ask for a free quote bali spa shelter
Other product : Bali spa shelter
At best price 8990 eur Including VAT.
Please fill in this form carefully. Our commercial service will handle your request promptly.
---
UK freephone hotline
Monday Friday 9.00 19.00, Saturday 10.00 18.00

---