Pool equipment

Counter current units
Discover our offers on counter current units, out board or built-in models, complete with pump, control unit and sealed parts. Promotional prices on counter current units with swimming pool online!
How does it work?
Using a counter current unit enables you to enjoy a swimming workout in your residential pool.

A counter current unit is composed of an additional pump that is installed on an independent to the filtration circuit and generates a powerful water current.

Two versions exist, outboard or built in.

Built-in : The suction and discharge nozzles are sealed into your pool wall during construction. The pump and its plumbing is installed on the other side of the pool wall.

Outboard : The pump and its nozzles are integrated into the semi-immerged casing, the unit is placed on the pool border.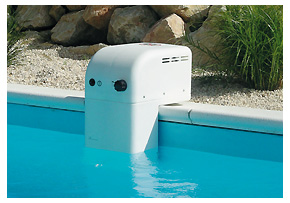 Outboard counter current unit
Ask for a free quote counter current units
Other product : Counter current units
Starting from 849 eur Including VAT.
Please fill in this form carefully. Our commercial service will handle your request promptly.
---
UK freephone hotline
Monday Friday 9.00 19.00, Saturday 10.00 18.00

---
Spare parts order
You are looking for a spare part for «Counter current units» ?
Please click the button below. Our commercial service will handle your request promptly.