Our pool solutions

Wooden pools - in or above ground
Wooden pools - in or above ground
Discover our wide range of wooden pools esthetic and practical, offering swimming comfort and perfect integration to your pool environment.
Many available shapes, round, oval, hexagonal...
Above or inground...
Wooden pools integrate perfectly to landscaped gardens. The available choice of pool shapes and sizes easily adapt to your environment. Our models can be fitted in-ground, semi in-ground or above ground installations.
Installation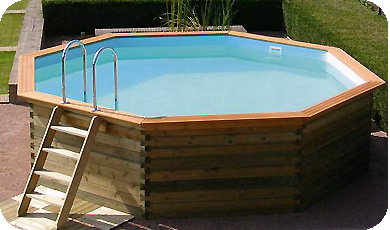 A wooden pool is generally assembled in 2 to 3 days. The kits are designed for self-assembly, without the intervention of a professional. The elements that constitute your wooden pool are factory cut with dovetail assembly. The structure is comùposed of slats, a liner (for sealing), a skimmer and filtration system using sand or a cartridge.

To install your wooden pool, just find the adapted flat area in your garden. Think about sun and wind exposure, avoid placing your pool under a tree and anticipate a security system, which is obliged if your pool is in-ground or semi in-ground.
Ask for a free quote wooden pools - in or above ground
Other product : Wooden pools - in or above ground
Starting from 807 eur Including VAT.
Please fill in this form carefully. Our commercial service will handle your request promptly.
---
UK freephone hotline
Monday Friday 9.00 19.00, Saturday 10.00 18.00

---