Saunas and accessories

Infrared saunas
Discover our range of infrared saunas using dry heat without stove or steam.
Low energy consumption and lower temperature range than a classic sauna.
Advantages of an infrared sauna
An infrared sauna is an alternative to a steam sauna, using a lower temperature range between 45 and 65°. Each sauna cabin is constructed from Canadien Hemlock, natural material renowned for its insulation properties, confining heat inside the sauna.
Easy installation, quick assembly, 30 min set up time. Electrical connection using a standard socket.
Lighting is provided by inside and outside low voltage spots.
Just like a traditional sauna, the objective of an infrared cabin is to provoke a beneficial perspiration.
Heat is produced using radiant, infrared tubes the react directly with the body's cells, raising the body temperature.
As when exercising, perspiration follows a rise in body temperature.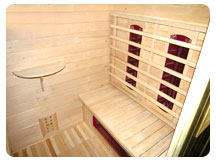 The temperature of the sauna cabin will not exceed 65°C. The atmosphere feels cooler and less humid in comparison to a traditional steam sauna. Radiant, infrared heat provokes efficient perspiration, detox for the body leaving you in a totally relaxed state.
A 30 min session represents an energy consumption of 800 Kcal.
Some of the benefits of infrared cabins :
- Detox
- Energy saving
- Activates blood circulation
- Stimulates the immune system
- Improves skin quality
- Muscle relaxation
- Disperses tension in the neck, shoulders...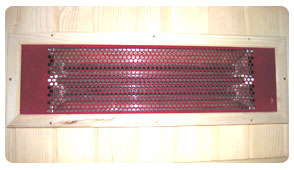 Infrared lamp
This technique was originally used in a therapeutic optic, which is why an infrared sauna is particularly adapted to a user who suffers from respiratory or circulation problems, older persons or the whole family who can enjoy the many benefits of this technique.
Following each sauna session, a shower is obliged to remove the toxins evacuated by perspiration.
In a traditional or steam sauna, the body perspires in reaction to a high temperature (between 80°c and 100°c) and high humidity rate caused by evaporating water that is poured onto hot stones.
Perspiration commences and allows the body to lower in temperature and detox.
In a steam sauna, as the body is reacting the session is less efficient than when using an infrared lamp. The use of a steam sauna can be contra-indicated for many reasons.
Ask for a free quote infrared saunas
Other product : Infrared saunas
Starting from 1905 eur Including VAT.
Please fill in this form carefully. Our commercial service will handle your request promptly.
---
UK freephone hotline
Monday Friday 9.00 19.00, Saturday 10.00 18.00

---
Spare parts order
You are looking for a spare part for «Infrared saunas» ?
Please click the button below. Our commercial service will handle your request promptly.