Pool covers - pool covering solutions

Pool enclosures - shelter your pool
Pool enclosures - shelter your pool
Discover our range of self-assembly enclosures: telescopic or modulable, high, average or low in height, with sliding or removable doors, with or without rails, for all pool shapes. Many available promotional prices! Pool shelter solutions conform with the norm NF P 90-309.
Our
enclosures
conform to the norm NF P 90-309, replying to the current legislation concerning pool security. This type of shelter, complements and completes your pool comfort and security.
The only system that will give you :
- Optimal security,
- An efficient protection for your pool water from dirt and debris
- Reduces evaporation, and limits your consumption of water and water treatment products
- Provides natural heat for your pool water,
- Lengthen your swimming season
Important elements
- The structure : aluminum or wood, the design or section of structure lengths, the rigidity of the structure as a whole...
- The choice of cover : Thickness and choice of material, transparent or opaque, thermic insulation...
- The technology : Low, average or high in height, portable or permanent, telescopic, folding, retractable, with or without rails, aluminium or wood...
Gain in temperature of your pool water
The gain of temperature of your pool water depends on two elements :
- The height of the enclosure : The higher the structure, the greater the volume of air that will need to be heated.
- The insulation of the enclosure walls : Made from multi-wall polycarbonate, that operates in a similar way to double glazing, the shelter limits the exchange of heat between inside and outside air. Singled layered pool walls let heat accumulated during the day escape.
Esthetics
There is a multitude of choice in type, shape, height and colour. You will naturally find the enclosure that will fit perfectly into your pool surroundings.
Utilisation
The height of the shelter depends on your use of your pool.
If you only swim in summer, you could use a removable low shelter. However, if you swim all year round, it would be preferable to choose a high enclosure.
A high structure lets you use your pool like an indoor pool all year round. In any case, you must also take into consideration a heat pump (
Pool Heat pumps
) and dehumidifier (
Dehumidifiers pool
).
Mobility
The mobility of your enclosure and its opening and closing are very important factors.
If you wish to fully retract your shelter during the summer, you should choose a removable or telescopic version.
You must consider the weight of the enclosure on the supporting surface and its occupying space around your pool.
Different versions
Low enclosures
The low enclosure is visually discreet and easily fits into your surroundings.
A reduced interior volume of air allows you to heat your pool naturally.
This version is much lighter in weight than higher enclosures and is easy to manipulate.
A low enclosure can be : retractable and removable, semi-sliding or telescopic (on rails or wheels).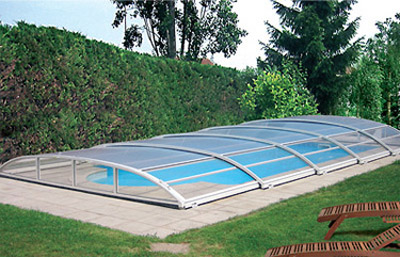 Low enclosures

Medium enclosures
Halfway between high and low, (from 1,20 to 1,80m in height), allows you to swim in your pool from mid-season on, undercover.
When standing on the pool borders, you do not have head height and heat gain is less than with a low enclosure.
Medium height enclosures are, in general, telescopic.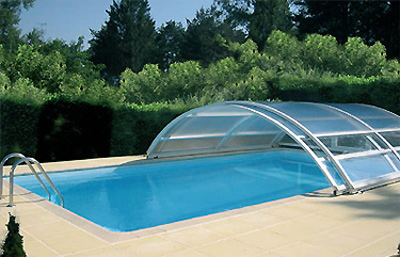 Medium telescopic enclosure
High enclosure
A high enclosure allows you to use your pool as if it was a classic indoor pool. This creates a zone of relaxation, that adds to your outdoor living area.
You can open all or part of the enclosure in season. The majority are telescopic - some are static installations.
You must check local planning permission laws before installing your pool.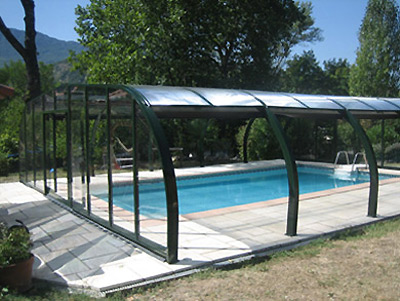 High enclosures
Ask for a free quote pool enclosures - shelter your pool
Other product : Pool enclosures - shelter your pool
Starting from 1199 eur Including VAT.
Please fill in this form carefully. Our commercial service will handle your request promptly.
---
UK freephone hotline
Monday Friday 9.00 19.00, Saturday 10.00 18.00

---