SIGNATURE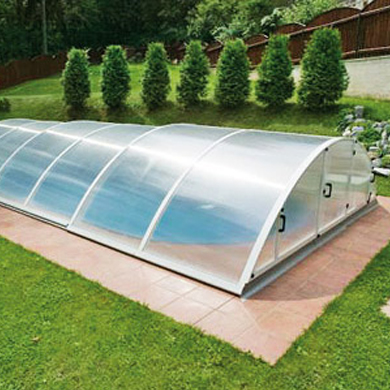 Recommended retail price 2023 starting from :
Our Price starting from :
Ref. Abatik 014891
Ref. Provider 3bzs1485
SIGNATURE pool enclosure S-320x460x103h
Telescopic pool enclosure delivered pre-assembled,
Robust, aluminium structure,
Walls constructed from multi-walled polycarbonate panels,
For all shapes of pools, easy assembly

Complies with standard NF P 90-309
In stock
The Signature pool enclosure is the ideal solution to lengthen your swimming season, conserving your pool water temperature.
This pool shelter is the ideal method of ensuring the safety of your children and animals from accidents and drowning, equally, facilitating the maintenance of your pool, limiting the intrusion of dust and debris.
Signature adapts to all pool shapes. A robust aluminium structure guarantees excellent resistance to adverse weather conditions.
Its module conception allows the structure to be totally closed or partially opened by pushing back the modules.
The modules fit one into the other, sliding on their rails. This system allows you to easily uncover your pool water.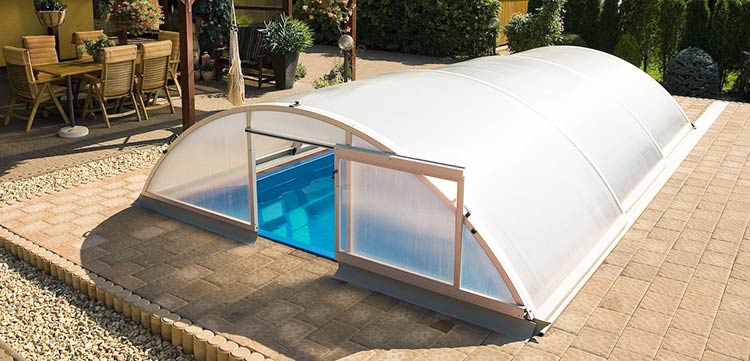 Advantages

Lengthens your swimming season
Signature pool enclosure lengthens your swimming season. Creating a "greenhouse" effect, the enclosure gives a gain of temperature to your pool water. The modules conception coupled with the sealing brush system creates a good insulation, limiting heat loss during the night.

Security
The enclosure's door features a lock with key, guaranteeing the security of children and animals during your absence. Your pool is totally secure and conforms with security norms.

Valorises your pool
Signature makes your pool an outdoor living area where you can enjoy aquatic activities with family or friends. Signature becomes a welcoming, comfortable, supplementary living space that valorises your pool area.

Easy maintainance
This shelter protects your pool from dirt, dust and debris, such as leaves, pollen and pollution. Your pool water is easy to maintain and will require less water treatment chemicals. This enclosure equally limits the water evaporation and pH variations due to rainwater.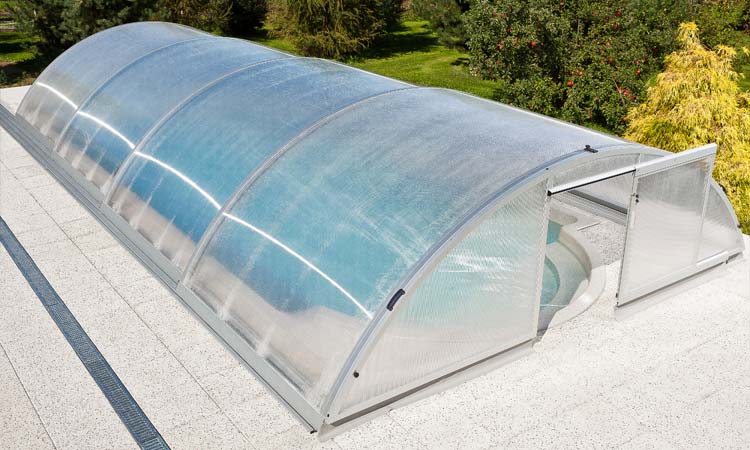 Lengthening your swimming season
Signature lengthens your swimming season for a further 2 to 3 months.

The graph to the right shows a gain in temperature of 3 to 7°C during the summer season.

The black curve corresponds to the temperature of water in the pool without the use of a shelter. The red curve corresponds to the pool water temperature with the use of a shelter.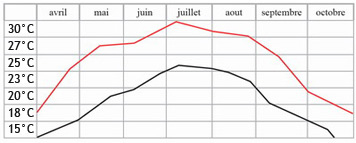 Number of modules depending on the length of your pool
The number of modules depends on the total length of your enclosure.
An enclosure 6,30m in length is composed of 3 modules.
An enclosure 8,40m in length is composed of
4 modules.
Each enclosure is placed on two rails. The width of the rails depends on the number if modules that compose the enclosure.
| | | |
| --- | --- | --- |
| Total inside length of the shelter | Number of modules | Length of each rail |
| 4,60m | 2 | 16cm |
| 6,30m | 3 | 22cm |
| 8,54m | 4 | 29,5cm |
| 10,66m | 5 | 36,5cm |
Different available models
| | | | |
| --- | --- | --- | --- |
| Model | Inside width | Inside length | Maximum height |
| Signature S | 3,20m | 4,60m | 1,03m |
| Signature M | 3,32m | 6,30m | 1,11m |
| Signature L | 3,80m | 8,54m | 1,32m |
| Signature XL | 4,28m | 8,54m | 1,51m |
| Signature XXL | 5,14m | 10,66m | 1,78m |
Openings
This enclosure is equipped with a removable front panel positionned on the highest module.
Using two tightening screws, the front panel retracts easily.
Featuring a sliding door with key lock, positioned on the retractable front panel (ref photos).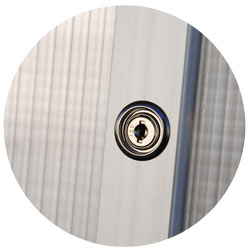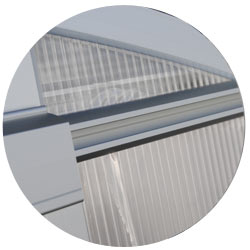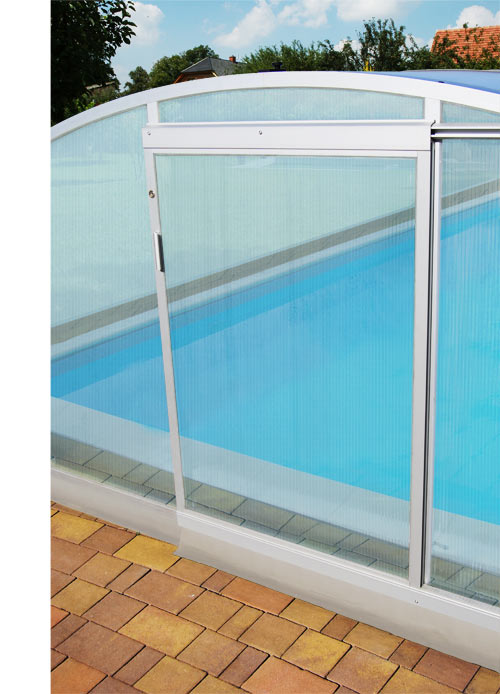 Pool enclosure rails
Signature has a guiding system that uses rails. This system features a protection against dirt and guarantees the smooth passage of each module.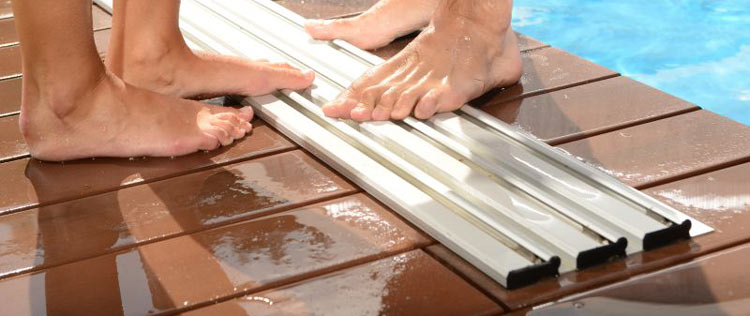 The rails mean you can "fold" your modules on one side of the pool or the other, as you wish.

Each module is independent, so you can open or close your enclosure as you want.
The above illustration presents the Signature pool enclosure with two extension rails (available option).
Technical features
Structure and rails
Aluminium
Structure sections
40 x 60mm
Wall panels
Polycarbonate, 10mm with anti UV treatment
Colour of polycarbonate
Colourless
Wheels
Polyamide with bearings
Sliding door
Equipped with key lock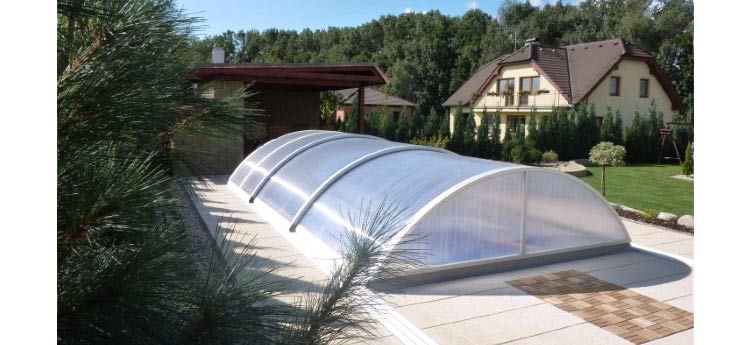 Packaging and transport
The Signature is delivered pre-assembled, 2 persons can reception and unload all elements. All the merchandise must be inspected on delivery in the presence of the transporter.
| | | |
| --- | --- | --- |
| Model | Packaging | Weight |
| Signature S | 370 x 245 x 125cm | 300kg |
| Signature M | 400 x 240 x 140cm | 330kg |
| Signature L | 460 x 240 x 155cm | 370kg |
| Signature XL | 500 x 240 x 180cm | 370kg |
| Signature XXL | 610 x 240 x 200cm | 400kg |

Loading Signature prior to delivery
Warranty
3 years
Photos non-contractual
Price incl. VAT
Ask for a free quote signature
Other product : SIGNATURE
Starting from 4890 eur Including VAT.
Please fill in this form carefully. Our commercial service will handle your request promptly.
---
UK freephone hotline
Monday Friday 9.00 19.00, Saturday 10.00 18.00

---
Spare parts order
You are looking for a spare part for «SIGNATURE» ?
Please click the button below. Our commercial service will handle your request promptly.