Material and equipment for your technical shelter

Water level regulators
Regulation units and packs to maintain your water level: models available for
- Classically designed pools (with skimmer)
- Infinity pools (with catch pool)
Water level regulator : a real asset for your pool
A water level regulator keeps your waterline stable. The volume of water in your pool varies depending on natural factors such as evaporation (which can be amplified by heat or wind) or human intervention (pool entry and exit, movement in the water, diving...). The volume of water is often reduced which can reduce the efficiency of pool equipment.
The water regulator automatically stabilises the level of water in your pool. You also make savings, reducing water consumption.
There are three types of water regulators :
- Mechanical regulators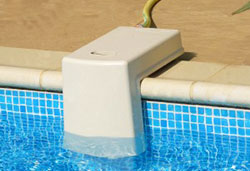 Particularly compatible with inground pools. Removable and portable, easily installed. Positioned on pool coping.
Discreet, this water regulator requires little installation space and no electrical connection.
Operation is mechanical, requiring only a hydraulic connection to a garden watering hose.
See Regul'eau water level regulator here
- Water level regulator for skimmer pools.
If your pool water level is too high it is difficult for your skimmer to collect debris and dirt efficiently. If the water level is too low the filtration pump can be unprimed. This can cause overheating, seriously damaging components and pump operation.
If you choose to install a water regulation unit you are ensuring that your water level will remain stable, perfectly balanced between over and underflow. Your equipment is protected, your waterline maintenance is automated. Using mini floaters or sensors placed in the skimmer your water regulator activates your filtration pump to heighten or lower the water level.
- Automatic water regulation for infinity pools.
We particularly recommend the use of a
water level control box
if you have an
infinity pool
. This type of pool has a greater volume of water than its capacity which creates the "overflow" feature.
The excedent of water is recuperated in a
catch pool
.
To keep your catch pool in good working order with an optimal overflow the
water level control box
stabilises the
water level
in an automated manner. This equipment also protects your
filtration system
from over or underflow. The waterline is permanently supervised using floaters or sensors positioned in the catch pool.
A
water level control box
generally fulfils three roles :
- Forced start/Purge : The
waterline regulation
detects an important volume of water. Firstly, Forced Start of the pump is activated in order to evacuate the residual water in the overflow towards the pool. If this is not sufficient, the control box will activate the catch pool outlet if a purge valve is present.
- Automatic filling: The water level regulator activates automatic filling of the catch pool using a sensor which detects a lack of water.
- Stop pump : When the waterline is too low for your pump to operate correctly this function stops pumps activity. This avoids the risk of your pump running dry.
The
water level regulator
is equally required for for an infinity pool that has an overflowing waterline on the entire parameter of the pool.
Discover our full range
Water level regulators
at the best discount price with Swimming Pool Online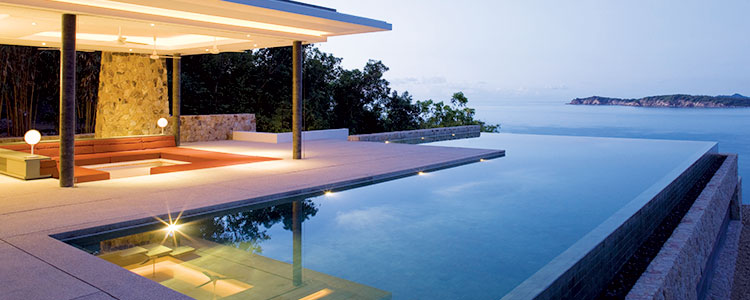 Ask for a free quote water level regulators
Other product : Water level regulators
Starting from 204 eur Including VAT.
Please fill in this form carefully. Our commercial service will handle your request promptly.
---
UK freephone hotline
Monday Friday 9.00 19.00, Saturday 10.00 18.00

---