Material and equipment for your technical shelter

Water level regulators

CCEI Niva 5 catch pool regulator
CCEI Niva 5 catch pool regulator
The
CCEI Niva 5 catch pool regulator
has been specifically designed for use with infinity pools, regulating catch pool levels. This maintains a fluid, constant overflow.
Featuring "Auto fill" and "Overflow" functions to avoid needless use of the pool filtration pump avoiding poor water flow.
Operation
The
Niva 5 regulation box
manages two types of situations :
- Lack of water : Your water regulator activates filling using an electro valve. This stops filter activity, avoiding a dry run. The Niva 5 restarts the filtration activity when the water level is corrected.
- Over flow : The Niva 5 activates the forced start of the pool filtration pump, maintaining operation till the water level decends to the correct level.
Optimal detection
To regulate water levels in an optimal manner, Niva 5 uses 5 sensors positioned in the catch pool of your infinity pool. 5 sensors distinguish with precision 5 different levels that allow activation or deactivation automatic filling or forced start of the filtration pump.
- Beginning and ending automatic fill cycle : Water levels are lowering and only the R sensor remains immersed (reference sensor) : The Niva 5 commences the automatic filling of the catch pool using an electro valve.

The catch pool fills till water levels reach sensor N°3 and stops automatically.

- Forced start and stop : When water level reaches sensor n°1, Niva 5 detects overflow.
Automatic start is activated on the filtration pump and the water level lowers to sensor N° 2. Niva 5 then suspends forced pump action.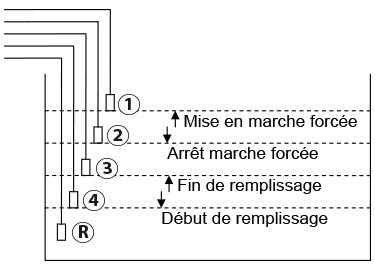 Positioning of detection sensors
The
5 level detection sensors
should be positioned in the catch pool. Sensor n°1 that activates forced start should be positioned under the overflow of the catch pool.
To ensure a sure and precise detection, it is preferable to install the sensors in a duct pipe, allowing them to remain separate and insulated from the pool wall.
Position sensors at the desired water level being careful not to tangle, pull or move cables.
The sensors are supplied with a cable to connect the control box. If the cable is not long enough, you can use a waterproof junction box to extend the length. The control box and junction box should be no further than 50m apart. You should use a 5 section cabled to ensure connection.
Control box
The Niva 5 has an easy to use control box. Its switch and luminous signals positioned on the unit's front panel is user-friendly and easy to follow.

Luminous signals
1
Low level : Stops pump operation, fills the catch pool automatically using an electro-valve.
3
High level : Forced start of filter pump
4
Box switch : Luminous signal when activated
Characteristics
Elecro-valve output
24V 50 Hz (12VA maxi)
Forced start filtration pump
Dry contact NO 200W maxi
Filtration pump stop
Dry contact NF 200W maxi
Water level sensors
5 sensors supplied
Electro valve for filter
Supplied
Photos non-contractual
Price incl. VAT
Ask for a free quote ccei niva 5 catch pool regulator
Other product : CCEI Niva 5 catch pool regulator
At best price 599 eur Including VAT.
Please fill in this form carefully. Our commercial service will handle your request promptly.
---
UK freephone hotline
Monday Friday 9.00 19.00, Saturday 10.00 18.00

---