Material and equipment for your technical shelter

Water level regulators

CCEI Niva 3 water regulator
CCEI Niva 3 water regulator
The
Niva 3 water regulator
is designed to automatically fill the catch pool of infinity pool designs. This unit ensures an optimised overflow action. The Niva 3 cuts pump circulation in the case of a dry run.
Niva 3 optimises automatic water filling, simplifying water level regulation.
The Niva 3 water level regulator is a real asset to an infinity pool
Operation
The Niva 3 control box regulates the water level of your catch pool ensuring an optimised, regular overflow. The water level of a pool can vary for reasons caused by natural evaporation or human presence. This imbalance can harm your pool and its hydraulic equipment.
Niva 3 detects precisely if there is a sufficient volume of water present in the pool. The catch pool is automatically filled if the water level is too low by activating an
electrovalve
.
Low water level / automatic filling
The Niva 3 is equipped with 3 sensors positioned in the catch pool of your infinity pool.
These sensors detect a lack of water.
Key
If the referent sensor is the only sensor to be immersed in the catch pool the water level is insufficient. The Niva 3 suspends the activity of the filtration pump to avoid damage caused by a dry run.
This function activates the electrovalve. which automatically fills the pool till the required water level has been reached.
When sensor n°1 is immersed, Niva 3 reactivates the filtration pump.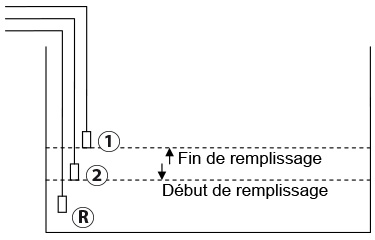 Control box
Niva 3 features a control/display panel, allowing you to follow operation. Using a luminous display the front panel is totally user-friendly.

1
Low level : Niva 3 stops the operation of your filtration pump
2
Power supply signal (luminous signal)
3
Overflow indicator : Attention, this indicator is operational only on the model Niva 5
4
On/off switch of control box
Positioning the sensors
You should position the three sensors inside your catch pool.
To ensure optimal detection, it is preferable to install your sensors in a duct or plastic pipe. This ensures that they are separated and not in contact with the pool wall.
Be sure that the sensor cables are not subjected to physical tension. The use of duct pipes avoids tangled cables.
If the supplied cable length is not sufficient to connect the sensors and control unit, you can use a watertight junction box to lengthen the cable.
Characteristics s
Power supply
230 V / 50 Hz
Automatic filling electrovalve
24 V 50 Hz (12 VA maxi)
Automatic pump stop
Dry contact NF 200W maxi
Level detection sensors
3 (Supplied)
Automatic fill electrovalve
Supplied
Photos non-contractual
Price incl. VAT
Ask for a free quote ccei niva 3 water regulator
Other product : CCEI Niva 3 water regulator
At best price 565 eur Including VAT.
Please fill in this form carefully. Our commercial service will handle your request promptly.
---
UK freephone hotline
Monday Friday 9.00 19.00, Saturday 10.00 18.00

---