Material and equipment for your technical shelter

Water level regulators

Astral Modul'Eau water level regulator
Astral Modul'Eau water level regulator
The
Astral Modul'Eau water level regulator
supervises and automatically adjusts the water level of your pool. Adapted to all skimmer and infinity pools, this unit ensures a constant water level, automatically. Using a detection sensor and automatic filling function,
Modul'eau
regulates your waterline with precision.
Operation
Modul'eau supervises and regulates every hour your pool's water level. If the sensor is not immersed in water it will detect a lack of water in the pool and fill, as required by opening an electro valve.
The detection sensor is positioned to correspond with the desired water level. You can place the sensor:
- In your skimmer (preferably in the skimmer's mouth to avoid variations due to pump operation.
- In the catch pool (in the case of an infinity pool)
- Against your pool wall
- Against your pool shutter duct
Easy installation: to be stuck in place with adhesive joint
Control box
Installed in your technical shelter the control box of Modul'Eau features an user-friendly front panel. Luminous signals indicate working operations :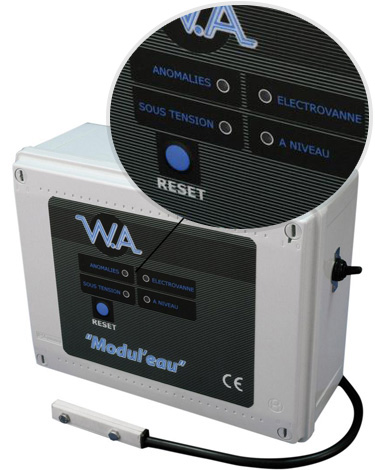 POWER
When the power supply reaches the unit, Modul'Eau checks the operation of the electro-valve which remains open for 10 seconds.

ELECTRO VALVE
The electro-valve is open

LEVEL
The sensor is immersed with pool water

FAULT
If the operation of your electro valve lasts longer than the pre-programmed security period, Modul'Eau detects an automatic fill default. The "Auto fill stop" function is activated and suspends electro-valve activity.

RESET
This allows you to re-boot your regulator after a fault detection.

To deactivate the "Auto fill stop" and use the electro-valve for a limited period, just press RESET. The power supply indicator flashes slowly during the automatic filling process. This function is useful if you wish to fully fill your pool.
Characteristicss
Power supply
240 V / 50 Hz
Outlet for electrovalve
Yes (24 V / 230 mA maxi)
Electrovalve
Not supplied with kit
Sensor dimensions (lxwd)
12 x 70 x 10 mm
Length of sensor cables
2 m
Command box dimensions (lxhxp)
205 x 175 x 85 mm
Warranty
2 years
Photos non-contractual
Price incl. VAT