Automatic water treatment and products

Ozone treatment, pool water disinfection
Ozone treatment, pool water disinfection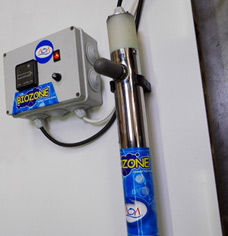 Recommended retail price 2023 starting from :
Our Price starting from :
Ref. Abatik 024253
Ref. Provider 090AB+090OA
Ozonateur BIOZONE 2 for pools up to 80m3 + Venturi Biozone installation kit , diameter 50
Disinfection of your pool water by ozone,
Eliminates bacteria and germs, powerful oxidant and biocide,
Flocculant and deodorising effect.
In stock
This product is no more available.
Ozone is a disinfection method active towards bacteria, biocides and germs. Ideal for pool water treatment.
This method possesses powerful oxidation properties that are often used for the disinfection of spa water.
Ozone is an ecological method of disinfection, leaving no residue in your pool water. Ozone avoids the formation of chlorine by-products such as chloramines and trihalomethanes, harmful to swimmers health and comfort.
Using ozone means water which is discharged during backwash has a very low content of chemical products and is environmentally friendly.
This disinfection technique is also often used to sterilise drinking water. The water quality in a pool treated with ozone can, therefore, be compared to domestic water.
Ozone treatment requires the use of a residual product (a very low dose of liquid chlorine at 0.5mg/l which is identical to the quantity of chlorine present in the public water network) using the POOLNET dosing pump.
Actions of Ozone :
- Disinfection
- Oxidation
- Flocculation
- Deodorisation
Operation
Ozone production is effectuated by the action of a specific lamp in conjunction
with the ozone generator. The injection of ozone into the water is
effectuated by the Venturi method.
The ozone lamp coupled with the Venturi system guarantees a dependable
system, simple and economical to use. It is sufficient to replace the system's
lamp approximately every 4 years.
Two models of ozonators are available, depending on the volume of the pool.
| | | |
| --- | --- | --- |
| Model | BIOZONE 2 1gr/h | BIOZONE 3 2gr/h |
| Maximum volume of pool (m3) | 80m³ | 150m³ |
| Capacity | 87/90W | 174/180W |
Each ozonator is composed of the generator's outer casing and an off-set command panel.
A 316L polished stainless steel cylinder benefits from a high-quality finish. Its cuts, connections
and soldering points are not visible.
Wall mounting and removal for maintenance is facilitated by the use of a clip system.
A luminous signal is placed at the extremity of the cylinder so you can check correct operation of the unit, at a glance.
The command panel features an on/off button with luminous indicators.
Residual product option
To optimise disinfection by ozone, a residual product is recommended, using the POOLNET dosing pump.
POOLNET Pack
The POOLNET pack consists of a semi-automatic peristaltic dosing pump managed by a time clock that allows daily liquid injection of residual product (active oxygen).
The POOL-NET peristaltic pump can effectuate injection of all liquid products to your pool water : active oxygen remenant liquid, liquid chlorine, pH correction liquid, anti-algae, flocculant etc.
Easy and robust, no particular maintenance is required.
The timeclock can allow liquid injection start/stop in 15 min cycles.

Simple, efficient design, without electronics, resistant to all effectuated tests, this treatment system is perfect for those who require user comfort and great dependability.
Characteristics
For pools up to 150m³.
Peristaltic pump 1,5l/h at 1 bar.
When installing, anticipate a Ø50mm or Ø63mm paddle clamp for injector fixation.
Supplied accessories :

1) Product suction and discharge tubes
2) Wall mount kit with screws and plugs.
3) Injection valve.
4) Product suction filter.

Dimensions (in cm) :
Height : 18
Width : 10
Depth : 9,5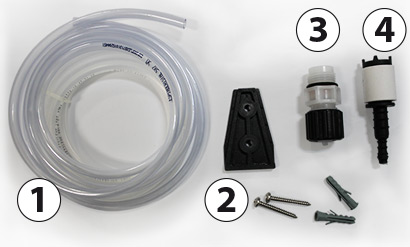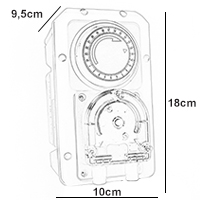 Ozonator installation schema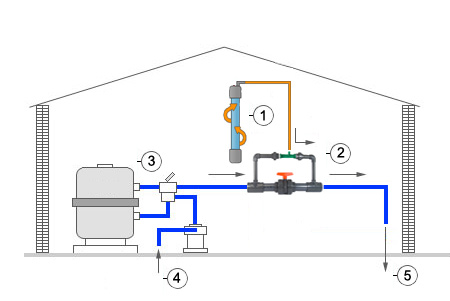 1. Ozonator
2. Injection
3. Filtration
4. Suction
5. Discharge
Ozone injection kit using Venturi effect supplied with BIOZONE ozone generator.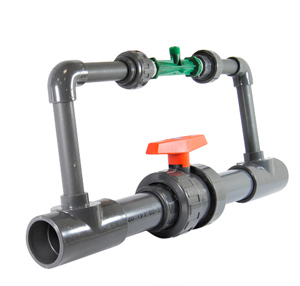 Ozone injection kit using Venturi effect is indispensable. This enables the injection of produced ozone into your pool's hydraulic circuit.
The injection kit is installed after the filter.
Warranty
2 years, excepting wear and tear parts
Photos non-contractual
Price incl. VAT
Ask for a free quote ozone treatment, pool water disinfection
Other product : Ozone treatment, pool water disinfection
Starting from 1295 eur Including VAT.
Please fill in this form carefully. Our commercial service will handle your request promptly.
---
UK freephone hotline
Monday Friday 9.00 19.00, Saturday 10.00 18.00

---
Spare parts order
You are looking for a spare part for «Ozone treatment, pool water disinfection» ?
Please click the button below. Our commercial service will handle your request promptly.