Automatic water treatment and products

Dosing pumps and regulating units

POOL-NET dosing pump
POOL-NET dosing pump
POOL-NET is a peristaltic pump that ensures liquid injection of all types to your pool water: active residual oxygen, liquid chlorine, pH correction anti-algae product, flocculants etc.
User-friendly and robust, this unit requires little maintenance.
By means of a pin timeclock, liquid injection can be started or stopped by cycles of 15mins minimum.

POOL-NET design does not feature electronics and is highly resistant, perfect for those who require user-comfort and reliability.
Technical features
For pools up to 150m³.
Peristaltic pump 1,5l/h at 1 bar.
Anticipate a Ø50mm or Ø63mm paddle clamp to attach injector.
Supplied with accessories :

1) Product suction and discharge tubes.
2) Wall anchoring kit with screws and plugs.
3) Injection valve.
4) Suction filter.

Dimensions (in cm) :
Height : 18
Length : 10
Depth : 9,5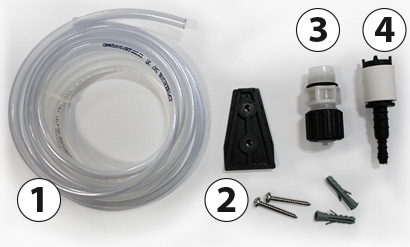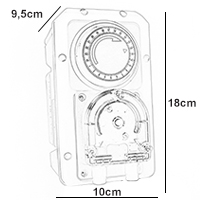 Warranty
2 years excluding wear and tear parts (probes and tubes).
Photos non-contractual
Price incl. VAT
Ask for a free quote pool-net dosing pump
Other product : POOL-NET dosing pump
At best price 299 eur Including VAT.
Please fill in this form carefully. Our commercial service will handle your request promptly.
---
UK freephone hotline
Monday Friday 9.00 19.00, Saturday 10.00 18.00

---
Spare parts order
You are looking for a spare part for «POOL-NET dosing pump» ?
Please click the button below. Our commercial service will handle your request promptly.