Automatic water treatment and products

Dosing pumps and regulating units

Redox Smart Rx dosing pump
Redox Smart Rx dosing pump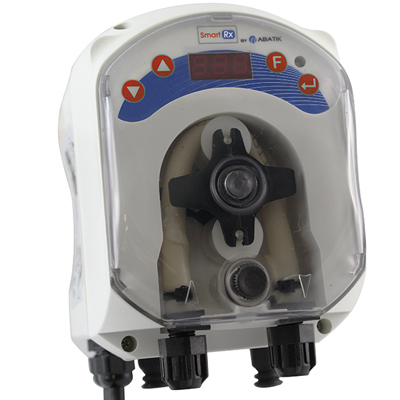 Recommended retail price 2023 :
Our Price :
Ref. Abatik 022097
Ref. Provider ADD21V401000A0B
Peristaltic dosing pump Smart Rx by abatik
Liquid chlorine injection by Redox analysis,
Digital display,
Installation kit, user-friendly,
Proportional and sequential injection,
Silent pump
In stock
Smart Rx is an automatically regulating, analytical dosing pump that proves its simplicity and efficiency.

Its design answers to the needs of pool owners looking for an automatic solution to regulate the level of chlorine present in the pool water.


Smart Rx: How does it work ?


Easy to use, the Smart Rx permanently measures the water's Redox potential using a probe. When the measurement is no longer in the correct range, Smart Rx injects the correcting dose of liquid chlorine into the water circuit.

The Smart Rx evaluates if the pool water is firstly, sufficiently disinfectant and secondly, disinfected. If this is not the case, a second dose of liquid chlorine is injected.


What is the Redox potential, measured by the Smart Rx ?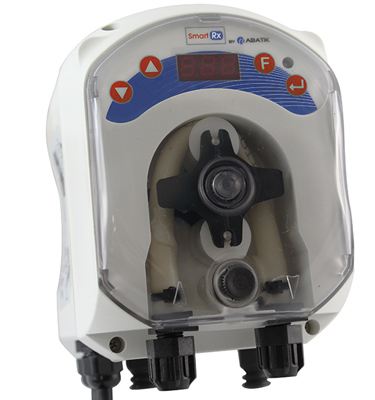 Redox potential, equally called oxidation-reduction simply indicates the quantity of oxidizing agents present in the pool. The greater the quantity of Oxidising substances present, the greater the concentration of disinfection (such as chlorine) is important. However, a low Redox potential indicates that the concentration of disinfectant is insufficient and will permit the development of algae and microorganisms (bacteria, viruses...).
Easy installation and user-friendly
Delivered with a complete connection kit, Smart Rx is easily and quickly installed on most filtration systems. The electrical connection replies to norm C-15-100 (protection with a 30 mA circuit breaker).
Factory settings are used for the majority of pools, you can equally choose your own settings for a specific configuration.
Operation
Using its probe, the Redox potential is measured with precision. When the measurement is no longer in the correct range, Smart Rx adds liquid chlorine into the water circuit using proportional and sequential injection.
Advantages of the Smart Rx pump
The Smart Rx pump is :

- Easy to install : Using its featured paddle clamp that integrates the probe's support, (1) injector(2 and 3), Smart Rx requires only one drilled hole on the water circuit piping to be fitted.
- Precise : Using proportional/sequential injection means you inject the perfect quantity of liquid chlorine needed.
- Personnalised : Factory setting can be reprogrammed to suit a specific configuration.
- Easy maintenance : The probe is calibrated with the supplied buffer solution. The measuring range is programmable with the + and - settings on the control box.
- Silent running : Equipped with robust motorisation, double rollers "occlude" the dosing tube (the principal of a peristaltic pump).
- Economic : Simplified mechanics and consumable parts at a reasonable price make the Redox an economic choice to buy and use.
- Dependable : The pump drive mechanism uses ball bearings giving better fluidity of movement and less wear and tear on consumable parts.
- Compact : Compact dimensions 140,5 x 97 x 129,4mm facilitate installation, even in very small technical houses.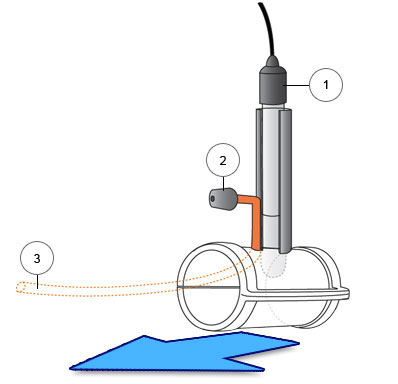 Paddle clamp with integrated probe support and injector.
Control panel
Smart Rx features a digital screen that shows :
- Redox potential measured in mv,
- the measuring range,
- errors.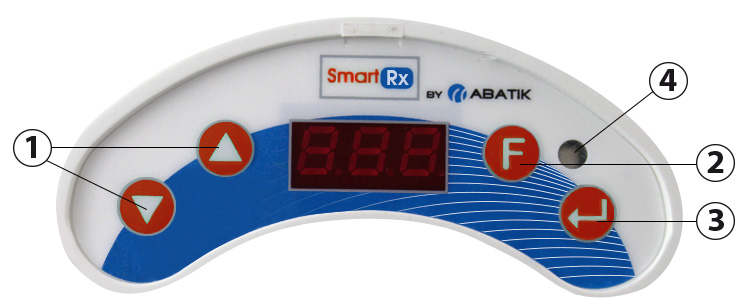 1
. The settings
+
and
-
allow you to modify the measuring range.
2
. The setting
Function
gives you access to other settings of the unit.
3
. The setting
Enter
allows you to navigate through other sub menus.
4
. The LED indicates the operational stage of your unit :
- Stationary green : pump on
- Flashing green : pump in operation
- Stationary red : pump off
- Stationary orange : settings being programmed
- Flashing orange : pump priming
Technical characteristics
Pump
peristaltic, self-priming, frontal pump
Dosing
Proportional and sequential
Diameter of paddle clamp
50mm
Viton injector material
Polypropylene
Probe
Calibrated with the supplied buffer solution - indicator in case of error
Rx measuring range
Can be set from -999 to 999 mv
Probe connection
BNC adapter
Operational temperature
0°C to +45°C
Dimensions

Dimensions in mm.
Connections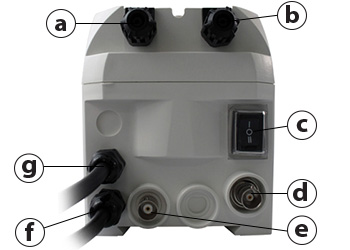 Smart Rx under view
Suction connection (a)
Discharge connection(b)
On/off/self-priming switch (c)
Redox probe connection (d)
Optional probe low liquid tray level (e)
Servo-control connection (f)
Power supply cable (g)
Installation schema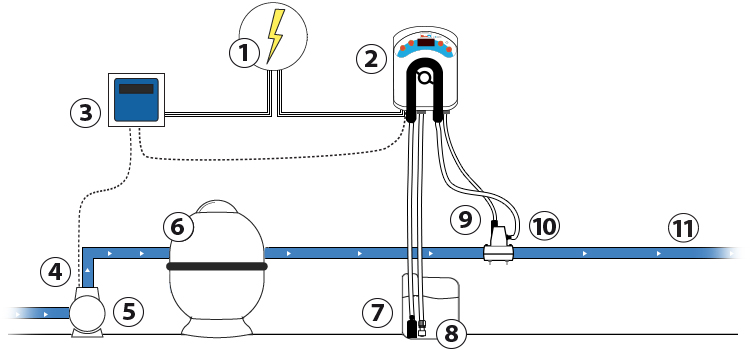 1. Electrical supply
2. Smart Rx dosing pump
3. Elecrical box
4. Servo-control with pool pump
5. Pool pump
6. Pool filter
7. Suction of liquid chlorine
8. Optional probe low liquid tray level
9. Rx probe
10. Injection of liquid chlorine
11. Discharge to pool
To save space, the
Smart Rx dosing pump
can equally be installed directly onto the paddle clamp. Just slide the anchoring system to the fixing notch already present. Perfect for smaller technical rooms with limited access.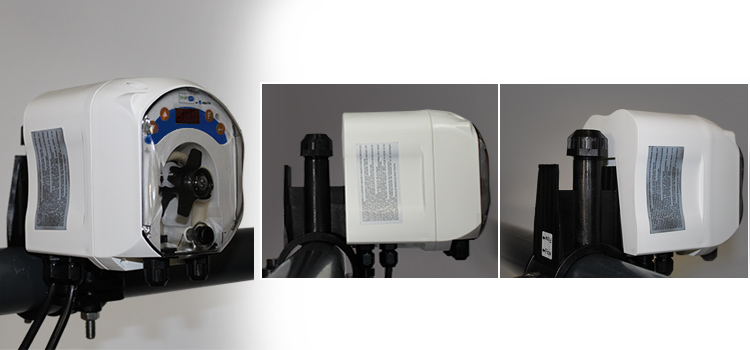 Composition of kit
Smart Rx dosing pump is delivered ready to install.
Including :
- 1 Rx box with digital screen and setting buttons (
1
),
- 1 self-priming peristaltic dosing pump (
2
),
- 1 Rx probe with 5m cable (
3
),
- 1 paddle clamp Ø50mm with injected probe support and injector (
4
),
- 1 obturator for probe support (
5
),
- 1 PVC crystal tube (
6
),
- 1 liquid chloring suction sieve (
7
),
- 1 buffer solution kit Rx 475mv + 1 empty bottle to wash the Rx probe (
8
),
- 1 wall anchor kit with fixation accessories (
9
),
- 3 O-rings and 2 spacers (
10
),
- 1 drill bit Ø24mm to pierce pipe (
11
),
- 1 instruction booklet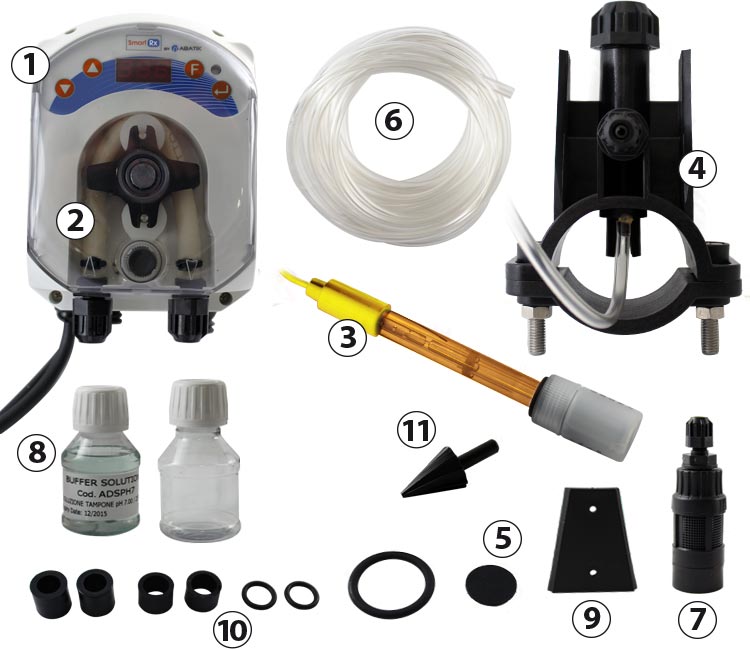 Optional low liquid level in tray probe
The optional low liquid level in tray probe should be attached to the suction sieve and connected to the BNC adaptor, situated under the Rx box.

When the probe detects that there is no more product in the tray, the Smart Rx immediately stops operation.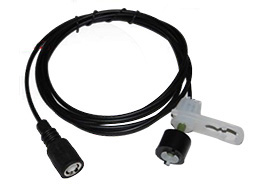 Warranty
2 years (excepting consumable parts)
Photos non-contractual
Price incl. VAT
Ask for a free quote redox smart rx dosing pump
Other product : Redox Smart Rx dosing pump
At best price 350 eur Including VAT.
Please fill in this form carefully. Our commercial service will handle your request promptly.
---
UK freephone hotline
Monday Friday 9.00 19.00, Saturday 10.00 18.00

---