Automatic water treatment and products

Dosing pumps and regulating units

SMART pH peristaltic dosing pump
SMART pH peristaltic dosing pump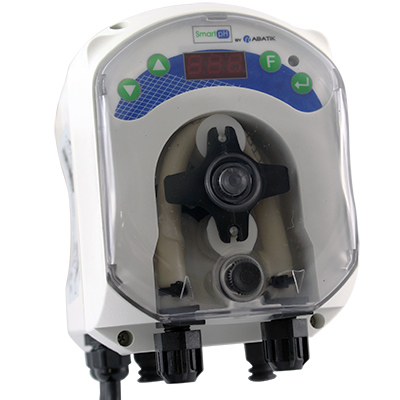 Recommended retail price 2023 starting from :
Our Price starting from :
Ref. Abatik 017344
Ref. Provider ADD11V401000A0B
Smart pH Peristaltic dosing pump by abatik
Compact, regulating dosing pump pH +/- ,
Set point and pH level display,
Easy installation and maintenance,
Digital display panel, personalised settings
In stock
The quality of your pool water is conditioned by two important factors, its pH and disinfectant treatment. For your swimming comfort and water balance, the ideal level of pH is situated between 7 and 7.6.

Continuous variation of pH depends on the water type, climatical conditions, swimming frequency and chemical water treatment used. The combination of these factors can make the pool waters stabilisation a constraint.

The use of an automatic pH regulator limits the controls and manipulations of chemical products, optimising and maintaining the pH level creating quality, comfortable pool water whilst minimising maintenance.

A stabilised pH level optimises the efficiency of disinfectant products whilst reducing the quantity used. Smart pH lets you make important savings.

Smart pH automatically regulates and analyses in a simple and efficient manner. Its peristaltic pump means you can treat pools up to 200m³.

Delivered complete with connection kit, the Smart pH is installed easily and quickly on the majority of filtration systems. Its power supply should conform to the norm C-15-100 (30 mA protection).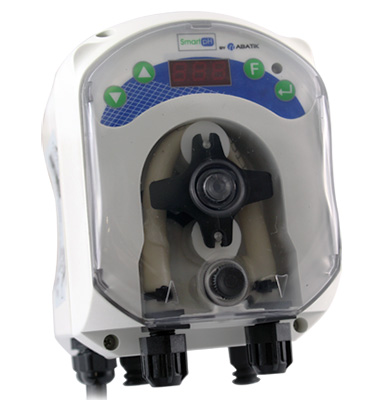 The Smart pH is pre-set with factory settings to operate in the majority of cases or can be set to operate depending on your specific needs and wants.
Operation
The pump's sensor measures the pH once it reaches the defined setting point. The pump then injects the pH corrector by sequenced, proportional doses.
Advantages of the Smart pH pump
The Smart pH dosing pump is :

- Easy to use : Using the support clamp which integrates the pumps sensor support (1) and injector (2, 3), Smart pH requires just one drilled hole on the main water pipe to be installed.
- Precise : Sequenced and proportional injection feed the correct quantity of pH corrector depending on the pool water requirements.
- Personalised : Factory settings can be used or personalised settings can be programmed depending on specific needs.
- Easily maintained : The sensor can be calibrated using buffering solutions (pH 4 and pH 7) and the set point can be adjusted with the + and - buttons on the display panel.
- Quietly run : Boasting robust motorisation, the pumps feeding tube is compressed by two rollers (the operational principal of a peristaltic pump) that allow the injection of the pH corrector.
- Economic : Simplified mechanics and wear and tear parts that are inexpensive to buy make this pump economic to purchase and run.
- Dependable : The drive mechanism of the pump is equipped with bearings ensuring a fluid movement and less wear and tear.
- Compact : The pumps compact dimensions 140,5 x 97 x 129,4mm facilitate its installation even in the smallest technical rooms.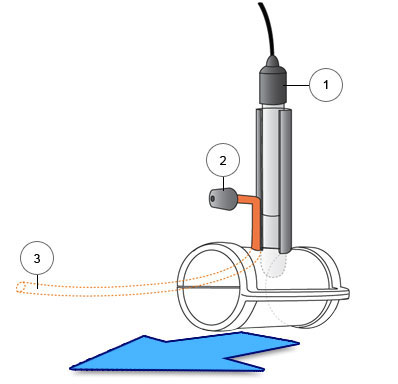 Support clamp integrates the pumps sensor support and injector.
Digital control panel
Smart pH uses a digital control panel that shows :
- The pH measurement,
- The setting point,
- The defaults.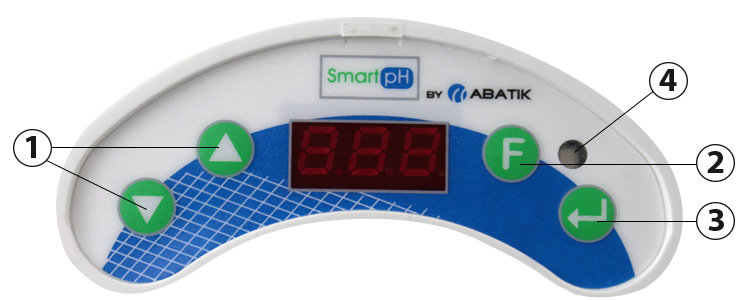 1
. The
+
and
-
buttons allow the modification of the setting point.
2
. The
Function
button gives access to the different program settings of the pump.
3
. The
Enter
button allows selection through the various menus.
4
. The LED indicates the operational status of the pump :
- Static green light : Pump on
- Flashing green light : Pump in operation
- Static red light : Pump off
- Static orange light : Pump setting
- Flashing orange light : pump priming
Technical features
Pump
Peristaltic, self-priming
Dosing
Automatic and proportional
Tube component composition
Santoprene
Diameter of supporting clamp
50mm
Injector composed from
Viton - polypropylene
Precision of measure
0,01pH
Sensor
Calibrates with buffering solution and indicates if there is a default
pH setting point
Can be set between 5 and 9
Sensor connection
BNC entry
Operational temperature scale
0°C to +45°C
Dimensions

Dimensions in mm.
Connections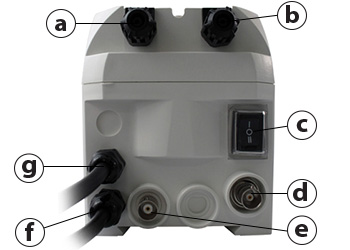 Smart pH -above view
Suction connection(a)
Discharge connection (b)
Start/stop/auto priming button (c)
pH sensor connection (d)
Sensor for tray - on option (e)
Slave cable connection (f)
Power cable (g)
Installation schema
1. Power supply
2. Smart pH dosing pump
3. Distribution box
4. Pool pump slave connection
5. Pool pump
6. Pool filter
7. Suction of pH + or - liquid
8. Sensor for pump tray (on option)
9. pH sensor
10. pH + or - liquid injecton
11. Decharge towards pool
To save space, the
Smart pH dosing pump
can equally be installed on the support clamp. To do so, just slide the fixation support into the notch designed for this purpose. This type of installation is particularly recommended for small or limited access technical shelters.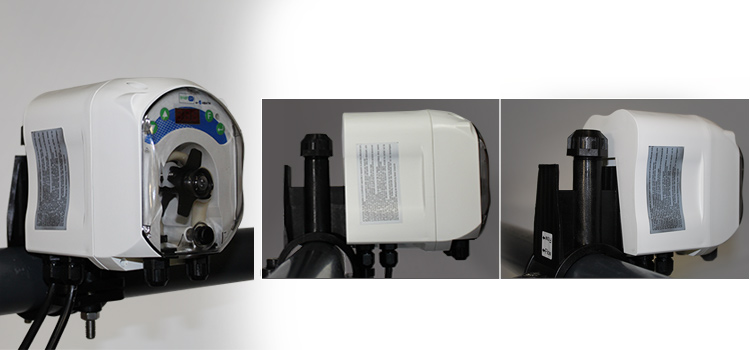 Composition of kit
The Smart pH dosing pump is delivered, ready to use.
The kit includes :
- 1 pH pump outer casing complete with digital screen and setting buttons (
1
),
- 1 perstaltic automaticaly self-priming pump (
2
),
- 1 sensor pH with 5m cable (
3
),
- 1 support clamp Ø50mm with intergrated sensor support and injector (
4
),
- 1 sensor support shutter (
5
),
- 1 crystal PVC tube (
6
),
- 1 suction seive and pH corrector (
7
),
- 1 buffering solution kit pH4 et pH7 + 1 empty recipient to clean the pH sensor (
8
),
- 1 wall anchor with plugs and screws (
9
),
- 3 O-rings and spacers (
10
),
- 1 cone cutter Ø24mm to pierce the main water pipe (
11
),
- 1 users manual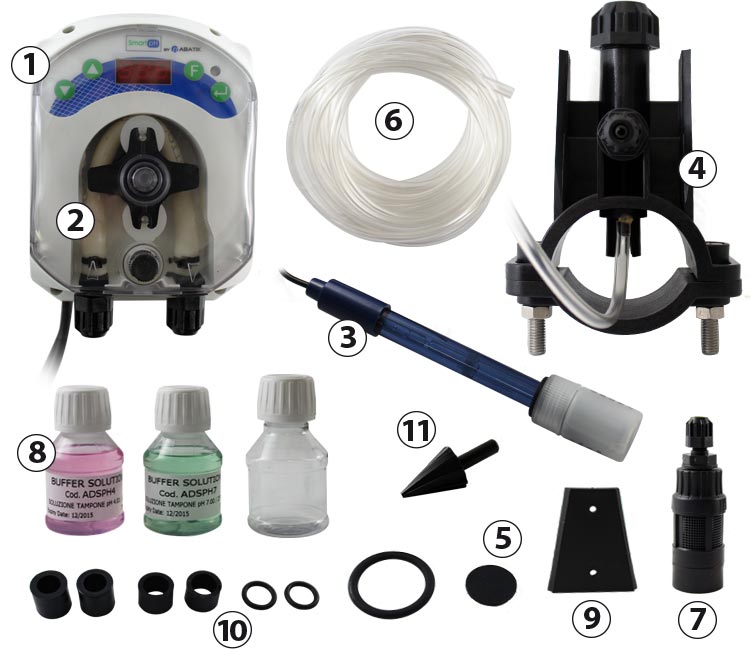 On option - Sensor for pump tray
The sensor that measures the level of the pumps tray should be fixed on the suction sieve and connected to the BNC entry under the pH pump outer casing.

When the sensor detects there is no more liquid in the pumps tray, Smart pH immediately stops operation.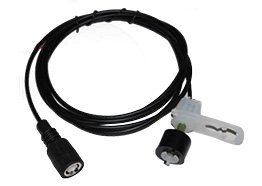 Warranty
2 years (excepting wear and tear parts)
Photos non-contractual
Price incl. VAT
Ask for a free quote smart ph peristaltic dosing pump
Other product : SMART pH peristaltic dosing pump
Starting from 315 eur Including VAT.
Please fill in this form carefully. Our commercial service will handle your request promptly.
---
UK freephone hotline
Monday Friday 9.00 19.00, Saturday 10.00 18.00

---
Spare parts order
You are looking for a spare part for «SMART pH peristaltic dosing pump» ?
Please click the button below. Our commercial service will handle your request promptly.