Pool heating and dehumidification

Electric pool heaters
Discover our ful range of electric heaters for residential or public pools, easy and compact installation, single or three phase power supply, many promotional and discount prices!
Installation
An electrical heater is installed directly or via a by-pass on your filtration (before all water treatment system), in the technical shelter. Electrical heaters are compact in size and easy to maintain.
Advantages :
- You can heat your water with a fast rise in temperature
- Compact in size compared to other heating systems, allowing use in small technical shelters or monobloc outboard filtration units.
- Limited maintenance
- Easy installation at the filtration outlet, either directly or on by-pass
- Single-phase or three-phase depending on capacity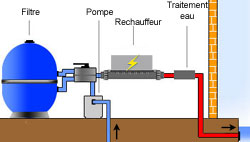 Always use a thermal cover to maintain heat calories in your pool water
Ask for a free quote electric pool heaters
Other product : Electric pool heaters
Starting from 330 eur Including VAT.
Please fill in this form carefully. Our commercial service will handle your request promptly.
---
UK freephone hotline
Monday Friday 9.00 19.00, Saturday 10.00 18.00

---
Spare parts order
You are looking for a spare part for «Electric pool heaters» ?
Please click the button below. Our commercial service will handle your request promptly.