Pool heating and dehumidification

Solar heating
Discover our offers and promotions to lengthen your swimming season by using power that is free of charge !
Complete kits of solar mats with automatic or manual regulation, heating domes for above grouns pools... Many solutions at discount price!
Solar heating solutions in detail
3 available versions : Solar mat alone, solar mat with manual or automatic regulation.
Solar mat alone
Solar heating systems are made from flexible bands that can be cut to fit the surface and shape of their installation area.
Supplied with collectors, you can connect the material to your filtration or independent hydraulic circuit exclusively used to heat your pool water.
Solar heating systems can be installed directly on the ground, on a terrace or roof with inclination.
Manual regulation
The manual regulation is effectuated with a 3-way valve used by the filtration pump to circulate water through the sensors, which are placed in proximity to the technical shelter. Warning : the captors must no be in service during the night or bad weather (rain, snow, cold weather) as it will lower your pool temperature.
Installation solar heating with manual regulation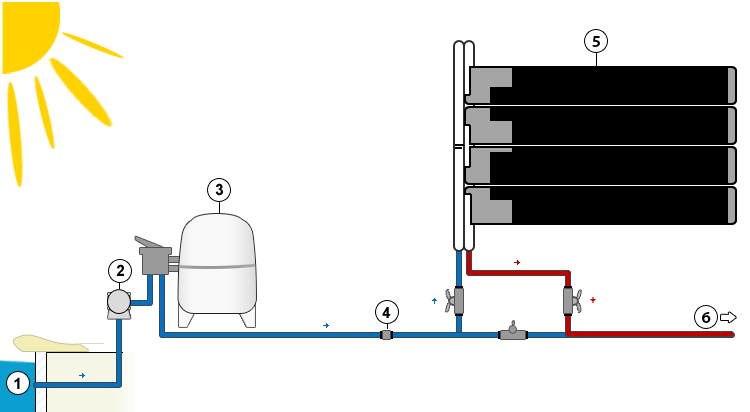 1. Suction
2. Filtration pump
3. Filter
4. Non-return valve
5. 3-way valve
6. Solar cell
7. Discharge to pool
Automatic regulation
Automatic regulation
with auxiliary pump optimises energy efficiency without passing water through the captors when climatical conditions are not ideal.
This configuration is ideal when captor installation is further from the technical shelter.
Installation of solar system with automatic regulation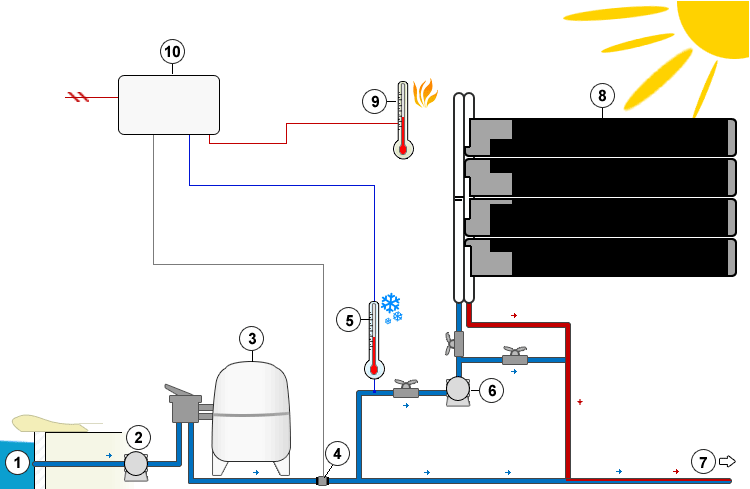 1. Suction
2. Filtration pump
3. Filter
4. Flow control
5. Water temperature probe
6. Auxillary pump
7. Discharge towards pool
8. Solar mat
9. Ambient air temperature probe
10. Electric box for automatic regulation
Ask for a free quote solar heating
Other product : Solar heating
At best price 119 eur Including VAT.
Please fill in this form carefully. Our commercial service will handle your request promptly.
---
UK freephone hotline
Monday Friday 9.00 19.00, Saturday 10.00 18.00

---
Spare parts order
You are looking for a spare part for «Solar heating» ?
Please click the button below. Our commercial service will handle your request promptly.