Pool heating and dehumidification

Solar heating

OPTIMA solar heating system for above ground pools
OPTIMA solar heating system for above ground pools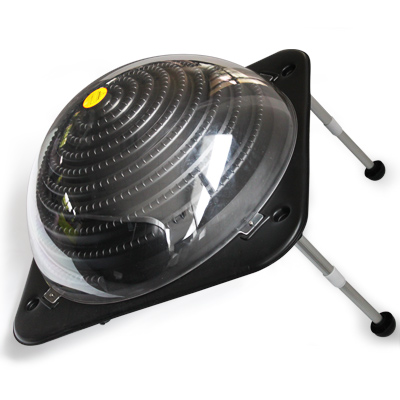 Recommended retail price 2023 starting from :
Our Price starting from :
Ref. Abatik 023484
Ref. Provider 70605
Caliente Optima solar dome
Free energy to heat up to 55 m³ of water,
Easy to install, innovative concept,
Discover solar heating, the economic solution to heat your pool water free of charge using solar energy.
In stock
OPTIMA solar heating for above ground pools in detail

The OPTIMA solar heating system heats pool water for free using the sun's energy, using an environmentally friendly method.

Distinguished by its innovative dome-shaped design that captures sun rays in an optimal manner.

The specificity of this product is its design - the dome cover and inner pipe are thermo-molded to form one, sole unit.

This indicates no pressure loss, no water leakage and better heat transfer than a regular solar panel.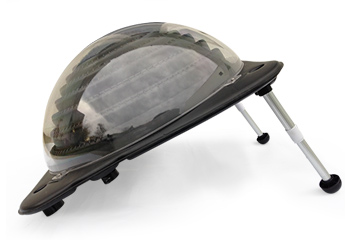 Highly efficient dome

Featuring a transparent polycarbonate lid, the OPTIMA solar heating panel offers a gain of up to 3°C during the Summer period. The optima offer 20% supplementary heat in comparison to a classic dome because of an equal surface exposed to the sun.

The length of inner tubing optimises the time required to heat water inside the unit.

Retractable, telescopic legs offer an inclination up to 30°.
Install the domes in the area which has the most exposition to the sun during the day, southward facing for maximum efficiency.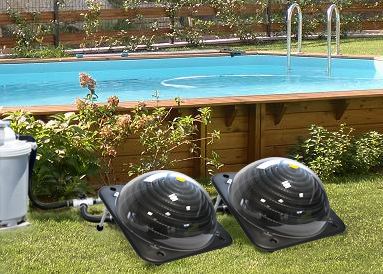 Efficient, easy operation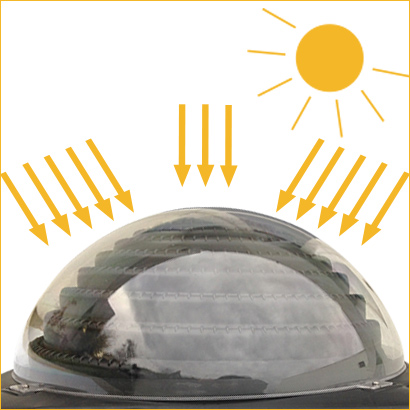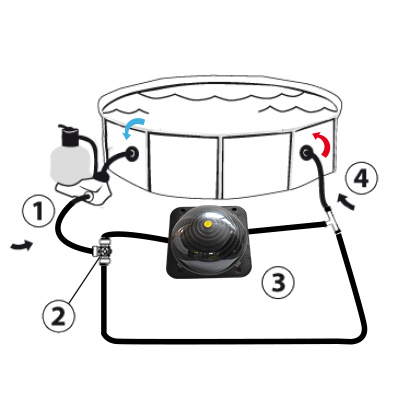 Each dome has been designed to heat up to 10m³ of water. It is possible to install up to 4 domes in a series for further efficiency.

If you install more than 4 domes, a parallel installation should be adopted.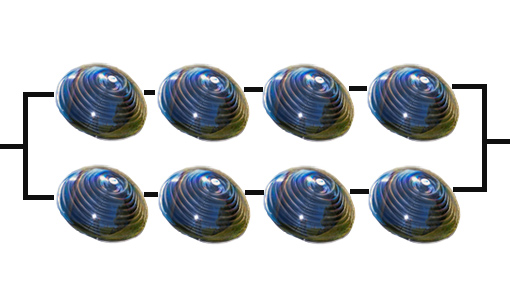 1.
A pipe provides a cold water inlet to the dome, coming from the filtration system (minimum water flow, 2m3/hour).
2.
Water flow can be adjusted using a by-pass (available on option).
3.
Water is heated by a greenhouse effect when passing through the pipe situated in the dome.
4.
The heated water is expelled into the pool water via the discharge nozzles.
Installation of the solar heating system
The solar dome should be placed after the filtration system elements (pump and filter) to avoid the introduction of impurities into the dome circuit.
By-pass option
The by-pass uses 3 valves, complemented with piping elements which direct all or some of your pool water towards the solar dome.
This option manages inlet water flow, ensuring optimal heating of pool water.
The by-pass option also facilitates the winterizing process of your pool.

The by-pass kit includes:

- 3 valves
- 2 pipes, diameter 38mm X 1,5m
- 6 reducing connectors 38/50mm (to be stuck)
- 4 collars
Technical characteristics
Dome dimensions
L 57 x l 57 x H 25cm
Extendable legs 30°
For better orientation to sun exposure
Composition of solar heating kit
- 1 solar dome with removable, transparent lid
- 2 legs (to be assembled)
- 1 long pipe (approx 1,20m) to connect the OPTIMA solar heating system to the pool
- 1 short pipe for dome connection
- 2 connection adaptors 32 / 38 mm
- 1 packet of tightening collars
- 1 38 / 32 mm rubber reducing connections
- 1 user manual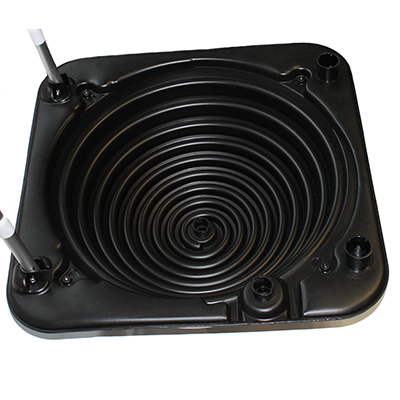 Dimensioning your solar heating system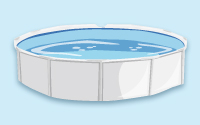 | | | |
| --- | --- | --- |
| Pool dimensions | Volume** | Number of domes |
| Ø350 x h90cm | 8 m³ | 1 |
| Ø450 x h90cm | 13,5m³ | 2 |
| Ø460 x h120cm | 18m³ | 2 |
| Ø640 x h120cm | 35,3m³ | 3 |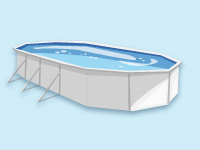 | | | |
| --- | --- | --- |
| Pool dimensions | Volume** | Number of domes |
| 640 x 366 x 120cm | 25m³ | 2 |
| 730 x 366 x 120cm | 28,5m³ | 2 |
| 915 x 457 x 120cm | 45m³ | 3 |
Conditions of use
• A solar heating system uses the natural energy produced by the sun to heat pool water. This system is gradual, with a slight rise in temperature over several days.
• Water temperature rises during the day and falls during night hours due to evaporation and nocturnal temperatures. We strongly recommend the use of a bubble cover to limit evaporation during the night hours to limit evaporation and save calories. Without the use of a bubble cover, it will be difficult to retain and benefit from the calories gained.
• It is essential to purge and store the dome in a frost proof area during the winter season.
• Frost damage to the dome is not covered by the guarantee.
Warranty
2 years
Photos non-contractual
Price incl. VAT
Ask for a free quote optima solar heating system for above ground pools
Other product : OPTIMA solar heating system for above ground pools
Starting from 119 eur Including VAT.
Please fill in this form carefully. Our commercial service will handle your request promptly.
---
UK freephone hotline
Monday Friday 9.00 19.00, Saturday 10.00 18.00

---
Spare parts order
You are looking for a spare part for «OPTIMA solar heating system for above ground pools» ?
Please click the button below. Our commercial service will handle your request promptly.