Automatic water treatment and products

AQUABIO copper and silver ionisation
AQUABIO copper and silver ionisation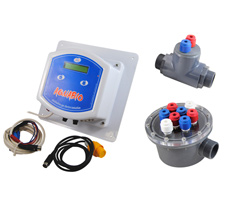 Recommended retail price 2023 starting from :
Our Price starting from :
Ref. Abatik 011259
Ref. Provider 010 AA
Aquabio 1002 for pools up to 60m3
Disinfection using copper and silver electro-ionisation,
Flocculant effect, offers high-quality swimming comfort with very clear water,
Can be used for fish farming and natural pools
In stock
AQUABIO copper and silver ionisation in detail
The AQUABIO copper and silver ionisation water treatment offers natural disinfection of your pool water. This system destroys germs, viruses and bacteria present in your pool water without harming the environment. Only oligo elements which are beneficial to fauna and flora (copper and silver ions) are secreted. This system is recommended for those with sensitive skin or who suffer from chlorine allergies. The pool water does not have a chlorine content and can be used for watering, a fish pond, animal consumption...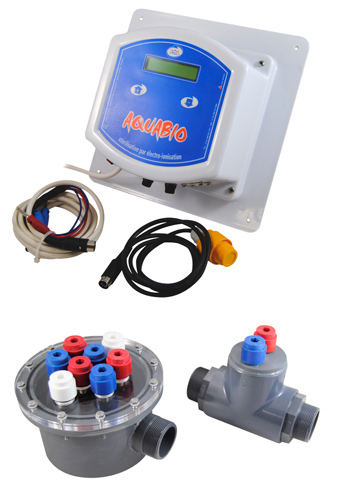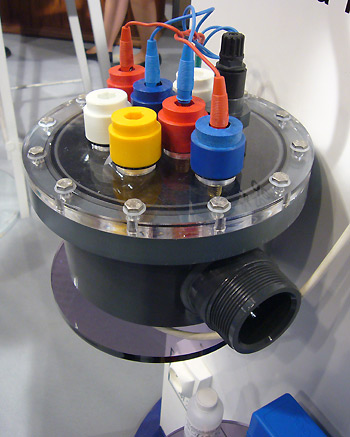 Aquabio with automatic pH regulation
Operational method
A pair of identical electrodes made from a precise,
pure, copper/silver alloy is placed on the hydraulic circuit that requires treatment.
A low electrical current is charged to the electrodes that will exchange in an alternate
manner metallic particles.
Water circulates around the electrodes and transfers ions into the hydraulic circuit.
The copper ions are charged positively and will search for negatively charged ions
such as bacterias or viruses to which they will insert themselves. At this point, the
positive copper ions inserted on the negative ions will open an entry point for silver ions.
The combination of copper and silver ions will neutralise, stop proliferation and destroy
bacteria and viruses.
The electrolytic process needs to be catalysed by a small amount of chlorine: 1 tablet
per month should be placed in the skimmer.
Advantages of this treatment method
1
. Free from chloramine production, very low level of chlorine use and odours
2
. Limits aggravation of asthma, red eyes, stinging etc...
3
. Flocculant effect produced by silver ions
4
. High-quality swimming comfort with clear, healthy water, using x5 less chlorine.
5
. Replacement of electrodes is less frequent (approx every 4 years)
AQUABIO copper and silver ionisation water treatment considerably reduces the use of
chlorine and other associated chemical treatment products. This limits the production of
Chloramines and trihalomethane conserving the level of available disinfectant.
The kit includes :
- 1 electronic module featuring control panel using a potentiometric method.
- 1 ionising cell
- 1 automatic pH regulator (supplied uniquely with models 3002, 3004 and 3006)
- 1 owners manual and connections
AQUABIO is available in three models, depending on the volume of your pool :
| | | |
| --- | --- | --- |
| Model | Maximum volume of pool | Number of electrodes |
| AQUABIO 3002 | 55 m³ | 2 electrodes |
| AQUABIO 3004 | 120 m³ | 4 electrodes |
| AQUABIO 3006 | 160 m³ | 6 electrodes |
Warning
Pools that use a liner or reinforced PVC could be tainted because of the copper
ion reaction to micro-organisms.
A main drain valve is required on the pool floor to ensure full water circulation.
Installation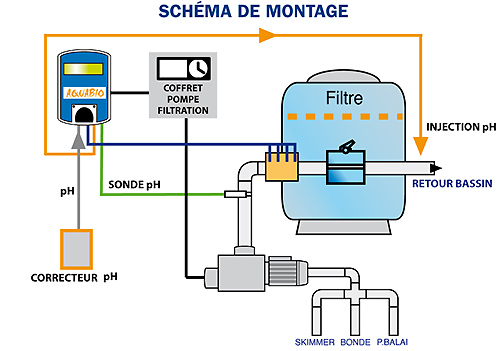 The unit is to be connected before your pool filter.
The installation of a pH regulator and a pool-terre earth
connection must be used (supplied).
Copper/Silver electrodes are to be replaced every 4 to 5 years.
Do not confuse copper ionisation with copper sulphate treatment.
Copper/silver ionisation secretes only copper Cu+ Cu2+ ions and
silver Ag+ ions which destroy bacteria, viruses and micro organisms
Warranty
2 years excepting wear and tear parts
Photos non-contractual
Price incl. VAT
Ask for a free quote aquabio copper and silver ionisation
Other product : AQUABIO copper and silver ionisation
Starting from 1119 eur Including VAT.
Please fill in this form carefully. Our commercial service will handle your request promptly.
---
UK freephone hotline
Monday Friday 9.00 19.00, Saturday 10.00 18.00

---
Spare parts order
You are looking for a spare part for «AQUABIO copper and silver ionisation» ?
Please click the button below. Our commercial service will handle your request promptly.