Pool covers - pool covering solutions

Winter covers for pools
Discover our range of filtering, opaque or "4-season" winterizing pool covers, made to measure, compatible with all pool shapes and made in France. See all our offers on winter covers at discount price!

- Filtrating covers or winterizing netting, light in weight, yet resistant, evacuates rainwater whilst retaining debris.
- Opaque covers, block light as to limit algae proliferation and photosynthesis
- Barred "4 season" cover can be used all year round, providing protection as well as the advantages of an opaque cover.
Using a winter cover protects your pool water during the low season.
You pool will safely come through the winter months, sheltered from weather conditions and pollution, avoiding the cumulation of dust, insects and leaves, limiting the proliferation of algae.
1 - Winter covers
Why use a winter cover:

- Protection of your pool water,
- Limits the effects of air pollution,
- Limits photosynthesis, the reason for algae development,
- Creates a barrier against vegetal debris,
- Secures your pool in the case of an animal or child falling
Choose a winter cover that conforms to the norm NFP 90-308 (depending on the dimensions of your pool)
A winterizing cover is made to measure. All shapes and dimensions are possible.
1 - Opaque covers
Opaque covers are composed of a polyester frame covered with PVC on both sides. The side which faces the sunlight has an anti-UV treatment. In general, the density of fabric used is 550g/m2.
There is a choice of available colours that integrate harmoniously with your environment.
An opaque winter cover stops sunlight from entering your pool water, avoiding the proliferation of algae.
All of these reasons make the process of activating your pool in Springtime much easier.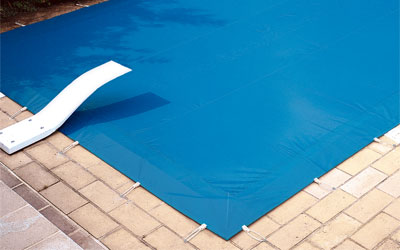 Two rainwater evacuation systems
: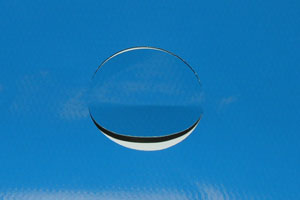 Rainwater evacuation holes, giving fast drainage.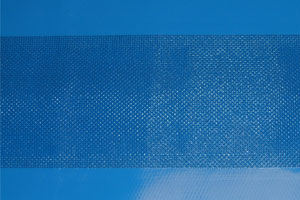 The evacuation grill that offers supplementary protection against debris in your pool water.
Warning : In geographical zones where weather conditions can be severe (wind, rain, snow), an opaque cover risks damage faster than a netted cover. It is important to regularly check fixation points and ensure the evacuation grills of the cover are not obstructed.
When the cover has large dimensions, anticipate several persons to put the cover into place.
Find all our
Opaque winter covers
2 - Filtering covers
Filtering covers are composed of polypropylene netting that has an anti-UV treatment.
This design avoids the formation of rainwater whilst protecting the pool from debris.
This type of cover is recommended for regions with severe weather conditions (wind, rain, snow).
Light in weight and easily put into place.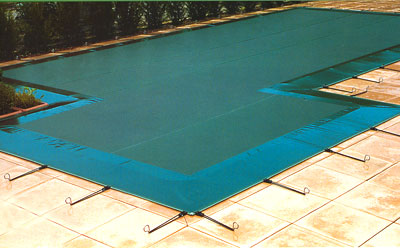 Depending on the model, example of reinforcement types :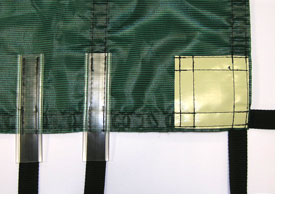 The PVC crystal reinforcement, reduces erosion of the fixation straps, put under tension using fixation screws or bungee straps.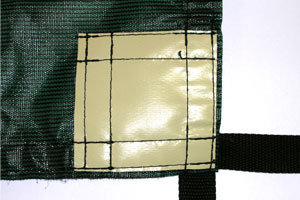 Sewn PVC reinforcement, positioned at the angle or on the parameter of the cover, protecting the cover against abrasion on the pool surround.
Because a filtering cover is translucid, the sun's light can provoke the development of algae. To avoid this, put a screen tarp into place. This tarp floats on the waters surface and stops light passing into the pool water.
See all our
Winter covers for pools
Fixation :
Opaque or filtering, a winter cover uses the same fixation and reinforcement system.
- Peripheral fixation points :
The cover can be secured by a peripheral bungee tensioner or by hook and spring.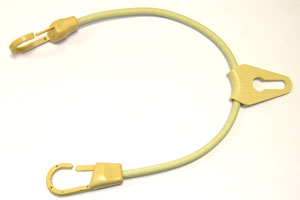 Peripheral bungee tensioners are used when the risk of animals or children falling is minimal.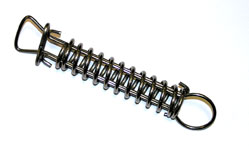 Springs should be used when a falling hazard presents a real risk.
Covers using spring fixation are in general designed with more reinforcement points (straps, PVC reinforcements to limit abrasion on the pool surround...) giving a longer lifespan to your cover.
- Fixation to ground:
Depending on the nature of your pool surround (concrete, paving, grass ...), the fixation method used will be adapted to suit the surface in question.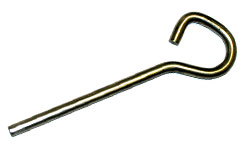 In general, winter covers are supplied with metallic fixation pitons intended to be installed on concrete pool surrounds. This indicates the pool surround must be drilled to follow the instructions and schema supplied by the covers manufacturer. The diameter of the drilled holes is in general 6mm.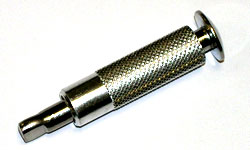 Retractable piton fixations can be permanently implanted in a concrete surround and feature a retractable section. To attach your cover simply lift the head of the piton and fix the bungee tensioner or spring. During the swimming season, only the head of the piton will be slightly raised from the pool surround.
For pools without a concrete surround, "grass" pitons allow you to place the fixation deep in the earth ensuring a correct position and tension of your cover.

Warning:
To respect the norm, the fixation points must be in a concrete surround (density 350 kg) covered or uncovered with paving slabs, at a minimum distance of 50cm around the pool.
Installation of a winter cover :
A winter cover is larger than your pool (between +30 and +80 cm of overlap depending on the inner pool dimensions and chosen model.
- Install the fixation system, supplied with your cover,
- Unfold your cover and hook to fixation points,
- Put the cover under tension using its peripheral fixation system (bungee tensioner or springs) .
- Regularly check the anchoring of your cover and tighten the tensioners or straps if needs be.
Storage :
After use, remove your cover with caution, being sure not to let debris fall into the water.
Clean your cover thoroughly, dry and store in a dry area.
If your cover or its fixations become used, repair solutions exist.
Winter covers for above ground pools:
Winter covers for above ground pools are identical to inground pool winter covers apart from the fixation points.
For wooden above ground pools, covers conform to the norm NFP 90-308 exist.
Ask for a free quote winter covers for pools
Other product : Winter covers for pools
Starting from 13.49 eur Including VAT.
Please fill in this form carefully. Our commercial service will handle your request promptly.
---
UK freephone hotline
Monday Friday 9.00 19.00, Saturday 10.00 18.00

---