Automatic water treatment and products

Winterizing material and accessories for pools

Winterizing cover for heat pump
Winterizing cover for heat pump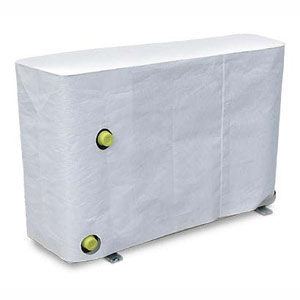 Recommended retail price 2023 starting from :
Our Price starting from :
Ref. Abatik P16202
Ref. Provider W20HOUSSEDEN
EDENPAC winterizing cover 1 to 5
Winterizing cover for heat pump,
Optimal protection during the Winter period,
Stops condensation.
In stock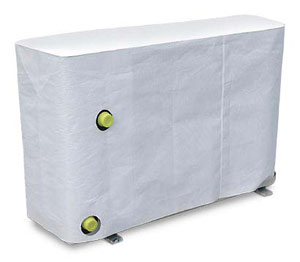 The heat pump winterizing cover protects the components and parts of your heat pump from the effects of frost during the Winter months.
Non-hermetic, your heat pump is covered, protected from condensation. Condensation can contribute to the development of frost that could damage the bodywork and regulator of your unit.

The winterizing cover is specifically designed to fit the dimensions of your heat pump.

EDENPAC and POWERPAC covers are constituted from 2 fabrics: Upper side of the cover made from woven fabric, the sides from a grill fabric.
The association of the two fabrics ensures sufficient ventilation to avoid condensation from the heat pump.
Consult our team of Advisors for further information on how to correctly winterize your heat pump.
Photos non-contractual
Price incl. VAT
Ask for a free quote winterizing cover for heat pump
Other product : Winterizing cover for heat pump
Starting from 121 eur Including VAT.
Please fill in this form carefully. Our commercial service will handle your request promptly.
---
UK freephone hotline
Monday Friday 9.00 19.00, Saturday 10.00 18.00

---