Automatic water treatment and products

Dosing pumps and regulating units

OXYDOZ' enriched active oxygen treatment
OXYDOZ' enriched active oxygen treatment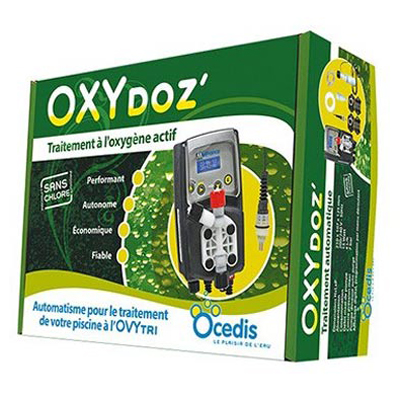 Recommended retail price 2023 :
Our Price :
Ref. Abatik 023003
Ref. Provider OXYDOZ
OXYDOZ multi task doser
OXYDOZ' pool treatment by enriched active oxygen injection, 100% biodegradable without residue.
Compatible with all filtration systems
Maximum pool volume 150 m3
In stock
The OXYDOZ' system
OXYDOZ' dosing pump
OXYDOZ' is an entirely automatic pool treatment system using daily injection of enriched active oxygen (Ovy Tri)
Using this treatment obtains limpid, non-aggressive pool water, without odour or aggression to swimmer's skin or eyes.
Dosing pump with automatic purge and anti-run dry system
OXYDOZ'
suctions 'Ovy Tri product directly from its drum, injecting into pipework carrying filtered water, returning to the pool.
OXYDOZ' is compatible with pools up to 150m3 maximum
Equipped with a microprocessor, the
OXYDOZ' dosing pump
does not require a test probe. Easy to set, just enter the volume of your pool and filtration duration and the pump will automatically inject the correct dose of Ovy Tri enriched active oxygen.
Integrated end of product drum security
Fast and easy installation using connection kit compatible with the vast majority of filtration systems.
Dosing and diffusion
The OXYDOZ' pump is connected to the filtration by a dry contact, powered directly by the electric meter, allowing equal diffusion of oxygen in the pool water. 50cl Ovy Tri per week treats 10m3 of water.
OVY TRI liquid product

Composition :

OVY TRI is a water treatment product based on oxygen enriched by polymerised quaternary ammonium chloride, which is biodegradable without impact on the environment.
Only the OXYDOZ' dosing pump can be used with this treatment.
Compatible with all filtration systems, does not create foam, has a remanent effect, is efficient in all waters, even hard and does not contain stabilisers.

Actions :
- Regular disinfection.
- Shock disinfection.
- Destruction and prevention of green algae.
- Stops brutal variations of pH.
- Clarifies water.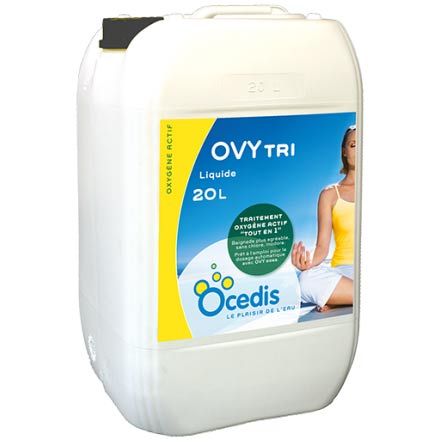 Command box

Using digital display and controls, OXYDOZ' menus and settings are intuitive.

1. Digital display, 2 lines, backlit in blue.
(Convivial multi-language menu (French, English, German, Italian and Spanish)

2 & 3. Digital setting buttons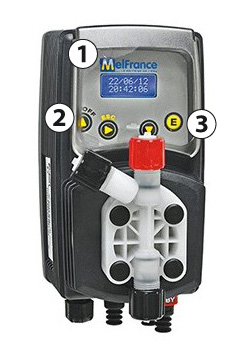 Featured elements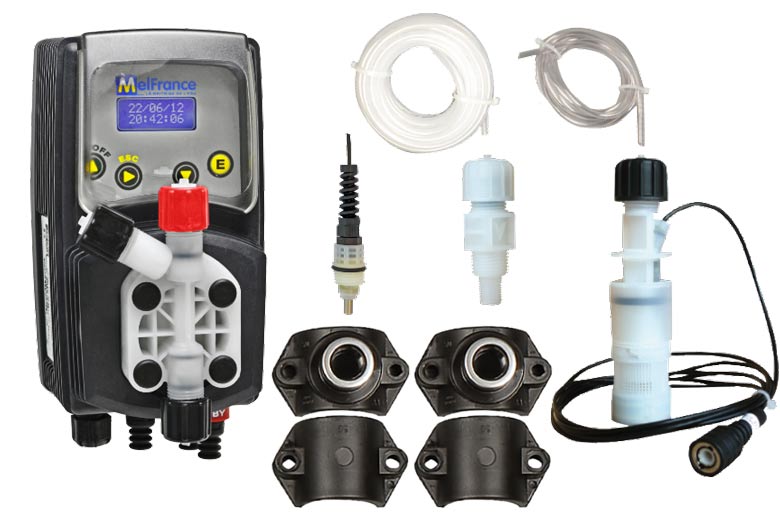 - OXYDOZ' multitask dosing pump
- Stainless steel temperature probe
- Product suction tube with dry run security
- Clear PVC tube 4x6 (suction) and PE tube (discharge)
- Anti-return injection tube
- 2 Ø 50 paddle clamps
- 2 screws plugs and screws
- 1 delayed fuse 5x20
- Installation manual
Installation schema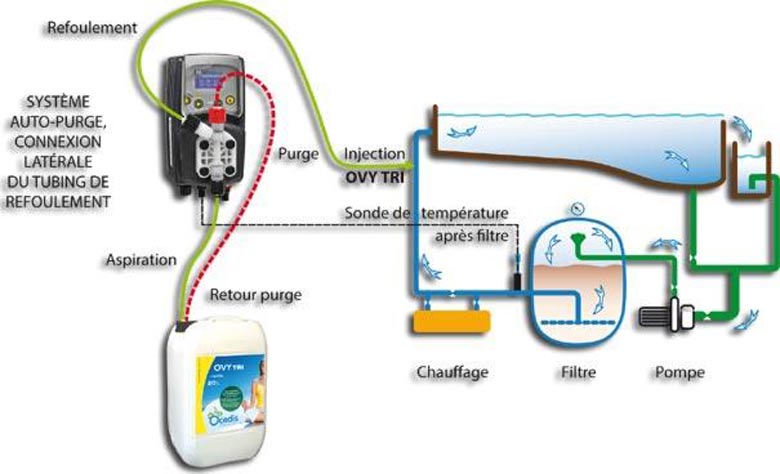 Warranty
2 years
Photos non-contractual
Price incl. VAT
Ask for a free quote oxydoz' enriched active oxygen treatment
Other product : OXYDOZ' enriched active oxygen treatment
At best price 729 eur Including VAT.
Please fill in this form carefully. Our commercial service will handle your request promptly.
---
UK freephone hotline
Monday Friday 9.00 19.00, Saturday 10.00 18.00

---
Spare parts order
You are looking for a spare part for «OXYDOZ' enriched active oxygen treatment» ?
Please click the button below. Our commercial service will handle your request promptly.