Automatic water treatment and products

Dosing pumps and regulating units

Zodiac Perfect pH dosing pump
Zodiac Perfect pH dosing pump
Whatever your choice of water treatment is, automatic or manual, Perfect pH is the essential partner for your comfort, offering soft, limpid water that does not sting your eyes. Perfect pH integrates
proportinal dosing
, and in real time regulates the pH content of your pool water
Proportional dosing of pH
- The Perfect pH probe connected to the filtration circuit, permenantly measures the pH level present,
- The microprocessor quantifies the correction liquid needed in the pool,
- Depending on these figures, a dosing pump will inject the required product into the pool.
The dosing time is calculated on the difference between the pH present in the pool and the pH range which is ideal. The water balance of the pool is therefore maintained at the desired level without any manual intervention.


Advantages


Optimises the efficiency of your water treatment (salt, chlorine ...)
Prolonges the lifespan of your salt electrolyser and reduces the frequency of maintenance interventions and the replacement of elecrodes.


Easy to use

- The pH probe is calibrated in less than 5 mins,
- Controls the efficiency of the probe by means of a simple gesture using the buffering solution,
- You can set the activation and overdosing security features as you wish,
- Operates with pH + and pH -.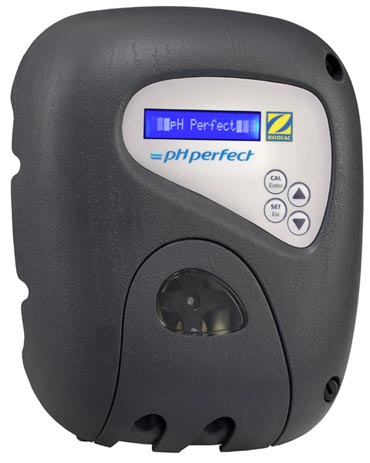 Technical features
Power supply
50 hZ 220-240 V AC
Maximum flow of the perstaltic pump
1.5 l/h
Paddle clamp
On pipe, DN 50 and DN 63
pH control range
0 to 14 pH
Precision of measurement
0,1 pH
Type of probe
Combined, one junction, Lcl, polymer gel, epoxy body 12 mm in diameter
Calibration of probe semi-automatic
using buffering solution (1 or 2 steps)
pH probe tolerance
6 bars : 60 °
Dimensions
235 x 200 x 85 mm
Warranty
2 years
Photos non-contractual
Price incl. VAT
Ask for a free quote zodiac perfect ph dosing pump
Other product : Zodiac Perfect pH dosing pump
At best price 717 eur Including VAT.
Please fill in this form carefully. Our commercial service will handle your request promptly.
---
UK freephone hotline
Monday Friday 9.00 19.00, Saturday 10.00 18.00

---