Automatic water treatment and products

Dosing pumps and regulating units

OVY pH regulating dosing pump
OVY pH regulating dosing pump
The quality of your pool water is conditioned by two important factors, its pH and disinfectant treatment.
The pH indicates if your pool water is acid (pH 0 to 6,9) or basic (pH 7,1 to 14), pH 7 is the neutral valour.
For optimal swimming comfort, a pH close to the human body is ideal, being 7,3.
The pH of your pool water should not perturb the efficiency of other treatment products. Most products require a pH between 7.2 and 7.6 for optimal efficiency.
Manually stabilising your pool pH is a constraint, as pH continually varies depending on water quality, (ca++ or its absence), weather, swimming frequency, disinfecting treatment...
By means of automated pH injection, OVY pH lets you decide the ideal pH level for your pool. A probe situated on the filtration circuit measures the water pH. If the probe does not read the programmed pH level, the injector activates and sends corrector to the filtration circuit to reach the correct level. The injection pump is peristaltic and has a very low noise level in operation.
Delivered with complete connection kit using 50 mm diameter clamp saddles, installation fast and easy on the vast majority of filtration circuits, the electrical connection is made conform to the norm C-15-100 (with 30 mA protection).
Presentation
Automatic pH regulation by OVY pH dosing pump
- Controls and adjusts the pH level of your pool water
- Optimises the use of treatment products in your pool (chlorine, bromine, ...)
- Completes the use of an electrolyser or other automated treatment systems.
Complete kit, easy installation :
Dosing pump kit featuring suction cane and dry run stop. 2m crystal PVC suction tube, 6,5m polyethylene discharge tube, pH probe, an injection valve and reducer, 2 saddle clamps, a suction sieve, a calibrate solution kit, a probe support, wall mounting kit, plugs and screws
2008 version with simplified calibrating on the control panel.
Technical details
| | | | |
| --- | --- | --- | --- |
| Dimensions | 234x162x108 mm | maximum pressure | 1,5 bar |
| Weight | 1 kg | Working mode pump | pause-on |
| Power supply | 220V 50Hz | Scale of measurement pH | 6,2 - 8 |
| Consumption | 7W | Precision | +/-0,02pH |
| Pump flow | 1,5l/h | regulation | automatic |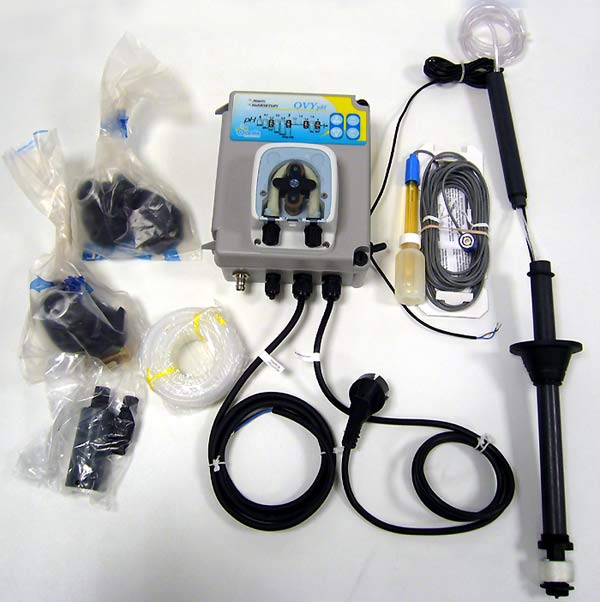 Installation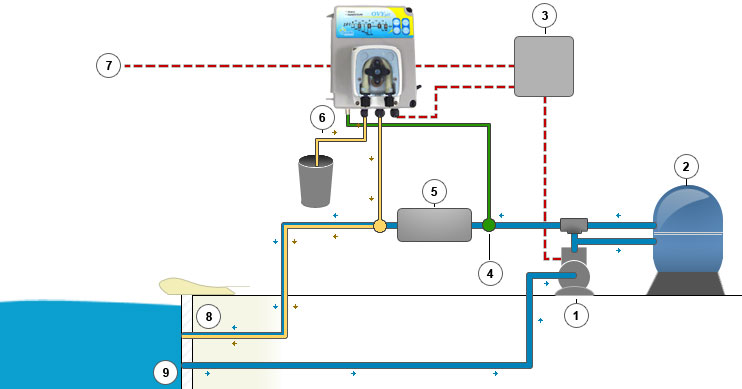 1. Pump
2. Filter
3. Electric box and pump
4. pH probe
5. Other units ( ex: heating)
6. Product resevoir
7. Power supply 230Vac
8. Discharge
9. Suction
Warranty
2 years
Photos non-contractual
Price incl. VAT
Ask for a free quote ovy ph regulating dosing pump
Other product : OVY pH regulating dosing pump
At best price 545 eur Including VAT.
Please fill in this form carefully. Our commercial service will handle your request promptly.
---
UK freephone hotline
Monday Friday 9.00 19.00, Saturday 10.00 18.00

---