Automatic water treatment and products

Dosing pumps and regulating units

HC 100 pH regulating dosing pump
HC 100 pH regulating dosing pump
pH regulation from Isipool

The Isipool regulation pump permanently measures the pH level present in your pool water.

Using a new mounting system that integrates a probe support and injection valve with one clamp paddle, installation is simplified.

You can choose to mount the Isipool dosing pump on your technical shelter wall, using supplied plugs and screws or directly on the injector/ probe support using the integrated fixation points.
The pH probe (n°1) measures the pH level and is installed before the installation.
Once the pH level is out of the programmed range, (pre-set at 7,4), the dosing pump is activated and sends by injection pH correcting liquid (n°2, n°3) in proportional doses. Easy to use, the pH is permanently displayed, even when filtration is not in operation.

An alarm is activated when the pH range is lesser than 6 or greater than 8. Tubular rotation ensures a very low noise level in operation.

Delivered with connection kit.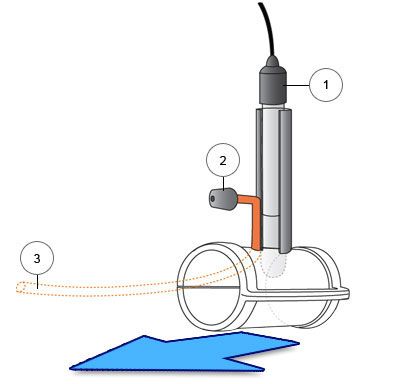 Compatible with 50mm pipework.
Technical features
pH regulator
on a scale between 0 to 9,9+
Dosing
proportional automatic
Flow
0,93ml/h to 1400 ml/h
Measurement resolution
0,1pH
Included material
pH dosing pump/regulator, product suction and discharge tubes, 2 bottles of buffering solution, mounting kit, pH probe, probe support, 2 DN50 paddle clamps, anti-return injection valve, product suction sieve.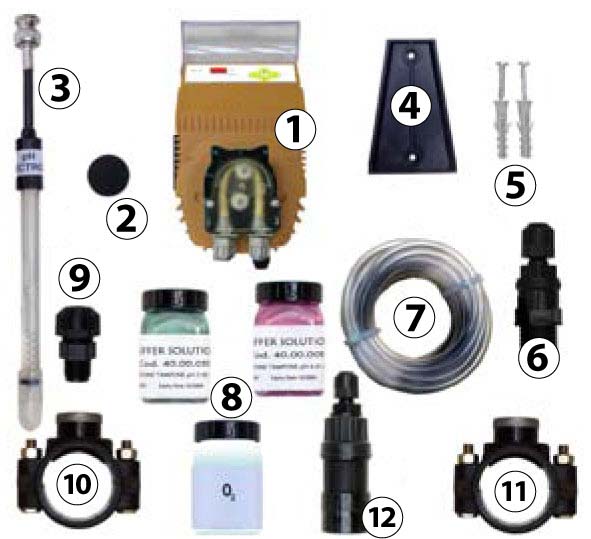 Contents of kit
1 - HC 100 dosing pump
2 - Probe support shutter for use during calibration
3 - pH probe
4 - Mounting support
5 - Mounting accessories
6 - Anti-return injection valve
7 - Suction and discharge tube
8 - Buffering solution
9 - pH probe support
10 - DN 50 paddle clamp
11 - DN 50 paddle clamp
12 - Product suction sieve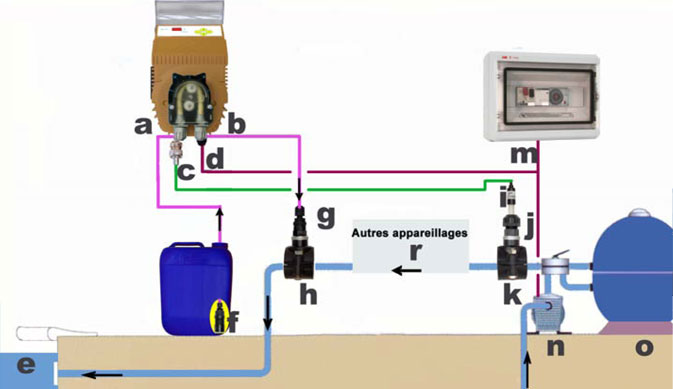 Operational schema
a - Product suction
b - Product discharge
c - BNC input
d - Feeding via filtration (aux. 230 VAC)
e - Pool
f - Suction sieve
g - Product injection valve
h - Paddle clamp
i - Measuring probe
j - Probe support
k - Paddle clamp
m - Electrical box
n - Filtration pump
o - Filter
Warranty
2 years
Photos non-contractual
Price incl. VAT
Ask for a free quote hc 100 ph regulating dosing pump
Other product : HC 100 pH regulating dosing pump
At best price 509 eur Including VAT.
Please fill in this form carefully. Our commercial service will handle your request promptly.
---
UK freephone hotline
Monday Friday 9.00 19.00, Saturday 10.00 18.00

---
Spare parts order
You are looking for a spare part for «HC 100 pH regulating dosing pump» ?
Please click the button below. Our commercial service will handle your request promptly.