Pool covers - pool covering solutions

Summer and thermal pool covers
Summer and thermal pool covers
Discover our wide range of summer and thermal covers to maintain the calories in you pool water, keeping it warmer for longer. Lots of promotions at discount prices! Compatible with standard or free form pools, can be made to measure.

Made in France
A summer pool cover has thermal properties and is to be used during the swimming season (springtime and summer). This type of cover heats pool water during the day and retains heat during the night.
A summer cover :

Heightens the temperature of your pool water
using solar energy,

Eliminates more than 98% of water evaporation
,

Reduces the use of chemical treatment products
,

Reduces energy consumation
,

Reduces contamination from debris
2 - Summer covers
A thermal summer cover, bubble or foam, has the function of covering your pool water after swimming.
Advantages
The use of a bubble or foam cover retains heat calories in your pool water, avoiding heat loss.
The cover also stops leaves, insects, dust etc... from entering your pool water and reduces evaporation by at least 90% during high winds and bad weather conditions (therefore economising water and chemical water treatment products).
A bubble cover is an indispensable partner if you use a heating system (solar heat, electric heater, heat pump...).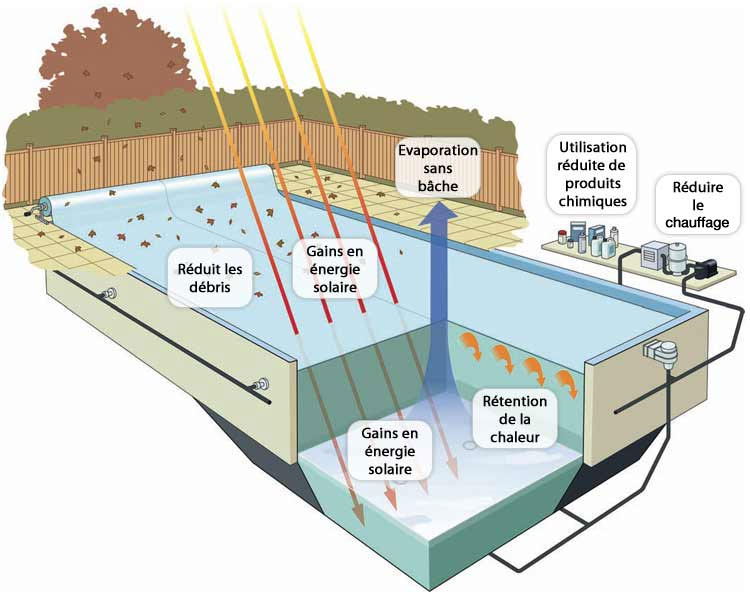 Advantages of using a bubble cover
Reduces contamination by debris
A bubble cover protects your pool from diverse impurities that contaminate your pool water such as leaves, dust, dirt, insects, bird excrement... These impurities are not only disagreeable to look at but are also a feeding and breeding ground for
algae and bacteria
. If your pool water is covered, this debris stays out of the water, improving its visual aspect and the actual quality of your pool water.
You will save money

A thermal cover allows you to reduce your water expenditure, heating bills and chemical treatment product budget.



Reduces your use of chemical treatment products

The use of a cover allows you to reduce the consumption of chemical products.
By isolating your pool water, the products only need to treat the water and not the outer contamination source.


Raises your pool water temperature

Depending on the chosen model, a bubble cover lets you concentrate solar energy, raising the temperature of your pool water.


Limits water evaporation

The pool cover allows you to limit water evaporation and reduce your water consumption.
Studies have proved that evaporation in a standard sized pool of 8mx4m represents an evaporation of roughly 32 000 litres per year.
This figure rises depending on wind and sun exposition.


Reduces water and energy consumption

The bubble cover reduces the cost of pool heating when using a heat pump or electric heater.
When using a heating system sourced by solar panels a bubble cover allows you to use less than half the number of panels to efficiently heat your pool.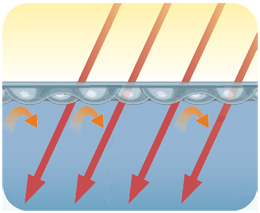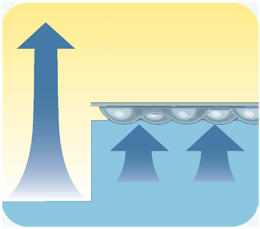 Which cover should I choose ?
Depending on its colour, a bubble cover will feature various characteristics

Blue cover
Classic, mainly used for thermal insulation.

Gold/blue cover
The translucent blue top side coupled with the translucid golden underside allows sun rays to penetrate the cover and provokes a greenhouse effect. This method heats pool water while ensuring a good thermal isolation.

Blue/silver cover
This cover improves even further the heating of your pool during the day.
This cover is recommended for zones with a poor exposition to the sun or in areas with a high altitude. The silver underside reflects sun rays discharging a maximum of calories into your pool water.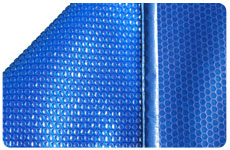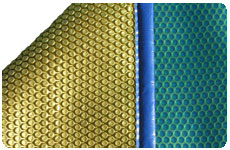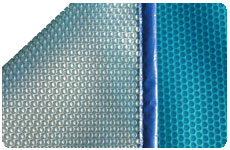 Black/blue cover
The Black and blue pool cover ensuring opacity and limiting photosynthesis. The black side of the cover is in contact with the water, the blue side is visible and sun rays are blocked. Light does not penetrate into the pool water and algae do not develop.
This cover has a good thermal insulation but needs to be removed in order for the sun's rays to heat your pool.
This cover is recommended for zones that are very exposed to sun rays, limiting photosynthesis and algae development.

Translucid/transparent cover
This cover offers the best gain of solar energy. Using the unique combination of two layers : a transparent outer layer and an inner translucid layer. This system offers water and heat economies.
Tests have proved that the greater the transparency of the cover, the greater penetration of solar energy into your pool water.

Foam cover
A foam cover is recommended for indoor or heated pools. Using a thick, compact material that
gives the best level of heat retention
. However, a foam cover does not heat your pool water. See our
Thermal foam cover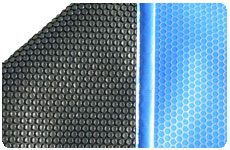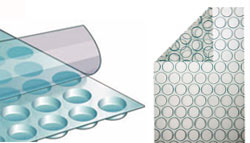 Transparent outer surface with inner translucid tinted layer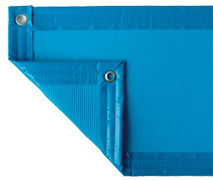 Thickness of the cover
The thickness of the polyethylene fabric used to make the cover usually has a density of 400-microns but also exist in a 500-micron version : this is important - if the cover is too thin calories will not be retained in the water and the cover will deteriorate quickly.
Choose the version with lateral reinforced hems : This version is more robust and will enjoy a longer lifespan.
Complementary informations
A
Made to measure bubble cover
is positioned directly on the water surface (bubble side in the water). A suction reaction stops the cover being lifted in windy conditions .
They are made to measure to perfectly fit the dimensions of your pool.
Even if this is classified as a summer pool cover, this type of cover can equally be used from Springtime right up to the end of Autumn in southerly regions. Warning, this type of cover should be removed at the end of the morning in Summer to avoid a high gain in water temperature.

Precautions to follow :

It is imperative to remove the cover after a chlorine shock treatment during 48h to avoid damage to the bubbles of the cover.

We highly recommend the use of a
Pool cover reel
and the use of the protective cover.
If you don't have a reel, roll the cover but do not fold it.
Store it in a shaded place after rinsing in clear water. Never spread out on the grass in the sun.

NEVER walk, lie on or swim under a bubble cover.
Ask for a free quote summer and thermal pool covers
Other product : Summer and thermal pool covers
Starting from 5.20 eur Including VAT.
Please fill in this form carefully. Our commercial service will handle your request promptly.
---
UK freephone hotline
Monday Friday 9.00 19.00, Saturday 10.00 18.00

---
Spare parts order
You are looking for a spare part for «Summer and thermal pool covers» ?
Please click the button below. Our commercial service will handle your request promptly.