EnergyGuard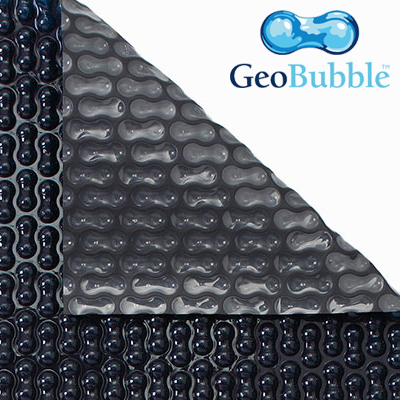 Recommended retail price 2023 starting from :
Our Price starting from :
Ref. Abatik 016246
Ref. Provider 151870
Grey/black 500 microns cut GEOBUBBLE ENERGY GUARD bubble cover
Made to measure thermal cover,
Excellent lifespan,
Polyethylene, 500 microns,
Geobubble technology,
Dark surface underside tinted black
In stock
Compatible pool shapes

Formes A : The EnergyGuard cover adapts to all pool shapes. Our prices correspond to a standard pool shape : oval, rectangular or round (a).
Formes B : For specifically shaped pools (lazy, kidney, polygon, trapeze, eight, cut angled or free form anticipate a surcharge of 20%.
For pool dimensions less than 10m², anticipate a surcharge of 25%.
Stair cut supplement
:
59.00 €
Ladder cut supplement
:
54.00 €
Technical features of the cover
To optimise your swimming season it is important to cover your pool water with a "bubble cover" to avoid heat loss and water evaporation. A bubble cover is a perfect partner to complement your pool heating system.
Pool covers and pool finishes work in hard conditions: ultra-violet rays, chemical exposure, deterioration due to heat... These combined conditions can reduce the covers lifespan.
Due to their shape, classic bubble covers
(1)
are subject to chemical attack
(a)
. Pointed angles form a fragile zone
(b)
reducing lifespan. Their small size limits air dilation
(c)
.
With harmonised shape and equal depth
(A)
, the GeoBubble
(2)
is more resistant to chemical attack
(B)
and ultraviolet rays
(C)
often responsible for early deterioration.
The deep volume of bubbles
(D)
reinforced with a double finish
(E)
gives GeoBubble a superior resistance to air dilation.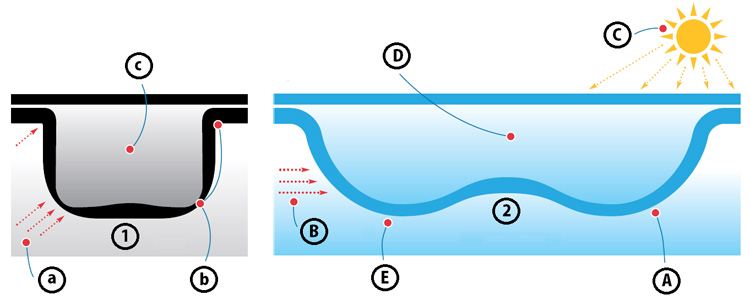 What is an EnergyGuard cover?
An EnergyGuard cover is the ideal, most economic solution to optimise the use of your pool in season and limit maintenance out of season.
During the swimming season, your pool water gains and retains heat, lengthening your swimming season. Out of season, your pool is protected from outside pollution and debris. The opaque colour blocks sun rays from developing algae.
Using GeoBubble technology combined with Guard high-performance materials, the EnergyGuard bubble cover enjoys an excellent lifespan whilst saving water and energy.
The materials used to produce EnergyGuard covers resist to even the most extreme climatical conditions. Additives used during manufacture contain pigments which are chemical and weather resistant, creating high-performance stability in sunlight.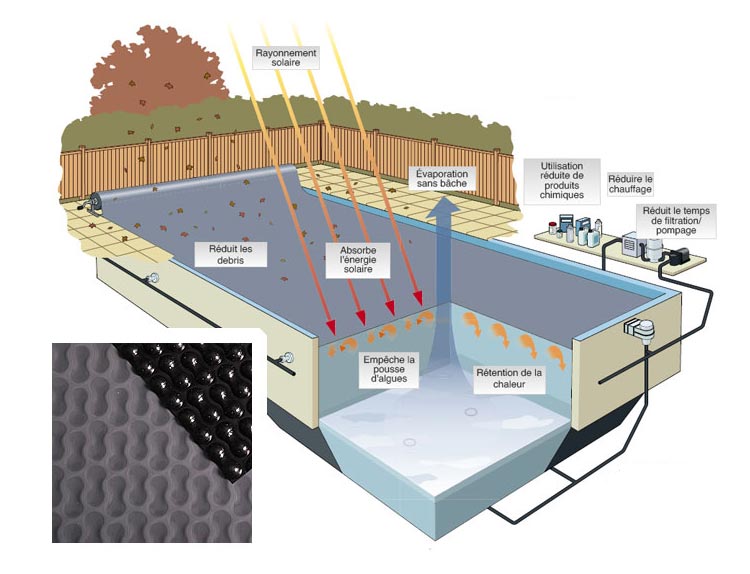 The advantages of the EnergyGuard bubble cover
Less debris contaminating your pool water

Debris such as leaves, dust and insects are not only disagreeable to look at but also represent a breeding ground for algae and bacteria.

When your pool is covered, these elements which contribute to pool contamination stay out of your pool water and greatly improve its quality and appearance.


Reduces the use of chemical products

The EnergyGuard bubble cover is made with two layers : a grey outer surface and an inner, black, tinted surface.

These layers stop light penetrating into the water, therefore, the phenomena of photosynthesis and the proliferation of algae.

Products that stabilises the pH of your water can be altered by sunlight. This is named photosynthesis and can be accountable for the multiplication of algae.

Sun rays are the main reason for the consummation of chemical water treatment.

By blocking the diffusion of light by means of opacity, the EnergyGuard pool cover stops photosynthesis, reducing the use of chemical treatment products by up to 60%.

The EnergyGuard cover means you can equally diminish your energy consumption by reducing your operational filtration time.


Water temperature gain using solar energy

The upper opaque grey side of the cover coupled with the lower black side means you can collect the energy generated by sun rays to heat your pool water whilst retaining the heat already present in your pool water.

You gain several degrees, using an energy that is free of charge and environmentally friendly.


Reduces pool water evaporation

The EnergyGuard pool cover eliminates more than 98% of evaporation of pool water and, therefore, your water consummation.


More than 50% reduction of your energy consumption

By working in the same manner as a thermal cover, the EnergyGuard allows you to reduce the cost of heating your pool.

Heat retention tests carried out by the manufacturer have shown the use of the EnergyGuard allows you to save up to 50% for all the users of a heating system (excepting solar captors).

The EnergyGuard is the ideal complement to all heating systems.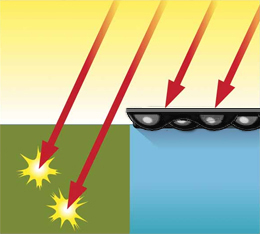 Stops algae development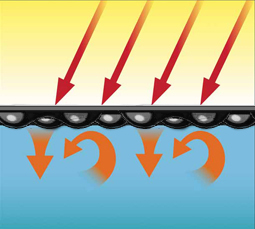 Gains solar energy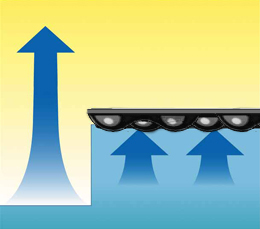 Eliminates more than 98% of water evaporation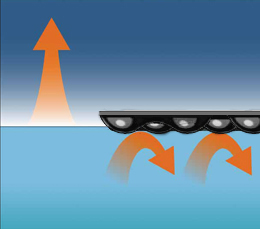 Heat retention
Our full range of made to measure isothermal covers
Unhemmed ECO model

The most economic solution

This model features a clean cut finish, un-hemmed without a border.

Made from "honeycomb" polyethylene with anti-UV treatment.

Fixation rings dispatched widthways on the cover (8 max).

Each pool cover is thermo-soldered, made to measure at the manufacturer's workshop.

Not supplied with protective cover.

Guarantee : 1 summer season.
DUO model - double reinforcement

Excellent value for money

Made from polyethylene honeycomb with anti-UV treatment.

Reinforced by polyethylene hemmed borders sewn on two lengths Fixation rings at each angle, + on the same side of the storage reel, positioned at 70 to 80cm intervals depending on the width of the pool.

The DUO model is supplied with a protection cover complete with two attaching bungees.

Guarantee : 3 digressive summer seasons.
QUATRO - 4 reinforcements

Totally reinforced

Made from "honeycomb" polyethylene with anti-UV treatment

Totally reinforced by polyethylene hemmed borders sewn on the four sides of the cover Made from "honeycomb" polyethylene with anti-UV treatment with fixation rings at each angle + on the same side of the storage reel, positioned at 70 to 80cm intervals depending on the width of the pool.

The Quattro model is supplied with a protection cover complete with two attaching bungees.

Garantie : 3 digressive summer seasons.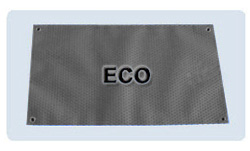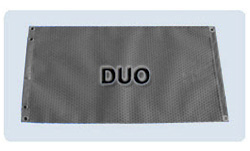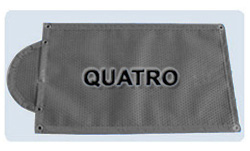 Precautions to follow when using your bubble pool cover
It is imperative to rigorously follow all the below recommendations to benefit from the guarantee.
Installation instructions
The bubble side of the pool cover must be in contact with pool water, the smooth side must be visible.
Maintainance advice
To preserve the lifespan of your bubble pool cover, it is imperative to remove it when:
- The ambient temperature reaches 30°C.
- During a chlorine shock water treatment for your pool and during the following 48h. (The chlorine content of your pool water must not exceed 1PPM).
When you remove your cover from your pool (the use of a reel is strongly recommended) :
- You MUST protect your pool cover from sun rays with a protective cover.
- If you do not have a pool cover storage reel it is recommended to fold the pool cover several times or roll to store under a protective cover.
Expansion and contraction :
- Because of variable ambient temperatures, the dimensions of the pool cover can vary. This is the reason why a safety margin of 1% to 2% is calculated during conception.
So, you may find the dimensions of your pool cover may be slightly different from those of your pool.
GENERAL CONDITIONS
- The guarantee of a defective product is applied after analyse and verification by the manufacturer following the return of the product.
- Transportation costs to return the product to the manufacturer are not covered by the guarantee.
- Products which are damaged during transport are not covered by the guarantee. It is the clients responsibility to check the material on reception and formally note any abnormalities with the transporter or refuse the merchandise.
- The manufacturer reserves the right to decide if a product should be repaired or replaced.
EXCLUDED FROM THE GUARANTEE
- The non-respect of the installation and user instructions of the pool cover resulting in abnormal degradation of the material.
- All modification of the pool cover other than those given by the written consent of the manufacturer.
- Deterioration due to the use of cleaning products other than those recommended.
- Consecutive deterioration due to meteorological conditions: violent winds, snowfall, heavy hail, lightning strikes.
- Deterioration due to abnormal rubbing, abrasive pool borders or concaved pool borders that present an uneven water surface.
Deterioration due to rubbing, snagging, tearing, unadapted water treatment and the covers colour stability is equally excluded from the guarantee.
On option : IPIKA telescopic reel
To simplify rolling and unrolling your cover, you can choose the
IPIKA telepscopic reel
.
Supplied with 8 belts to attach your thermal cover, manoeuvring wheel and handle, enabling easy movement and storage of the reel.
There are three existing models, depending on your pool dimensions:
- pool measuring 10 x 5.50 m maximum
- pool measuring 12 x 6,40 m maximum
- pool measuring 16 x 8 m maximum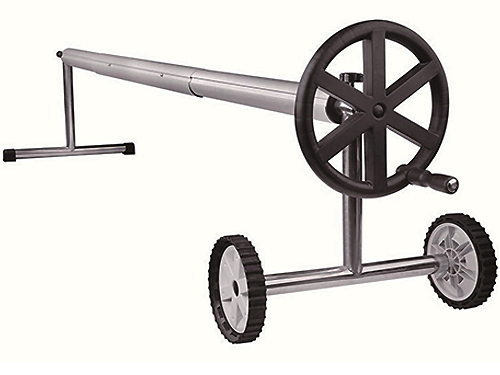 Warranty
1 summer season for the ECO model
3 digressive summer sesons for the DUO and QUATRO models
Photos non-contractual
Price incl. VAT
Ask for a free quote energyguard
Other product : EnergyGuard
Starting from 7.27 eur Including VAT.
Please fill in this form carefully. Our commercial service will handle your request promptly.
---
UK freephone hotline
Monday Friday 9.00 19.00, Saturday 10.00 18.00

---