Pool covers - pool covering solutions

Summer and thermal pool covers

4 season made to measure bubble cover
4 season made to measure bubble cover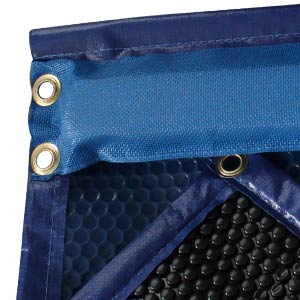 Recommended retail price 2023 starting from :
Our Price starting from :
Ref. Abatik 011895
Ref. Provider 423464
4 season bubble cover hemmed on 4 sides
Made to measure ,
Winter and summer use. Highly resistant,
Reinforced periphery, Leaf gathering cushion
Thermal cover made from 500 microns polyethylene.
In stock
The 4 season* bubble cover is the ideal, most economic solution to optimise the use of your pool in season and limit out of season maintenance.
In season, a 4 season bubble cover means you can retain calories and heat your pool as to lengthen your swimming period.
Out of season, the 4 season bubble cover protects your pool from external debris and dirt, its opaque colour stops sun rays penetrating the pool water, thus, the development of algae.
By means of its material measuring 500-microns, the 4 season cover proves to be very resistant.
The 4 season bubble cover has eyelets positioned at each angle. In addition, on the reel side, eyelets are positioned every 70 to 80cm depending on the width of your pool. We strongly recommend the use of a reel for the manipulation of the pool cover.
As depicted in the image to the right, when the cover is rolled, the end cushion of the cover acts as a leaf and debris collector.

Options:
Stair cut : 49.00 €
Ladder cut : 49.00 €
*Prices in € Inc. VAT/m², applicable to pools over 10 m² shapes A : oval, rectangular or round.
Other shapes : surcharge + 20%. - For dimensions inferior to 10 m², surcharge + 25%.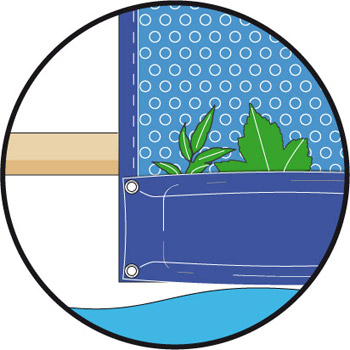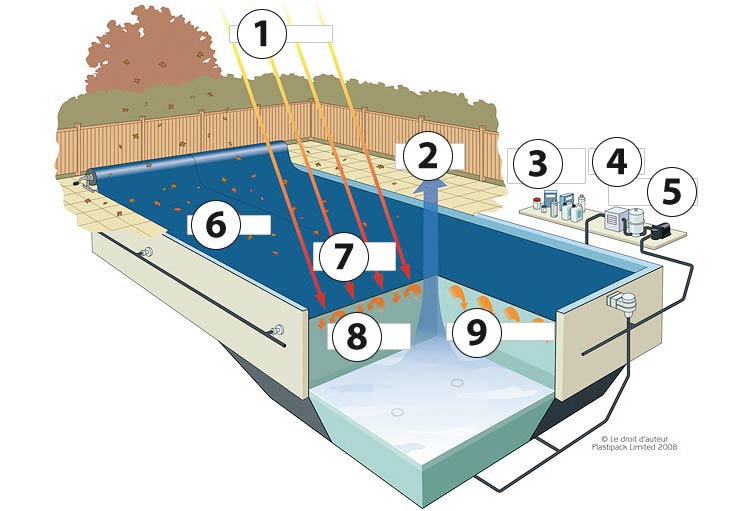 1/ Sun rays
2/ Water evaporation
3/ Reduces consumption of chemical water treatment
4/ Less heating
5/ Reduction of operational filtration time
6/ Less debris
7/ Collects heat generated by solar power
8/ Stops algae proliferation
9/ Retains heat
Heat your pool free of charge

The combination of the upper, blue, opaque side and the black, downside of the cover recuperates energy emitted by sun rays and retains the heat that has already accumulated in the pool water. You can easily gain several degrees, using a free, clean energy source.


Valid Winter and Summer alike

The 4 season cover can be used all year round, even in Winter, efficiently protecting your pool from dirt. When you put your system back into service at the beginning of the season, your task will be facilitated.


Reduced by 60% the need for chemical treatment products, and 50% the time needed for operational filtration

The chemical products used to stabilise pH are altered with the rays of the sun, which is the phenomenon of photolysis.
Algae proliferates, showing that sun rays are responsible for a majority of chemical water treatment product consumption.
The 4 Season cover, by its opacity, stops the diffusion of light into your pool water, and so, photolysis and photosynthesis. You can reduce by up to 60% the use of chemical treatment products.


Eliminates more than 98% of water evaporation

The use of the 4 season cover eliminates more than 98% of water evaporation and greatly reduces your consumption of water.
Research has proved that in Great Britain, evaporation for a medium sized, uncovered pool (4m x 8m) is equivalent to approximately 2 000 litres per year.
This figure heightens significantly in higher temperatures and strong winds.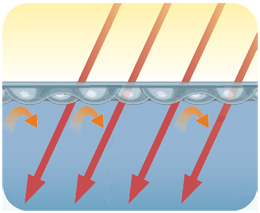 Solar energy gains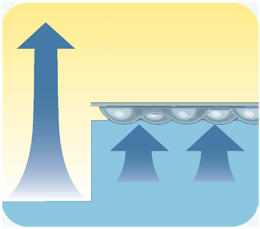 Eliminates more than 98% of water evaporation
Less debris in pool water
The integrated leaf and debris catcher in the 4 season cover collects most waste, leaves and other debris as you roll your cover.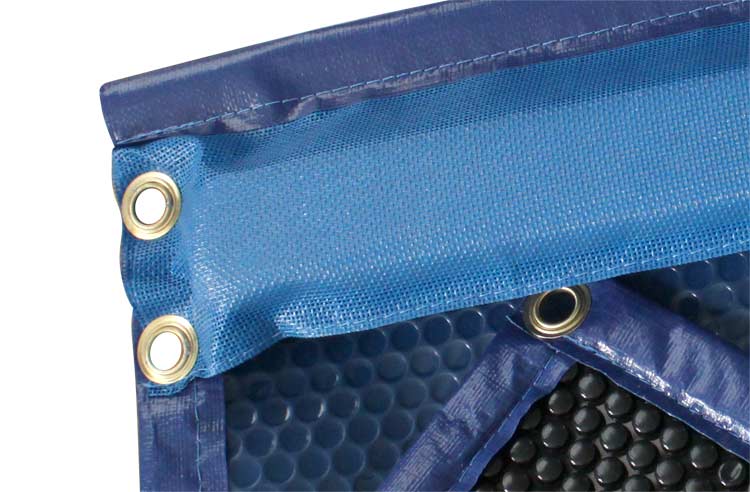 Precautions to follow when using your bubble pool cover
It is imperative to rigorously follow all the below recommendations to benefit from the guarantee.
Installation instructions
The bubble side of the pool cover must be in contact with pool water, the smooth side must be visible.
Maintainance advice
To preserve the lifespan of your bubble pool cover, it is imperative to remove it when:
- The ambient temperature reaches 30°C.
- During a chlorine shock water treatment for your pool and during the following 48h. (The chlorine content of your pool water must not exceed 1PPM).
When you remove your cover from your pool (the use of a reel is strongly recommended) :
- You MUST protect your pool cover from sun rays with a protective cover.
- If you do not have a pool cover storage reel it is recommended to fold the pool cover several times or roll to store under a protective cover.
Dimensional stability:
- Because of variable ambient temperatures, the dimensions of the pool cover can vary. This is the reason why a safety margin of 1% to 2% is calculated during conception.
So, you may find the dimensions of your pool cover may be slightly different from those of your pool.
GENERAL CONDITIONS
- The guarantee of a defective product is applied after analyse and verification by the manufacturer following the return of the product.
- Transportation costs to return the product to the manufacturer are not covered by the guarantee.
- Products which are damaged during transport are not covered by the guarantee. It is the clients responsibility to check the material on reception and formally note any abnormalities with the transporter or refuse the merchandise.
- The manufacturer reserves the right to decide if a product should be repaired or replaced.
EXCLUDED FROM THE GUARANTEE
- The non-respect of the installation and user instructions of the pool cover resulting in abnormal degradation of the material.
- All modification of the pool cover other than those given by the written consent of the manufacturer.
- Deterioration due to the use of cleaning products other than those recommended.
- Consecutive deterioration due to meteorological conditions: violent winds, snowfall, heavy hail, lightening strikes.
- Deterioration due to abnormal rubbing, abrasive pool borders or concaved pool borders that present an uneven water surface.
Deterioration due to rubbing, snagging, tearing, unadapted water treatment and the covers colour stability is equally excluded from the guarantee.
titre3:On option : IPIKA telescopic reel]
To simplify rolling and unrolling your cover, you can choose the
IPIKA telepscopic reel
.
Supplied with 8 belts to attach your thermal cover, manoeuvring wheel and handle, enabling easy movement and storage of the reel.
There are three existing models, depending on your pool dimensions:
- pool measuring 10 x 5.50 m maximum
- pool measuring 12 x 6,40 m maximum
- pool measuring 16 x 8 m maximum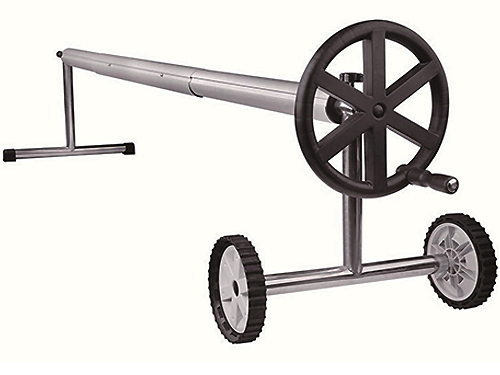 Warranty
3 digressive summer seasons
Photos non-contractual
Price incl. VAT
Ask for a free quote 4 season made to measure bubble cover
Other product : 4 season made to measure bubble cover
At best price 11.90 eur Including VAT.
Please fill in this form carefully. Our commercial service will handle your request promptly.
---
UK freephone hotline
Monday Friday 9.00 19.00, Saturday 10.00 18.00

---