Pool heating and dehumidification

Electric pool heaters

ELECRO Vulcan Nano above ground pool heater
ELECRO Vulcan Nano above ground pool heater
The ELECRO Nano is a fully equipped pool heater, sturdy and dependable ideal to inground and above ground pools up to 25m³ environ*.
Adaptors are supplied to facilitate connection to flexible piping, Inlet and outlet connections allow easy connection to your pool plumbing network. The water inlet has been designed to allow full immersion of the heater's resistance, considerably reducing the risk of air pockets forming.
To easily program your pool heating, the controls are situated on the front panel of the unit.
Two models are available : The Vulcan Nano which is compatible with soft water treatments and
ELECRO Vulcan Nano + pool heater for above ground pools
which is compatible with salt water treatment.
Each heater is equipped with a tube with inlet and outlet elements made from a specific polymer alloy and a reversible flow detector to facilitate installation.
*When using a thermal cover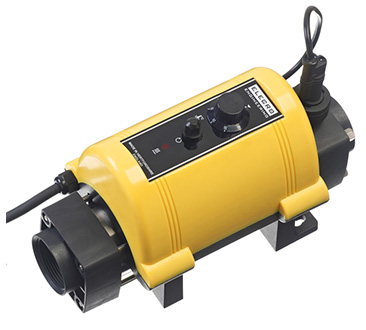 Vulcan Nano heater
Use
You can manually adjust the desired temperature using the mechanical thermostat situated above the heater.
The security and protection of the unit are ensured by an ultra low flow detector. This protects against overheating and ensures the thermostat security (manual reset).
Technical characteristics of the Vulcan Nano
Power source
230V single-phase
Resistance
Incoloy 825 anti-corrosion
Tube
BS 316 stainless steel
Thermostat
From 0 to 40°C (1°C differential)
Safety thermal cut out
55°C (manual reset)
Flow switch
Gold tipped reed switch with titanium fulcrum pin
Mounting
Floor or vertical wall mounting
Connexion
1½" BSP female thread
Adaptors supplied to connect hose tails for flexible pipe
1½" / 1¼"
Working Pressure
4 bar maximum
Wiring
High temperature, silicone sheathed, multi-strand copper conductors
ELECRO norms
Standards compliance
European Electromagnetic Compatibility directive 89/336/EEC and 93/068/EEC,
Standards compliance
EN 55014 – EN 55104, EN 5501, EN 5502, CEI 801-4, CEI 801-2, CEI 801-3
Standards compliance
The European Low Voltage Directive 72/23/EEC
Standards compliance
The Harmonised Standard EN 60335-2-35
Dimensions in mm

Warranty
2 years
Photos non-contractual
Price incl. VAT
Ask for a free quote elecro vulcan nano above ground pool heater
Other product : ELECRO Vulcan Nano above ground pool heater
At best price 330 eur Including VAT.
Please fill in this form carefully. Our commercial service will handle your request promptly.
---
UK freephone hotline
Monday Friday 9.00 19.00, Saturday 10.00 18.00

---
Spare parts order
You are looking for a spare part for «ELECRO Vulcan Nano above ground pool heater » ?
Please click the button below. Our commercial service will handle your request promptly.