Dinodos EASY
The Dinodos EASY peristaltic dosing pump is controlled by a microprocessor for the precise dosing and liquid treatment for pool water. The Dinodos Easy dosing pump has been designed for outdoor and indoor pools as well as spas.
Motorisation of the pump is ensured by gear motors.
The axis of the injection system is mounted on ball bearings for optimal precision.
Rotation speed is digitally adjusted to obtain greater precision when dosing products.
Continuous operation when connected to 220 V power supply.
The pump ensures a flow of 4,5 l/h under a pressure of 1,5 bars.
Flow is adjustable by digital adjustment of the rotation speed of the pump.

Peristaltic pump delivered alone.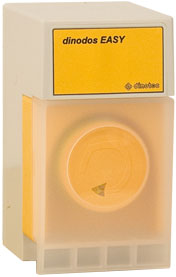 Dinodos EASY installation schema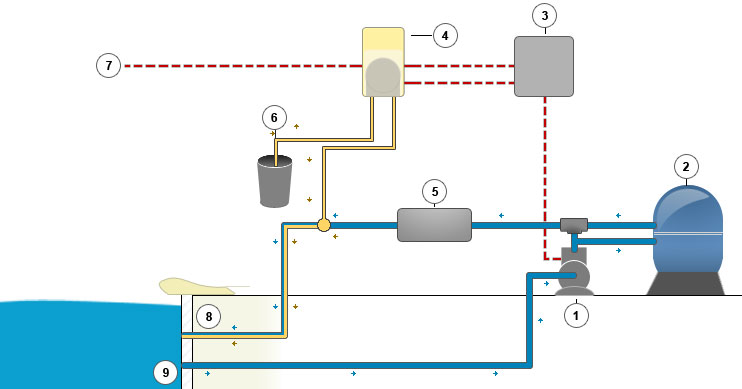 1. Filtration pump
2. Filter
3. Electrical box
4. Dinodos EASY peristaltic dosing pump
5. Heating (on option)
6. Chemical product
7. Pump power supply
8. Pool discharge
9. Pool suction
Power supply
230 V +/-10 %, 50/60 Hz
Dimensions of pump body (H x w x D)
135x65x85 mm
Operational temperature range
from +10 to +50 °C
Drive unit
electronicaly geared
Flow
From 0,25 to 4,5 l/h (continuous adjustment ), counter-pressure 1,5 bar maximum
Maximum suction height
1,80 m
Command
Adjustable flow by potentiometer
Scattered view of the Dinodos EASY pump
1. Clip-on lid for pump body guaranteeing a fast and easy pump tube replacement
2 & 2'. Adjustment potentiometer is accessible by simply lifting off the lid.
3. Compact body width, only 65 mm,
4. With a volume of 28 cm3, this pump has a larger capacity than other pumps of compact dimensions.
5. Proved technology ensuring long lifespan : 2 roll elastic rotor
6. Wall mounted : Quick installation with 2 screws,
7. Digital speed adjustment : precise dosing and motor operational mode favouring a longer lifespan.
8. Less wear and tear on the unit by means of the double ball bearing protection on the rotor drive axis.
9. Compact and solid housing, with IP 65 protection index (protects against water splash ),
10. Rotor covering.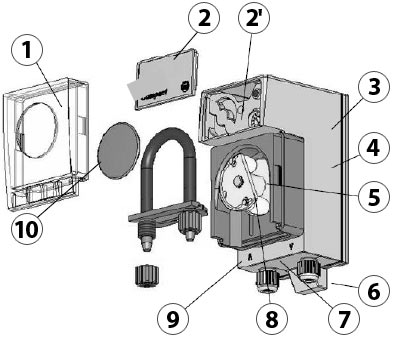 Dimensions Dinodos EASY dosing pump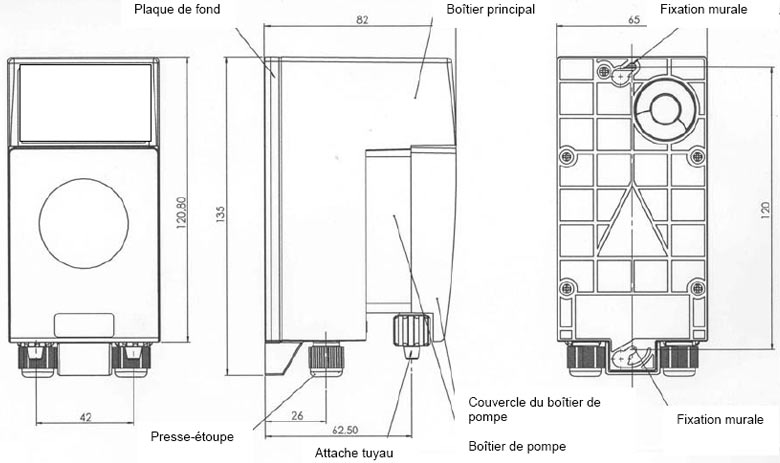 Warranty
2 years except wear and tear parts
Photos non-contractual
Price incl. VAT
Ask for a free quote dinodos easy
Other product : Dinodos EASY
At best price 333 eur Including VAT.
Please fill in this form carefully. Our commercial service will handle your request promptly.
---
UK freephone hotline
Monday Friday 9.00 19.00, Saturday 10.00 18.00

---
Spare parts order
You are looking for a spare part for «Dinodos EASY» ?
Please click the button below. Our commercial service will handle your request promptly.