Automatic water treatment and products

Dosing pumps and regulating units

Smart Timer programmable dosing pump
Smart Timer programmable dosing pump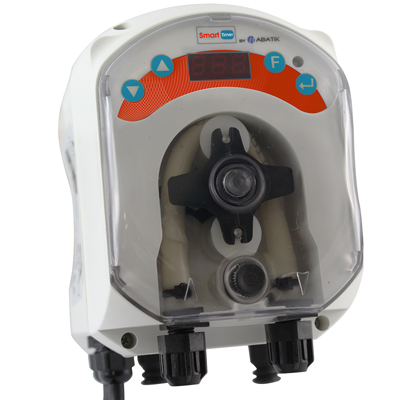 Recommended retail price 2023 starting from :
Our Price starting from :
Ref. Abatik 023698
Ref. Provider ADD11V401000A0B
Smart timer dosing pump with configurable settings
Chronometric dosing pump
Ideal to dose active oxygen
Easy installation, compact size,
Digital screen, configurable settings

In stock
Smart timer peristaltic dosing pump in detail
Swimming pool comfort is directly linked to pool water quality.
The concentration level of treatment product required for disinfection can vary from one moment to the other depending on your water hardness, climatical conditions and swimming frequency.

To maintain swimming comfort and ensure efficient water disinfection the Smart timer chronometric dosing automates injection of your treatment product.

Smart Timer is a simple and efficient programmable dosing pump, featuring a peristaltic pump to treat pools up to 200m³.

Ideal for use with chlorine, active oxygen, flocculants and anti-algae products.

Factory set to operate with the vast majority of pools, however, you can program Smart Timer to operate with your own particular pool configuration.

Program settings allow up to 8 sequences of injection per day for a duration of 1 week.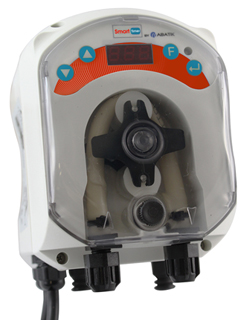 Supplied with a complete connection kit, Smart Timer is easily and quickly installed on most filtration systems. The required power supply conforms to the norm C-15-100 (using a 30 mA protection).
Advantages of the Smart Timer
The Smart Timer is:
-
Easy to install
: By means of the paddle clamp integrated to the pump's injector. Only one hole needs to be drilled on the filtration circuit to install Smart Timer.
-
Precise
: Chronometric regulation ensures an injection that can be adjusted in minutes.
-
Configurable
: Factory set, can be configured by the user to suit the needs of a specific pool situation.
-
Quiet in operation
: By means of robust the the pumps tube is compressed by two rollers (the basic principal of a peristaltic pump) ensuring the injection of residual liquids.
-
Economic
: Simplified mechanics and easy to source, inexpensive, replacement wear and tear parts make this pump economic to purchase and run.
-
Dependable
: The drive mechanism of the pump is equipped with bearings creating a fluid movement and less wear and tear on parts.
-
Compact
: With compact dimensions measuring 140,5 x 97 x 129,4mm facilitates installation even in the smallest technical shelters.
Control panel
Smart Timer uses a digital control panel that shows:
- A precise countdown to injection time,
- A clock showing time excepting injection intervals
- Faults

1
. Arrows which indicate
up
and
down
allow you to modify injection intervals.
2
.
Function
allows access to the various menu settings.
3
.
Enter
allows navigation throughout the various sub-menus.
4
. LED indicates the status of unit operation:
- Static green: pump on
- Flashing green: pump operational
- Static red: pump off
- Static orange: parameter setting is underway
- Flashing orange: pump is priming
Technical characteristics
Pump
Chronometric self-priming pump
Dosing
Chronometric, automated
Diameter of paddle clamp
50mm
Injector material
Viton - polypropylene
Operational temperature
0°C to +45°C
Dimensions

Dimensions in mm.
Connections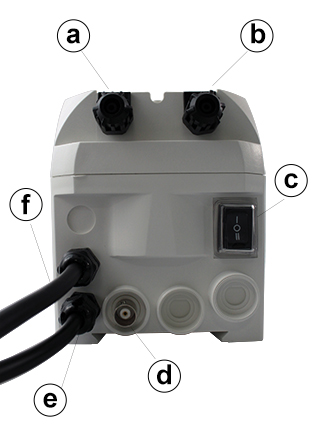 Smart Timer - above view
Suction connection (a)
Discharge connection (b)
Start/stop/self-prime switch (c)
Optional liquid tray level sensor (d)
Slave function connection cable (e)
Power cable (f)
Installation schema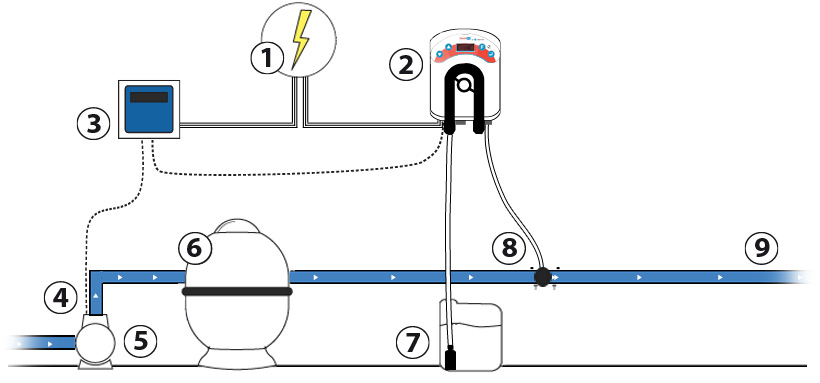 1. Power supply
2. Smart Timer dosing pump
3. Electrical box
4. Slave connection to pool pump
5. Pool pump
6. Pool filter
7. Suction of liquid product
8. Injection of liquid
9. Discharge to pool
Composition of kit
The Smart Timer dosing pump is delivered complete, ready to use.
The kit includes:
- 1 chronometric box with dosing pump (1).
- Crystal PVC tube cristal for suction and injection (2).
- 50 mm paddle clamp for injector (3).
- Suction sieve (4).
- Remenant (5).
- support de fixation (6)
- 1 manuel d'utilisation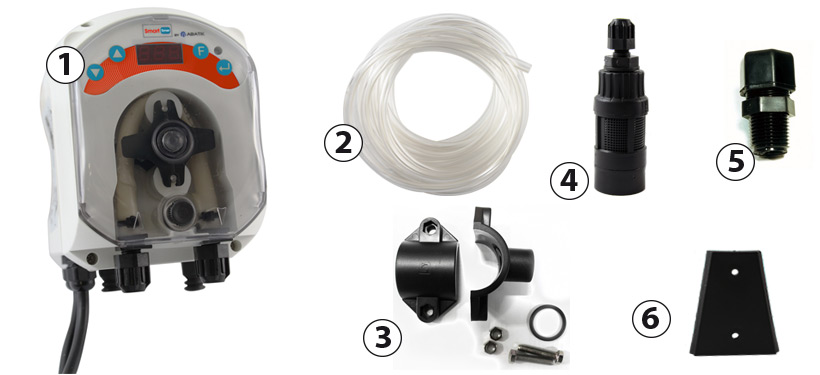 Available on option - Product tray level sensor
Product tray level sensor should be connected to the BNC plug situated under the unit

When the sensor detects that there is no more product in the tray, Smart Timer will cease operation immediately.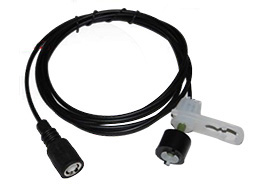 Warranty
2 years (excepting wear and tear parts)
Photos non-contractual
Price incl. VAT
Ask for a free quote smart timer programmable dosing pump
Other product : Smart Timer programmable dosing pump
Starting from 239 eur Including VAT.
Please fill in this form carefully. Our commercial service will handle your request promptly.
---
UK freephone hotline
Monday Friday 9.00 19.00, Saturday 10.00 18.00

---
Spare parts order
You are looking for a spare part for «Smart Timer programmable dosing pump» ?
Please click the button below. Our commercial service will handle your request promptly.