Automatic water treatment and products

Dosing pumps and regulating units

DOSECO pH- liquid dosing
DOSECO pH- liquid dosing
Water often has a high content of ca++ (limescale). The presence of limescale in your pool water heightens its pH level (over 7) and requires water balance correction.
Automatic regulation of the pH- DOSECO has been specifically developed to exclusively inject liquid pH- correction liquid.
DOSECO is :
- Quietly run : Peristaltic pump injects your liquid pH corrector, operation with tablet holder without noisy mechanics.
- Economical : Simplified mechanics and less wear and tear parts make this an economic purchase in the long term.
- Precise : Integrated proportional regulation slows injection speed when the required range is reached.
- Easy to use : The pump's probe is automatically calibrated and the working range is set by pushing a button and selecting between pH 7,2 - 7,4.
- Compact : pocket sized 128 x 85 x 105mm ensuring a comfortable position in all technical shelters.
OTHER ADVANTAGES
- No risk of syphoning as the tablets create constant pressure on the pump's tube.
- No risk of overheating in case of dry running.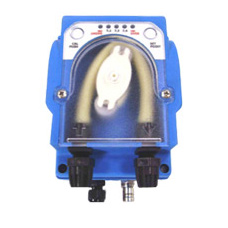 Contents
1 peristaltic pump with power cable
1 pH7 buffering solution
1 crystal PVC suction tube
1 1/2" probe support
1 wall mounting kit
1 pH probe with 5m cable
1 PE discharge tube
1 suction sieve
1 1/2" injector with valve
Technical features
Working range
Adjustable between 7,2 and 7,4
Probe
Automatically calibrated pH 7 and error indicator
Power supply
230VAC single phase- 50Hz - 3,5W
Internal tube material
Santoprene
Injection valve material
Viton - polypropylene
Tablet holder material
Polybutylene
Tablet material
Delrin self-lubricating
Full dimensions (mm)
128 x 85 x 105
Guarantee : 1 year
Photos non-contractual
Price incl. VAT
Ask for a free quote doseco ph- liquid dosing
Other product : DOSECO pH- liquid dosing
At best price 299 eur Including VAT.
Please fill in this form carefully. Our commercial service will handle your request promptly.
---
UK freephone hotline
Monday Friday 9.00 19.00, Saturday 10.00 18.00

---