Automatic water treatment and products

Dosing pumps and regulating units

Dinotec Easydos automatic regulating dosing pump
Dinotec Easydos automatic regulating dosing pump
The Dinotec Easydos automatic regulating dosing pump allows automatic injection of all disinfectant liquids (active oxygen, chlorine and others).
Possible applications :
1 - Flocculant dosing
2 - Active oxygen or chlorine dosing
3 - pH + or - dosing (liquid)
Economic and compact dosing, commanded by an integrated microprocessor for better precision, avoiding overdosing.
An alphanumeric display on back lit screen.
High-performance, low-dosage pump using a stepper motor (very low wear and tear), ensuring optimal adaption to flow depending on requirements at any specific time. This reduces operational costs and waste.
Minimum flow 10 millilitres/hour, maximum flow 3 litres/hour.
Dosing is operational up to a maximum counter pressure of 1,5 bars.
The system features leak detection, warning alarm and dry run security cut off.

The Dinotec Easydos automatic regulating system with dosing pump is quality controlled, ready to connect and pre-mounted for mural installation.
The system is delivered with a connection kit including suction and injection tubes, injector and paddle clamps.
Ideal for private pools and spas.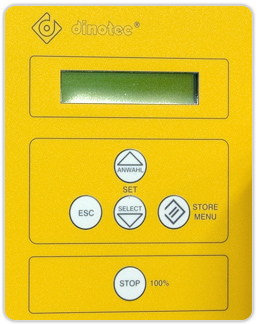 Technical features
Power supply
230 V +6 %/-10 %, 50/60 Hz
Dimensions of wall mounting plate
250x300 x8 mm (L x w x D)
Admissible temperature
From 0 to 50 °C
Admissible stocking temperature
From -20 to + 65 °C
Admissible ambient air humidity expressed in %
90% maximum at 40° °C (no condensation)
Dosing pump
High capacity peristaltic dosing pump, stepper motor with leak dectection.
Pump tube
6/4 mm, complete with connections
Maximum flow
3,0 l/h (adjustable from 10 to 100%), with a maximum counter pressure of 1.5 bars
Temporisation required when connected
15 minutes
Display
LCD backlit digital screen, 2 x 16 characters
Languages
German, english, french, spanishl
Installation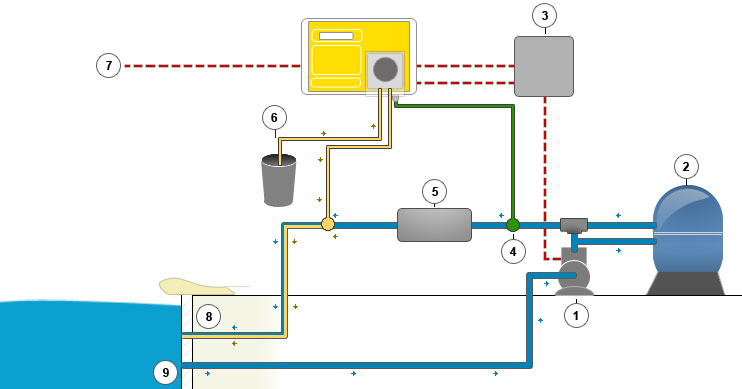 1. Filtration pump
2. Filter
3. Electrical box
4. Dinotec Easydos automatic regulation
5. Heating (on option)
6. Liquid disinfectant
7. Dosing pump supply
8. Pool discharge
9. Pool suction
Warranty
2 years excepting wear and tear parts
Photos non-contractual
Price incl. VAT
Ask for a free quote dinotec easydos automatic regulating dosing pump
Other product : Dinotec Easydos automatic regulating dosing pump
At best price 1404 eur Including VAT.
Please fill in this form carefully. Our commercial service will handle your request promptly.
---
UK freephone hotline
Monday Friday 9.00 19.00, Saturday 10.00 18.00

---