BIO-UV Regul pH
The BIO-UV pH dosing pump constantly measures the pH valour present in your pool water.
Once the pH valour measured does not match the programmed valour, the dosing pump activates and sends correction liquid to the filtration circuit by proportional doses.
Easy to use, the pH level is permanently displayed even when filtration is not active. An alarm activates when the pH level is lesser than 6 or higher than 8. Tube rotation permits a very low noise level when dosing.
BIO-UV pH dosing pump in detail


- Perfect pH for swimming comfort without aggression to skin, eyes, mucosa...

- Automated, measuring pH permanently without human intervention.

- Avoids limescale deposits, cloudy or whitened water.

- Avoids the development of algae and bacteria, optimises disinfecting products, reduces the consumption of chemical products.

1. Digital display, 2. pH pump, 3. Cable gland, 4. BNC input ,
5. Connection, 6. Santoprene tube, 7. Tablet holder.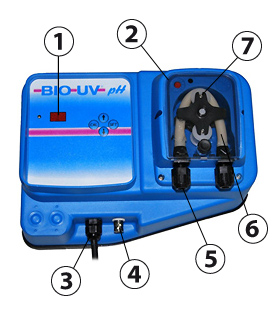 Advantages
-
Respects the ROHS norms
composants contain neither mercury or lead.
-
Digital display
.
-
Proportional regulation
to avoid overdosing.
-
Simplified calibration
.
-
Easy connection
avoiding analytical errors
-
Protected probe
(ABS body) for better dependability, can be fitted vertically, horizontally or sideways.
-
Complete kit supplied
with an extra Santoprene tube.
Technical features
Dimensions
190 x 140 x 70cm
Maximum flow dosing pump
1.5 liter/hour
Maximum pressure at injection point
1.5 bars
BNC input for pour sensor
Yes
pH+ or pH- selection (factory settings)
Yes
Distance control input
Yes
1 x dry run probe (PP)
Dry run alarm
Installation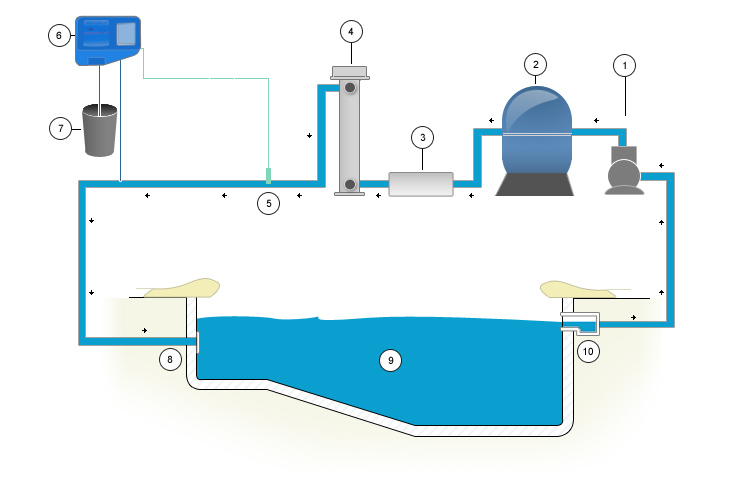 1. Filtration pump
2. Filter
3. Heating (on option)
4. pH probe
5. BIO-UV
6. BIO-UV REGUL pH pump
7. Acid
8. Pool
9. Discharge
10. Skimmers
Kit contents
BIO-UV pH pump includes :
- 1 pH electrode with BNC cable (Length = 6 meters)
- 2 saddle clamps (Diameter = 50 or 63 or 75mm* outlet 1/2'' Female)
- 1 connection (PVE) for pump valve (1/2'' Male x 3/8'' Female)
- 1 probe support (1/2'' Male)
- 1 Polyethylene discharge tube (4 x 6mm Length = 2 meters)
- 1 crystal PVC suction tube (4 x 6mm Length = 2 meters)
- 1 suction sieve (1)
- 1 injection valve for pump (3/8'' Male for tube 4 x 6mm
- 1 Santoprene tube (1,5 liter/hour)]
Warranty
2 years
Photos non-contractual
Price incl. VAT
Ask for a free quote bio-uv regul ph
Other product : BIO-UV Regul pH
At best price 888 eur Including VAT.
Please fill in this form carefully. Our commercial service will handle your request promptly.
---
UK freephone hotline
Monday Friday 9.00 19.00, Saturday 10.00 18.00

---
Spare parts order
You are looking for a spare part for «BIO-UV Regul pH » ?
Please click the button below. Our commercial service will handle your request promptly.