Automatic water treatment and products

Dosing pumps and regulating units

DINOTEC pH-Control "S" automatic regulation system
DINOTEC pH-Control "S" automatic regulation system
Precise pH regulation
lets you obtain efficient water treatment. Protecting pool technical equipment against corrosion and offering better water quality and swimming comfort.
pH-Control "S" automatic regulation
is controlled by a microprocessor with integrated dosing system and pH correction (lower/higher).
Digital display with settings menus :
Automatic temporisation of start, 0 to 15 min,
Dosing time check, range adjustment,
Higher or lower pH ,
Program display and language selection....
Integrated self-priming peristaltic dosing pumps with proportional regulation for a maximum flow of 3,0 l/h at 1,5 bars.
The water pH level is measured using a probe placed in an analysing chamber through which circulates a low flow of pool water. This precise and stable measuring technic avoids overdosing of pH correcting liquid (resolution 0,1 pH)
This pumps integrated dosing technique is compact and economical. Featuring a stepper motor that enjoys a long lifespan with little wear and tear, this dosing pump adapts to an optimal dosing between 0,3 and 3 l/h, depending on the pool water requirements, reducing waste and running costs. The dosing pump is compatible with a maximum back-pressure of 1.5 bars.
The unit is pre-mounted and factory set, ready to use.
Supplied with connection kit:
- Tube with suction sieve for pH correction liquid
- Tube with injector
- 3 50mm diameter paddle clamp
- 2 valves and 1 filter supplied with 2 tube lengths for analysing chamber circuit.
- 1 pH measuring probe is supplied with 2 bottles of calibration solution.
Details of pH-Control "S" featured elements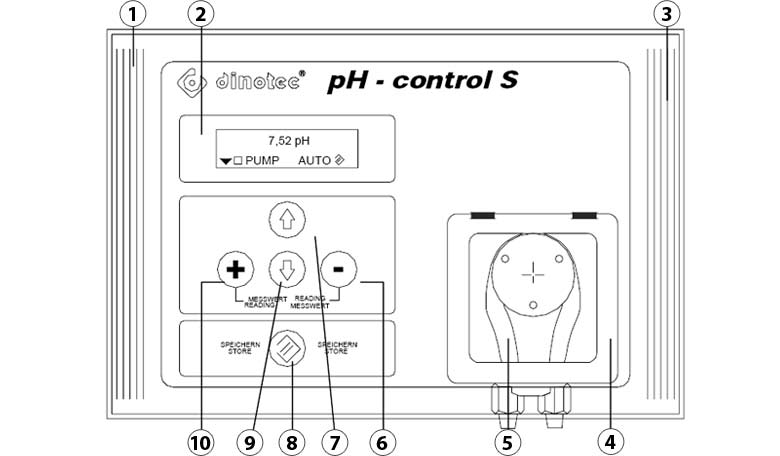 1. Lid
2. Matrix display screen 2 x 16 characters
3. Lid
4. Pump housing
5. Flexible tube
6. Touchpad – Lowel level by 1
7. Selection program up
8. Memorise / confirm selection
or memorise range setting
9. Selection program down
10. Touchpad + heightens level by 1
Installation schema pH-Control "S"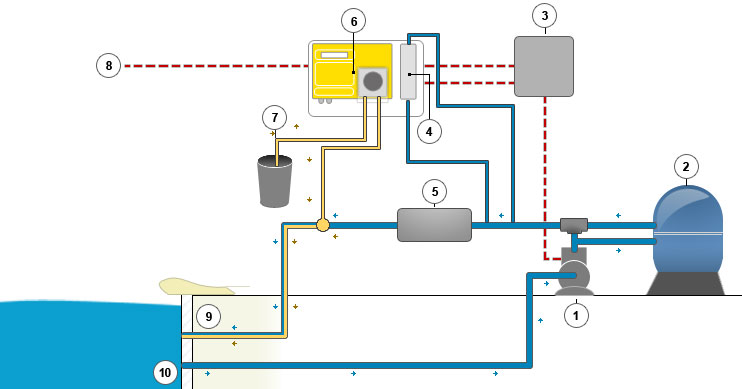 1. Filtration pump
2. Filter
3. Electrical box
4. Analysing chamber with pH probe
5. Heating (on option)
6. Dinodos TOP dosing pump
7. pH correction liquid (pH+ or pH-)
8. Dosing pump power supply
9. Discharge pool
10. Pool suction
Power supply :
230 V +6 %/-10 %, 50/60 Hz
Dimensions of unit (H x w x D)
160x240x110 mm
Dimensions of mounting plate (H x w x D)
330x420x8 mm
Admissible working temperature
De 0 à 50 °C
Admissible storage temperature
De -20 à + 65 °C
Admissible ambient humidity %
90% maxi at 40 °C (no condensation)
pH probe temperature
From -5 °C to + 40 °C
Dosing pump
High capacity, peristaltic
Maximum flow
3,0 l/h (adjustable 10 - 100%)
Temporised start
Can be programmed from 0 to 15 minutes
Display
Alphanumeric , 2 x 16 characters, backlit
pH measure
Probe with analysing chamber
Measuring range
pH 0 to pH 14
Calibrage
Manual with calibration solution between pH 7,0 and pH 4,0
Alarms
Dry run, low product level, leak
Hydraulic liason kit
pH suction and injection via paddle clamp
Analysing chamber
Hydraulic supply with filters on paddle clamp valves.
Warranty
2 years except wear and tear parts
Photos non-contractual
Price incl. VAT
Ask for a free quote dinotec ph-control "s" automatic regulation system
Other product : DINOTEC pH-Control "S" automatic regulation system
At best price 1404 eur Including VAT.
Please fill in this form carefully. Our commercial service will handle your request promptly.
---
UK freephone hotline
Monday Friday 9.00 19.00, Saturday 10.00 18.00

---