FAQ - Swimming Pool Online advice and recommendations

Installation guide for pool kit
Installation guide for pool kit
Introduction
Composition of the pool kit
Tracing and excavation of pool cavity
Fitting the panels of your pool kit
Applying concrete and bottom screed
Installation of plumbing and technical shelter
Sealing, filling and backfill of pool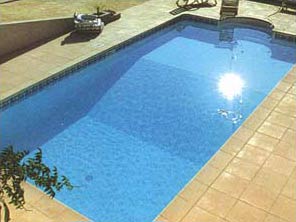 How to assemble a pool kit
A pool is a source of pleasure and well-being. Your pool should reply to 3 criteria's: quality, security and long life. The most popular construction techniques that are currently used are fibreglass shell, concrete blocks, steel panels, resin... All of these techniques are a good choice and respect building norms.
An
In ground galvanised pool kit
is distinguished from the other techniques by fast and simple installation that offerings resistance to weather conditions and ground movement and perfect sealing using a liner or reinforced PVC.
The installation of a pool kit takes usually 2 weeks with 2 persons.
You don't need to have a specific qualification to install your own pool, you just need to be comfortable with DIY.
If you make this choice, you will economise an important budget in comparison to what you would spend if a professional company installed your pool.
You will find below, step by step, the progressive stages of your pool installation, from excavation to water fill.
To give you a global view, we invite you to watch the two below videos :
Pool kit assembly - part 1 :


Pool kit assembly - part 2:


Choice of pool kit, parameter and pool floor shape
The pool's orientation should be chosen in relation to sun exposure, dominant winds, neighbouring properties and local planning permission regulations. Ideally, the land parcel should be flat without direct sightlines towards neighbouring properties. The earth should be free rock or water with digger access.
The choice of the parameter shape of pool is totally personal. A pool kit can be modulated or personalised. Our advice is a simple shape (square or rectangular), simplifying the installation of a
pool cover or automatic shutter
,
pool cover
or
bubble cover
. A simple shape also eases the task of
cleaning
.
Choosing the bottom surface of your pool : Don't design an over deep pool (maximum 190 cm for 8 x 4 m). Unless you install a
pool Heat pumps
water will prove to be difficult to heat.
Privilege the choice of a "hopper" shaped pool floor enabling the creation of a shallow end and to be in-depth all around the pool perimeter, making the concept of the pool more child-friendly.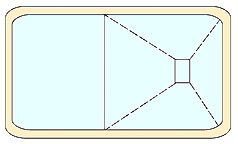 Choose a pool kit that measures 2mm in thickness (200/100th), an
In ground galvanised pool kit
or one of the Duralinox pool kits. The elements are rigid, do not bend or warp. The panels are bolted one to the other and use a panel/brace supporting system that provides perfect structural rigidity and pressure resistance to earth or water.
A
made to measure liner
is cut to the exact dimensions of your pool floor is supplied. You will see liner installation in more detail in the below pictures. Another solution to ensure perfect water sealing is reinforced PVC. This is a more resistant solution, but must be installed by a professional.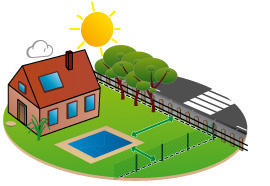 Before you commence the construction of your pool you must ask yourself the following questions :

Which position will I choose for my pool? Anticipate access for a mechanical digger and the technical shelter.

You have the obligation to respect local regulations and laws.

You need to take into account the minimum authorised distance from neighbours and the surrounding public road.

For further details, contact your local authority.
Pool orientation
Consider the orientation of your future pool. The most south facing zone will provide the best sun exposure. This should be the privileged choice. Identify the dominant wind direction and position the skimmer opposite to enable the easy recuperation of floating debris.
Remember, this construction has certain constraints. For example, your pool cannot be constructed on a site that has already been backfilled, this could lead to subsidence, non-stability or even collapsing. Also, pay attention as to what is under the chosen site - is there a service piping network? When building the foundations be sure there are no electrical cables, a gas line, a water line...

Make the right choice of pool orientation !
You will see to the right, the sun will not reach the pool, therefore, the water will not be warmed naturally.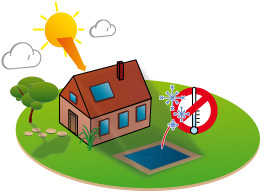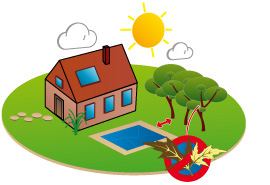 Don't build your pool close to a road (you'll collect residual dust), be cautious of trees close to the pool (particularly conifers) as they could transform your pool into a compost box! These factors could shorten the lifespan of your pool, pump and filter. Skimmers will degrade rapidly and your pool liner stained. You would also have more insects falling into the water.
If you wish to position your pool close to a line of trees, anticipate Autumn leaf fall!
Site acces
The easier access you have to the site, the faster your construction will be completed. It is important nothing hinders the mechanical diggers path that will dig the pool cavity. Be sure that your terraces, paving stones or tarmacadam can support the passage of a digger.

Be careful of building engines !

In this instance, the digger's arm is "blocked". Access must be created before digging can begin!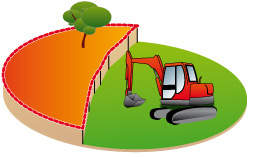 Following page :
Composition of a pool kit