Pool equipment

Liner and reinforced PVC, sealing material and pool paint

Astral made to measure pool liner
Astral made to measure pool liner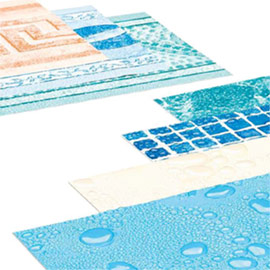 Recommended retail price 2023 starting from :
Our Price starting from :
Ref. Abatik 001827
Ref. Provider 89011
PVC Liner 75/100th single colour, pale blue, flexible, (norm AFNOR NF T 54-803-1) monocut, made to measure
Made to measure liner for inground pools
75 or 85/100th PVC
Many available colours
In stock

Price / Shape
Price per m²
| | | | |
| --- | --- | --- | --- |
| Shape : | Standard shapes | Non-standard shapes | Free form |
| Single colour | 13,00 eur inc VAT | 14,90 eur inc VAT | 17,90 eur inc VAT |
| ALKORPLAN 2010 single colour | 14,00 eur inc VAT | 15,70 eur inc VAT | 19,90 eur inc VAT |
| Single colour + Waterline fresco | 16,30 eur inc VAT | 16,90 eur inc VAT | 19,90 eur inc VAT |
| Printed liner | 18,90 eur inc VAT | 19,90 eur inc VAT | 22,90 eur inc VAT |
A liner creates a watertight pocket that pushes against the pool floor and walls of your pool. Made from reinforced PVC-P (plasticised polychloride vinyl). This material has been chosen for it's flexibility and resistance to tearing and decolouration
by exposure to UV rays.
A wide range of colours is available to embellish your pool.
Made to measure, this liner adapts to your pool shape, ensuring perfect watertightness.
- Made from 75/100th plasticised polychloride vinyl (PVC-P).
- Satin finish, watertight surface, agreeable to touch offering easy maintenance
- Fixation hem allows a "hung" installation, using a profile or in a vertical position.
Shapes
Standard shapes
:

Non-standard shapes
:

Available colours
Single colour liner 75/100th guaranteed digressively for 10 years on soldering, 7 standard colours, 7 prints, waterline frescos available on option.
ALKORPLAN 2010 Anthracite
White
French Blue
Pale Blue
ALKORPLAN 2010 Grey
Sand
Byzantine blue
Byzantine green
Persian blue
Persian blue grey
Persian Old Rose
Marble blue
Marble Grey
Marble Sand
Waterline frescos
PVC frescos soldered at high temperature. Frescos are available on option with standard liners in accord with your choice. Height : 240mm
Carthage blue
Carthage green
Genova grey/blue
Florentine grey/blue
Olympia blue
Olympia green
Oxford blue
Oxford grey/blue
Mallorca blue
Mallorca sand
Warning : We do not recommend the installation of a liner on pool stairs.
Warranty
10 digressive years on soldering and watertightness
Photos non-contractual
Price incl. VAT
Ask for a free quote astral made to measure pool liner
Other product : Astral made to measure pool liner
At best price 17.25 eur Including VAT.
Please fill in this form carefully. Our commercial service will handle your request promptly.
---
UK freephone hotline
Monday Friday 9.00 19.00, Saturday 10.00 18.00

---