Pool equipment

Liner and reinforced PVC, sealing material and pool paint

RESIST 75 made to measure inground pool liner, resistant to high temperatures
RESIST 75 made to measure inground pool liner, resistant to high temperatures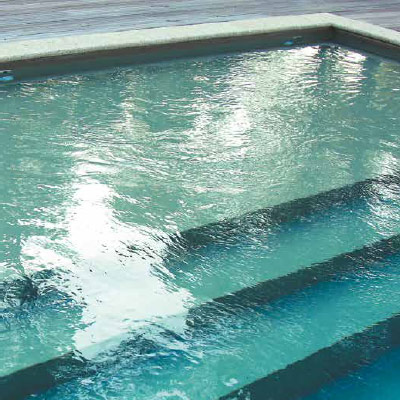 Recommended retail price 2023 starting from :
Our Price starting from :
Ref. Abatik 022924
Ref. Provider PROTECT-BL-ECO
RESIST 75 liner 75/100th, single colour, white, ECO shape
Discover the RESIST 75 liner for all inground pools
Buy your made to measure liner at the best price
In stock
The range of RESIST 75 liners are the result of industrial research and are 100% made in France combining esthetic with robustness.
Resistant to a water temperature of 33°C, less sensitive to UV ray exposure and the loss of colour that regular liners may suffer from.
A unique resin associated with a protective varnish make this a quality pool liner, favoured by professional installers.
Creating a watertight pocket that pushes against the pool floor and walls of your pool. The RESIST 75 range of liners is made from reinforced PVC-P (plasticised polychloride vinyl).
This material has been chosen for it's flexibility and resistance to tearing and decolouration par exposure to UV rays.
Made to measure, this liner adapts to your pool shape, ensuring perfect watertightness.
Benefiting from a choice of 7 colours with complementary waterline frescoes available, the RESIST 75 range offers you a wide choice of possibilities to embellish your pool.
- Made from 75/100th plasticised polychloride vinyl (PVC-P).
- Mat finish, watertight surface, agreeable to touch offering easy maintenance
- Fixation hem allows a "hung" installation, using a profile or in a vertical position.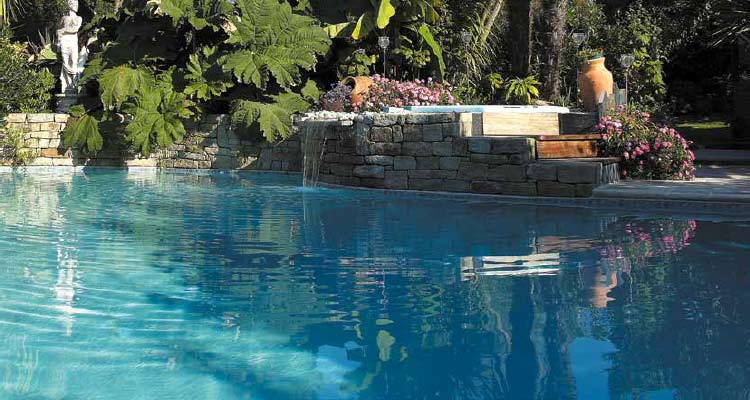 RESIST 75 liner Slate Grey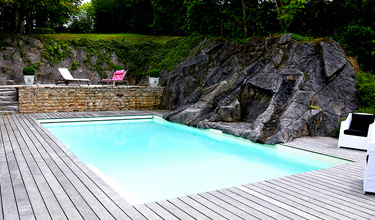 RESIST 75 liner White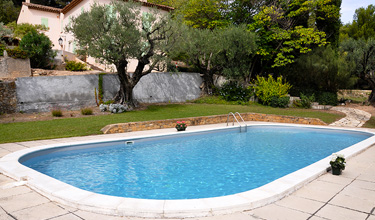 RESIST 75 liner Steel Grey
Prices for RESIST 75 liner
Price includes VAT per m²
| | | | | | |
| --- | --- | --- | --- | --- | --- |
| Shape: | ECO | Shape A | Shape B | Shape C | Shape D |
| 75/100th RESIST 75 liner single colour | 14.63 € | 16.50 € | 18.24 € | 21.25 € | Consult us |
| 75/100th RESIST 75 liner printed colour | 18.15 € | 20.40 € | 21.14 € | 24.75 € | Consult us |
| Flat rate for soldered waterline 75/100th RESIST 75 liner, single colour | + 250 € | + 250 € | + 250 € | + 250 € | Consult us |
NB : 10% surcharge for liners lesser than < 60m²
Shapes
ECO shape
:

1-Rectangular, flat floor*
2-Circular, flat floor
3-Double circle, flat floor
4-Double roman, flat floor
5-Ovoid, flat floor
6-Hexagonal, flat floor
7-Octagonal fond plat
*
not including stairs, waterline or shutter reserve
Shape A
:

8-Rectangular, flat floor
9-Constant slope
10-Composed slope 1
11-Composed slope 2
12-Diving pit 1
13-Diving pit 2

14-Diving pit 3
15-Diving pit 4
16-Diving pit 5
17-Diving pit 6
Shape B
:

18-Kidney shape, flat floor
19-Double roman diving pit
20-L flat floor
21-Lazy flat floor
22-Rectangular with security step
23-Cut angled pool with diving pit
Shape C
:

24-Ovoid with diving pit
25-L with diving pit
26-Lazy with diving pit
27-Kidney shape, with diving pit
28 Out-of-square with diving pit
Shape D
:

29-Free form 1
30-Free form 2
31-Free form 3
Outer pool stairs

1-Roman stairs
2-Straight stairs
3-Straight cut stairs
4-Rectangular trapeziform stairs
5-Trapeziform stairs
Inner pool stairs

1-Angled stairs
2-Off-set angled stairs
3-Straight inner stairs
4-Whole width roman stairs
5-Whole width straight stairs
6-1/4 circle inner stairs
Split level stairs - shutter reserve

1-Roman
2-Straight
3-Whole width
Available colours
Single colour liners

Beige

White

Light blue

Royal Blue

Steel Grey

Slate Grey
Printed liner

Industrial Grey
Waterline fresco
PVC frescos soldered at high temperature. Frescos are available on option with standard liners in accord with your choice. Height : 240mm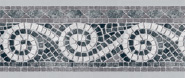 Antalya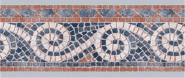 Sienna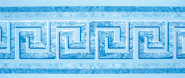 Mykonos blue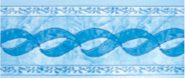 Olympia blue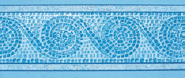 Carthage blue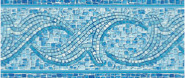 Ipanema blue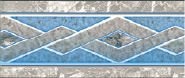 Florentine plus grey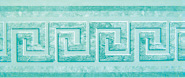 Mykonos green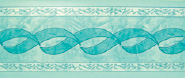 Olympia green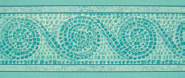 Carthage green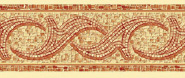 Ipanema ocher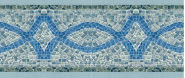 Lisbon grey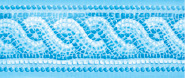 Pompeï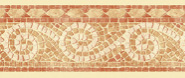 Genova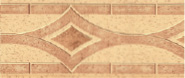 Mallorca beige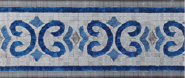 Oxford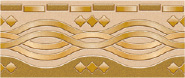 Onduline beige




Non soldered waterline, Single colour between wall and waterline fresco. Dimensions in height : 240mm. Quote on demand.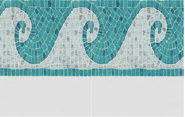 Vesuvio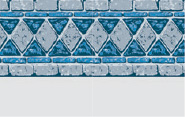 Brehat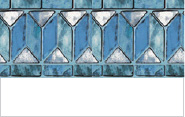 Benedict


Liners in situation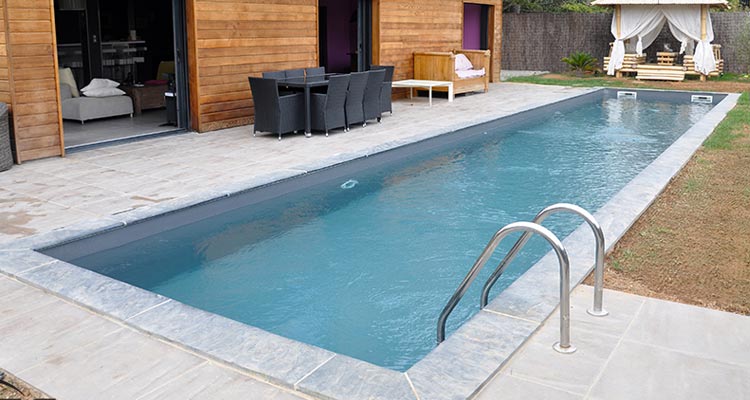 RESIST 75 liner in Slate Grey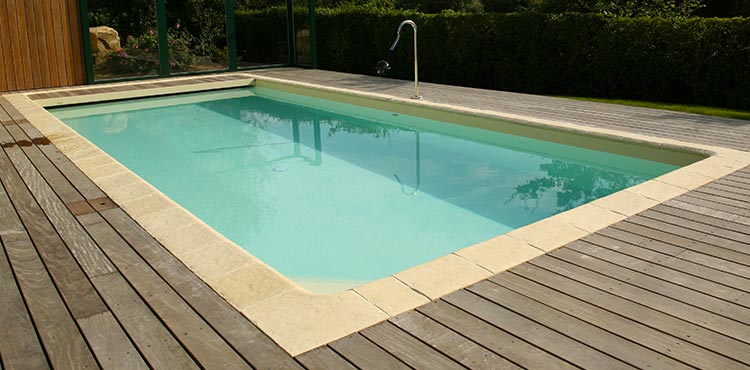 RESIST 75 liner in beige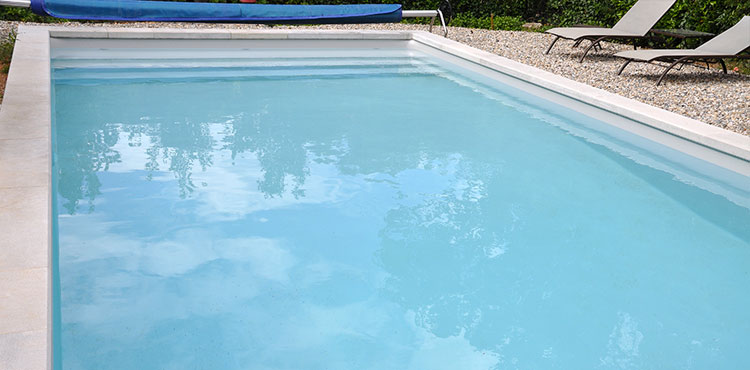 RESIST 75 liner in Steel Grey
Warning : We do not recommend the installation of a liner on pool stairs.
Warranty
Warranty of 10 full years followed by 5 decreasing years.
Photos non-contractual
Price incl. VAT
Ask for a free quote resist 75 made to measure inground pool liner, resistant to high temperatures
Other product : RESIST 75 made to measure inground pool liner, resistant to high temperatures
At best price 19.60 eur Including VAT.
Please fill in this form carefully. Our commercial service will handle your request promptly.
---
UK freephone hotline
Monday Friday 9.00 19.00, Saturday 10.00 18.00

---