FAQ - Swimming Pool Online advice and recommendations

Installation guide for pool kit

The composition of a pool kit
The composition of a pool kit
Installation guide for pool kit
The composition of a pool kit
Tracing and excavation of your pool
Fitting the panels of your pool kit
Applying concrete and bottom screed
Installation of plumbing and technical shelter
Installation and fitting of sealed liner and water fill
1. Galvanised steel panel pool kit
Panels constitute pool structure offering diverse combinations. Skimmer, lighting projectors and discharge nozzle reservations are in general, pre-cut by the manufacturer.

2. A-frames or braces
These braces maintain the panels in a vertical position ensuring rigidity.

3. Installation material
Nuts and bolts for the support panels.
Steel rods or twisted irons that maintain the panels in position till the concrete has hardened.

4. Water circulation system
Skimmer (providing suction), sealed parts, main drain and discharge nozzles compose the water circulation system.

5. Lighting
The pool floor projectors and surround lighting features are, in general, installed during the pool construction process.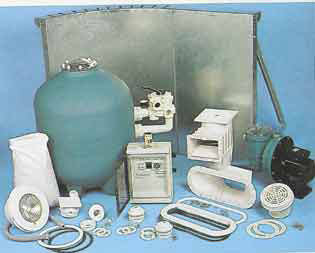 Tracing the pool parameter and pool cavity excavation
: You will require:
10m measuring tape, cord, small nails, wooden stakes 2 x 5 cm, tracing spray, spirit or laser level, 1,20 m level, spades, shovels, pick-axes, tape measures, steel stakes (25cm), plumb line.
Assembly of steel panels :
* 14mm spanner for nuts and bolts
* Clamps to maintain panels during assembly
* A doweling rod to line up nut holes
* A small tap hammer to insert metal piles
* A flexible 5 m meter measuring tape
* A 1,20 m level to line up vertical panels
* A builders level used to level the panels
* Shims and spacers to adjust and maintain the level of the panels
* A pry-bar to lift the panels
* Plumbline
* Drill and bits for the installation of stairs
Concrete and plastering :
* Wheelbarrow
* Shovels and rakes
* Trowels and hand smoother
* Leveling trowel and wooden float or screed rake for finishing touches in the terrace area
* Clamps and builders boards
* Edge irons, broom
For the liner :
* electric screwdriver with variable speed, strong suction, industrial hoover
* Barricade tape and strong duct tape
* Wrench socket 14mm, star-head screwdriver and razor blade
* Extension Cords / Power Strips
* A power or manual miter saw
* A hacksaw
Next step :
Tracing and excavation of your pool