Material and equipment for your technical shelter

Water level regulators

CCEI RNS-2 water level regulator
CCEI RNS-2 water level regulator
The
RNS-2 water level regulator
stabilises the water level of your pool. Positioned in the skimmer, the sensor analyses 2 problematical levels of water, the shallow end and the deep end.
The RNS-2 adjusts perfectly to the insufficient water level by using an electro valve.
If the water level is too high, it stops filling immediately and activates the filtration pump to evacuate the overflow.
This water level regulator facilitates everyday maintenance, automatically.
RNS-2 : High and low-level detection
The RNS-2 permanently adjusts the level of your pool water. Natural water evaporation and swimmers movements vary the level of water in your pool. These variations affect the correct operation of your skimmer and filtration pump.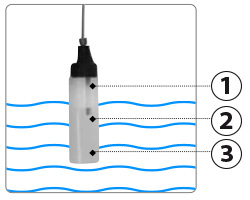 To regulate your water level, the RNS-2 is equipped with a "2-level sensor". This sensor identifies the two water levels which could be problematic for your material.

- Low level: Under point 3, the level of water is insufficient to allow a filtration group to operate correctly. It is possible that the skimmer will suction air and unprime the filtration pump.

In this case, the RNS-2 stops pump operation avoiding dry running. The electro-valve which activates filling is opened till the water level reaches point 1.

- High level: Above point 1, the RNS-2 water level regulator analyses a high water level. It suspends filling and activates the filtration pump.
Level 1
High level / Stops filling
Niveau 3
Low level / active filling
Maintaining a stable water level is essential if you are equipped with an
automatic cover
. Pool shutter dimensions are calculated to correspond with precise water levels. It is required to maintain water level to avoid friction on pool coping and the opening and closing of your shutter.
Installation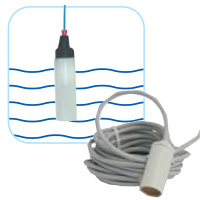 The RNS 2 is easy to install. 1 sensor is to be placed in your skimmer. Use the supplied mounting track which can be secured with glue or screws. Perfectly holding the sensor in place, you can evaluate and optimise your water level.
Install the sensor close to the skimmer basket depending on the required water level.

The RNS2 water level regulator is supplied with a 10m cable that connects the sensor to the control box.
Control box
The RNS-2 water regulator is equipped with a control box which is easy to use.
The front panel features a switch and luminous signals that indicate operation:
2
Luminous signals for pump stop and automatic fill
*If after three hours of automatic filling is insufficient, the "automatic fill default" will show on the front panel.
Filling is suspended and your pump will remain inactive. Stop the system to reinitialise the unit.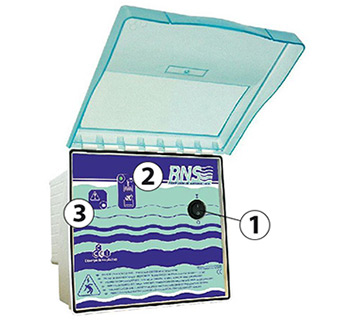 Caracteristics
2 level detection sensor
Supplied
Auto fill electro valve
Supplied (1"24)
Instruction manuel
Supplied
Photos non-contractual
Price incl. VAT
Ask for a free quote ccei rns-2 water level regulator
Other product : CCEI RNS-2 water level regulator
At best price 535 eur Including VAT.
Please fill in this form carefully. Our commercial service will handle your request promptly.
---
UK freephone hotline
Monday Friday 9.00 19.00, Saturday 10.00 18.00

---