Pool covers - pool covering solutions

Pool enclosures - shelter your pool

Low profile enclosure 10x5m MIAMI
Low profile enclosure 10x5m MIAMI
4 alloy folding sections (Aluminium and Polycarbonate)
3 to 4 persons are necessary to receive the delivery.
Key functions
Swimming pool enclosures especially designed for easy and rapid installation

Adapt to all pools shapes.
Harmonious aesthetics (alloy and polycarbonate elements)
They blend perfectly into the pool environment.
Integrates harmoniously in your pool environment. It lets the sun rays in and provides efficient isolating effect for you to be able to enjoy your pool for more of the year.

Principal advantages of the enclosure MIAMI

- Rapid and easy assembly
- Stable and resistant
- Easy storage at the back of the pool
- Delivery in kit (No risk of deterioration during transport)

Key functions

- Anodized aluminium structure and track.
- 3 supporting profiles per element.
- Polycarbonate alveolar, totally removable front.
- Lockable door if desired for children safety.
- Profiles dimensions 36 x 50 mm
- Alveolar polycarbonate, (3,3 kW/m²) with anti-condensation treatment "NO DROP"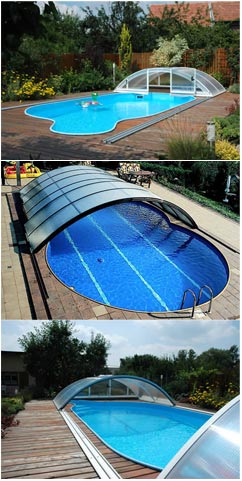 Number of enclosure units
5
Maximum pool dimensions (coping, ladder or filtrating unit included)
10,50m x 5,04m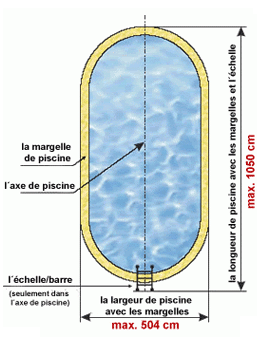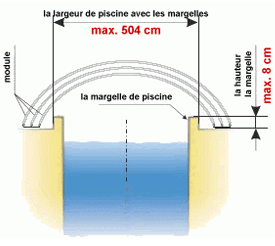 Dimensions of the enclosure
10,63m x 5,70m x 1,85m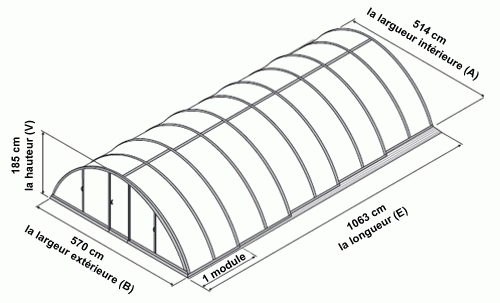 Removable front part

3 profiles per element

Track

Built-in right door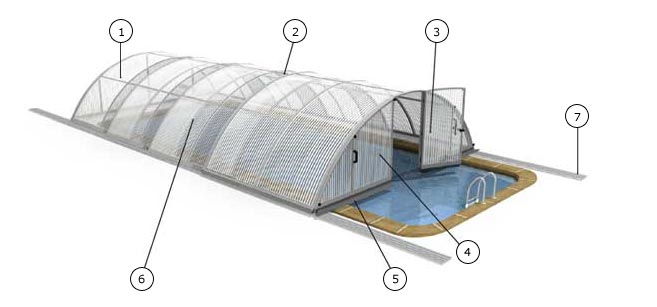 1. Immovable back door

2. Profile section 36 x 50mm, aluminium alloy (AlMgSi).

3. Front door Lockable door for children safety.

4. Front easily removable.
5. Flap in the front and at the back of the enclosure. 10 cm flap to move easily the enclosure without touching the pool coping.

6. Flap: 8 mm alveolar polycarbonate. Interior anti condensation treatment (NO DROP) reduces condensation under the roof. Thermic loss coefficient K= 3,3Kw/m².

7. Anodized aluminium track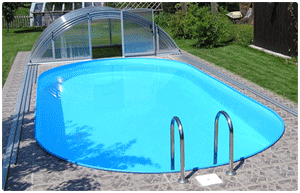 Telescopic enclosures composed of modules which can be moved back and forth on a track. It can be moved easily by one person only. You will able to really to enjoy your pool for more of the year, even if it's raining. What's more you lower your heating costs, reduce pool maintenance and save on costly chemicals.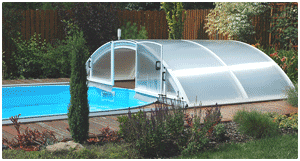 The enclosure may be moved aside entirely in summer.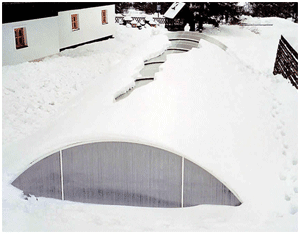 Thanks to its resistance and shape, the enclosure resists easily bad weather conditions and snowdrifts in winter.
Pool water is also well protected so you save on maintenance and costly chemicals.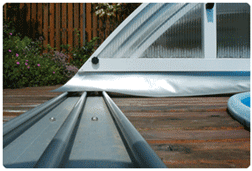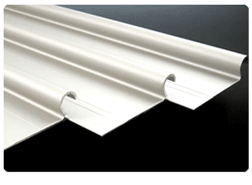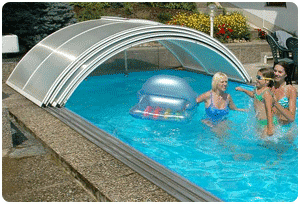 Standard enclosure version covers one part of the pool when fully opened.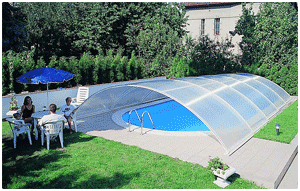 Folding elements in the front and at the back for easy access to the pool, the enclosure still maintaining the greenhouse effect heating the pool.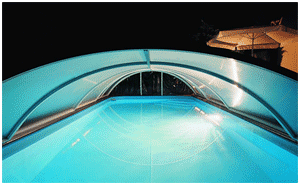 Let the sun rays dance on the water surface during the day, even when you do not use your pool and create a great atmosphere at night.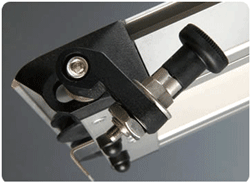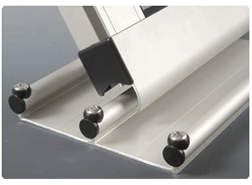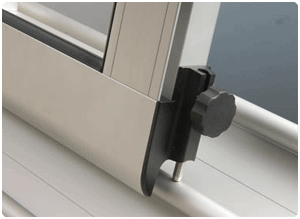 Thanks to simplified installation and light elements two persons will assemble the whole structure within a few hours.
Dimensions
Aluminium alloy structure
Al, Mg, Si
Front and back elements
folding
Exterior width of the enclosure (cm)
570
Interior width of the enclosure (cm)
514
Exterior length of the enclosure (cm)
1063
Exterior height of the enclosure (cm)
185
Interior dimensions (cm)
497 x 1055 (covered surface)
Exterior dimensions (cm)
575 x 1068
Assembly time per module
3 hours / 2 persons
Kit dimensions (cm)
366 x 75 x 129
Option Kit extension +3 m
+ 720 Euro with VAT
Assembly stages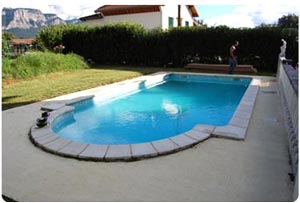 Swimming pool BEFORE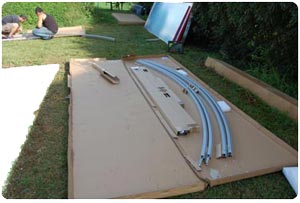 Unpacking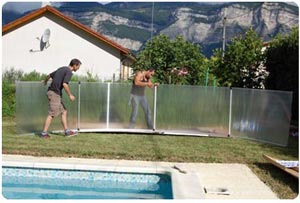 Modules assembly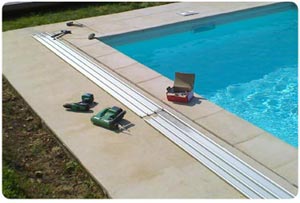 Track installation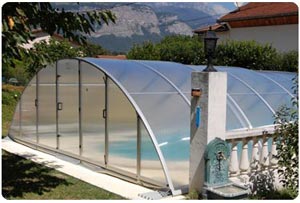 Front view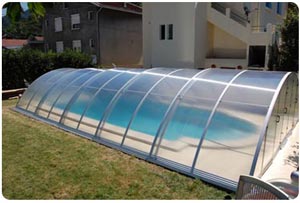 Swimming pool AFTER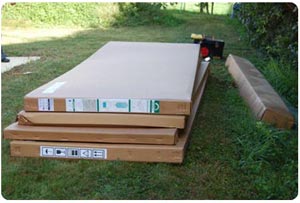 Packing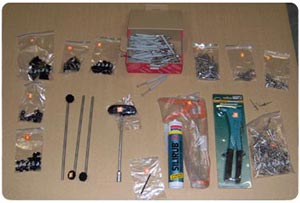 Tools, fasteners and screws included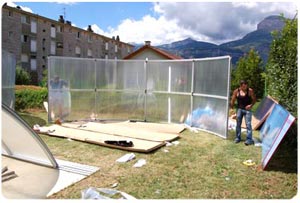 Modules assembly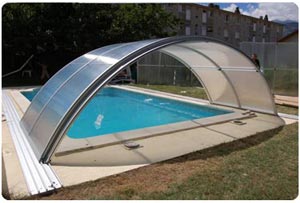 Modules installation on the track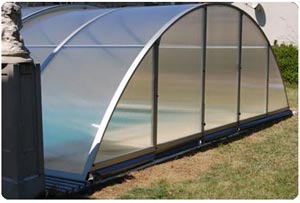 Back view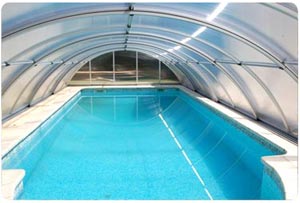 The enclosure is ready
Photos non-contractual
Price incl. VAT
Spare parts order
You are looking for a spare part for «Low profile enclosure 10x5m MIAMI» ?
Please click the button below. Our commercial service will handle your request promptly.