Pool covers - pool covering solutions

Pool enclosures - shelter your pool

MAJESTIC low pool enclosure
MAJESTIC low pool enclosure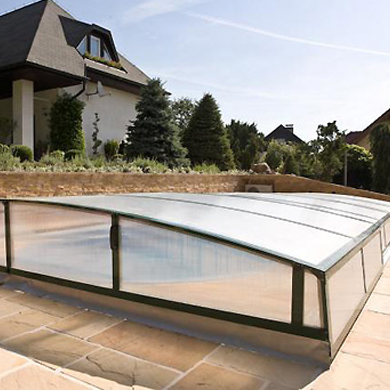 Recommended retail price 2023 starting from :
Our Price starting from :
Ref. Abatik 020533
Ref. Provider IMPERIAL LOW
Majestic low telescopic pool enclosure 420x350x90 h aluminium structure
Pre-assembled, ready to install telescopic modules,
Ultra-resistant, polycarbonate wall panelling,
Anti-corrosive, aluminium structure,
Made to measure
Easy installation
In stock
The
Majestic low pool enclosure
has been designed to efficiently protect your pool against intrusions and weather conditions. Discreet, with two straight wall panels, integrating perfectly into the pool environment whilst keeping a clear view towards the outside. Made to measure, the
Majestic
low pool enclosure adapts to all pools. Its quality construction materials unite insulation, robustness and esthetic.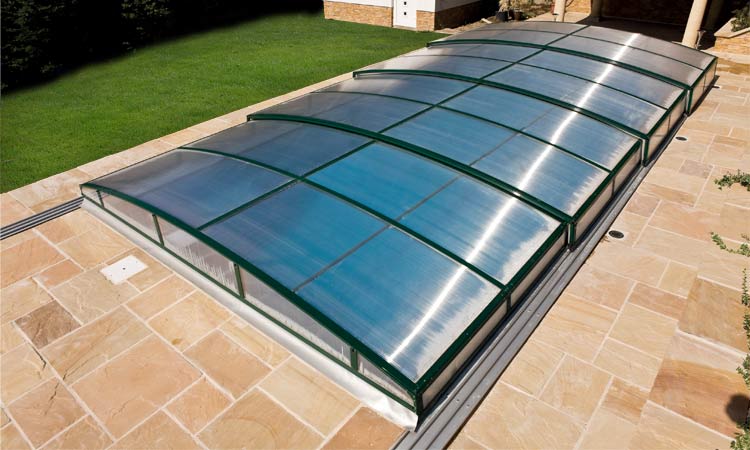 The advantages of the Majestic low pool enclosure for your pool
• The swimming season is longer: The insulating materials used for the
Majestic low pool enclosure
conserves heat in an optimal manner.
You enjoy your pool for longer, even in the case of bad weather.
The
Majestic
low pool enclosure limits heat loss caused by cooler weather.
If you have a
Pool heat pumps
, you can swim practically all year round, whilst lowering your heating costs.
• User-friendly, easily put into place and retracted.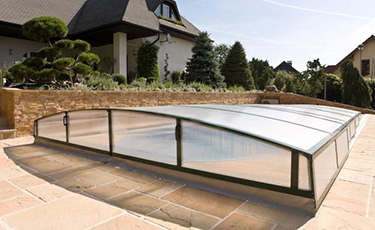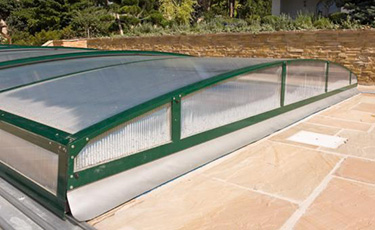 • Your pool is protected all year round : The Majestic low enclosure offers maximum protection in the case of wind, rain or snow. Robust and resistant in the long term to outdoor aggressions (such as rain, hail and wind).

• The Majestic low pool enclosure limits intrusions into the pool (animals, leaves, debris, dirt and pollution), whilst preserving water quality.
Water is less subject to impurities and pH variations often caused by rainwater.
The maintenance of your pool is simplified and requires less chemical treatment.

Its compact shape keeps a clear view towards your outdoor area. The Majestic low pool enclosure, discreet and esthetic in design, is available in a large choice of colours.
Operation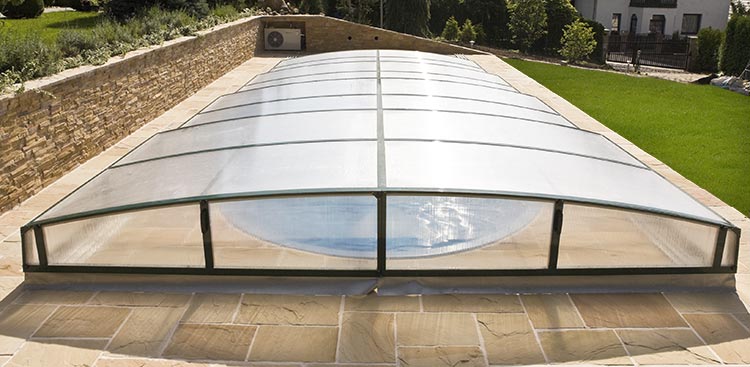 The
Majestic low pool enclosure
is made to measure and is compiled of pre-assembled, ready to install modules. The number of modules varies in relation to the length of your pool. The shelter is telescopic, the modules can be "stacked" one on the other, meaning you can cover or uncover your pool as you desire.
The Majestic low pool enclosure uses a guiding system that operates on two rails, one on either side of the pool. These rails offer optimised solidity and good wind resistance.

The rail system of the Majestic enclose provide numerous advantages :

Stain protection: Gliding wheels ensure the modules slide without obstruction.

Double guideway : The modules of the enclosure slide from the rear and front of the structure, to cover or uncover your pool as you wish.

Bearings : Each module is equipped with ABS wheels mounted on bearings. This system does not require maintenance and is solid, perfectly resisting to weather conditions.

Latch system : The latch system means you can link one or several modules together.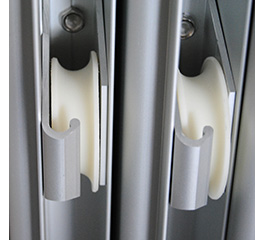 On Option :
Rail extension kit :
To totally uncover your pool, a rail extension kit is available on request. By using this kit you can totally slide you enclose over your pool limit, so your pool water is completely uncovered.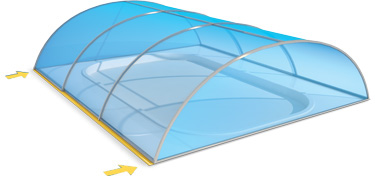 Enclosure without rail extension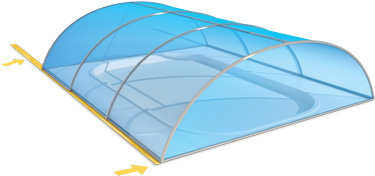 Enclosure with rail extension
The security rail:
For further comfort and security, opt for this type of flat rail, limiting the risk of falling or injury.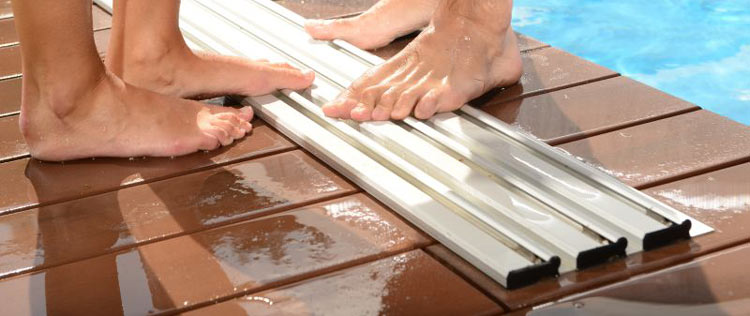 Security rails : On option
Construction materials
Wall panels :
The wall panels of the
Majestic low pool enclosure
are made from polycarbonate, ultra-resistant to weather conditions. Polycarbonate guarantees excellent thermal insulation, limiting heat loss and preserving your swimming season.
The polycarbonate used benefits from an anti-UV treatment, limiting the development of algae and the discolouring of the pool liner due to sun exposure.
Light in weight and so, easily manipulated.
On option :
The Majestic wall panels are equally available in plexiglass. Offering excellent resistance to UV, scratching and chemical water treatment.
The structure:
The modules of the
Majestic pool enclosure
are supported by a non-corrosive, easily maintained structure that has good resistance to chemical treatment products. Equally supporting cold and warm temperatures, even in extreme conditions. Light in weight, the structure is easily handled during operation.
For optimal solidity, two lateral reinforcement bars are positioned to support the angles and wall panels.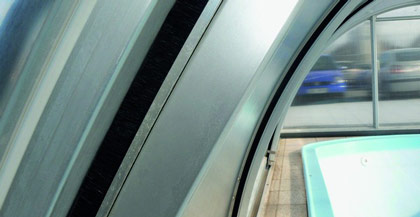 To guarantee optimal insulation, the Majestic enclosure features polyamide brushes on ground level and between the modules as well as an elastomer bib on the front panel
By using these quality, insulating materials, with the Majestic, the swimming season is possible all year round, if you have a heating system for your pool.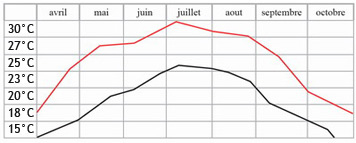 To perfectly integrate into your pool environment, the polycarbonate wall surround is available in several colours : Translucid (standard version), Smoked, Green, White, Midnight Blue and Sky Blue.

Available colours of polycarbonate as listed above
3 Colours are equally available for the shelter's structure :
| | | |
| --- | --- | --- |
| Aluminium | Anthracite (on option) | Bronze (on option) |
| | | |
Pool access
The
Majestic
gives the choice of two front panel openings that can be locked by key.
To unlock this type of door, a two-handed action is required to ensure security.
This procedure implies the presence of an adult, limiting child access to the pool.

1- Sliding door on front panel
2- Sliding door with rail
The low Majestic features removable front and back panels : 3 tightening screws allow these panels to be removed and replaced easily in order to create an opening to the front or rear of the enclosure.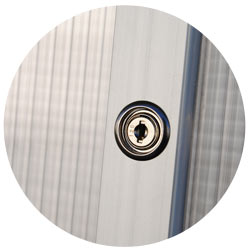 Key lock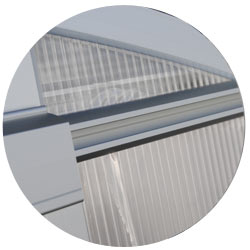 Door rail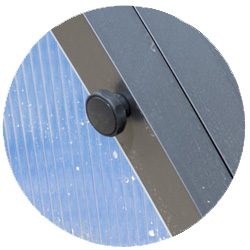 Front panel tightening screw
Technical features
Structure and rails
Aluminium finish. Other colours available on option : anthracite or bronze.
Section dimensions
40 x 60 mm
Surface treatment
Anodized aluminium
Wall panel
Polycarbonate 10 mm in depth, with two-sided anti-UV treatment.
Available colours of polycarbonate
Translucid (standard). Other colours available on option : Smoked, Green, White, Midnight Blue and Sky Blue
Wheels
ABS mounted on bearings
Water treatment
This enclosure is compatible with all water treatment systems
Dimensions
Inner width (in m)
Central height (in m)
| | | |
| --- | --- | --- |
| Total length (in m) | Number of modules | Width of rails (on both sides of pool) |
| 4,2 | 2 | 14,5 cm |
| 6,3 | 3 | 21,5 cm |
| 8,4 | 4 | 28 cm |
| 10,5 | 5 | 35 cm |
| 12,6 | 6 | 41,5 cm |
| 14,7 | 7 | 48 cm |
| 16,8 | 8 | 55 cm |
Majestic pool enclosure : Available options
- Modification of structure colour (bronze or anthracite)
- Modification of wall panel polycarbonate colour
- Plexiglas front and back panel
- Additional reinforcing bar
- Additional key lock module
The range of Majestic enclosures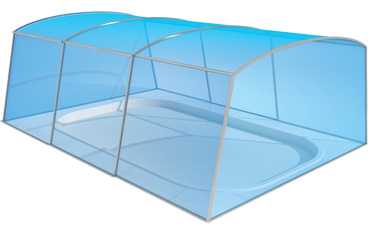 Majestic High pool enclosure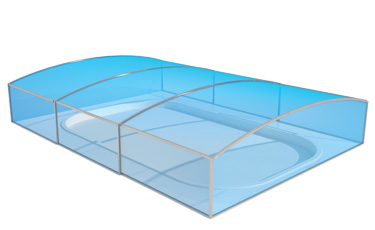 Majestic low pool enclosure
Warranty
2 years
Photos non-contractual
Price incl. VAT
Ask for a free quote majestic low pool enclosure
Other product : MAJESTIC low pool enclosure
At best price 3390 eur Including VAT.
Please fill in this form carefully. Our commercial service will handle your request promptly.
---
UK freephone hotline
Monday Friday 9.00 19.00, Saturday 10.00 18.00

---