CELESTE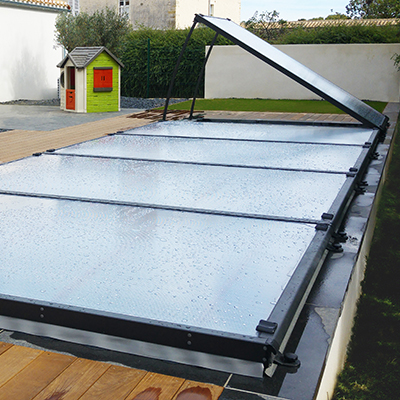 Recommended retail price 2022 starting from :
Our Price starting from :
Ref. 023731
Celeste flat pool enclosure 648x330cm in anthracite
Flat pool enclosure self-assembly kit,
Discreet and easy to assemble,
Pool water naturally heated all year round,
Offers maximum security and pool protection
Conform to norm NF P90-309
In stock
Flat, movable pool enclosure for pool's measuring between
3.00 x 3.00 m and 5.30 x 10.50 m
maximum.
| | | |
| --- | --- | --- |
| Inner pool dimensions | Outer dimensions of enclosure | Price incl VAT* |
| 6 m x 3 m | 6,48 m x 3,30 m | 7440€ incl VAT |
| 8 m x 4 m | 8,64 m x 4,30 m | 8880€ incl VAT |
| 10 m x 5 m | 10,80 m x 5,30 m | 9960€ incl VAT |
* Above price indicates departure from manuafacturer
2 persons are required to reception delivery
Other dimensions are available, contact us today free of charge

CELESTE flat pool enclosure in detail
This enclosure is ideal for residential pool owners who wish to equip their pool with a discreet, flat pool enclosure which offers a lengthened swimming season and total security.
Discreet and elegant, the Celeste adapts to all pool configurations as its design is made to measure.
Sunrays are captured and redistributed during the coolest periods of the day or season. Pool water is heated faster and more easily.
Conforming to the norm NF P 90-309, the
CELESTE flat pool enclosure
guarantees pool inaccessibility when not in use using the featured key lock. This avoids a falling risk to animals, children etc.
Your pool water quality is protected, facilitating maintenance and management throughout the year. All outside pollution of dirt and debris (vegetation, insects, pollen...) is stopped from penetrating your pool water because of this enclosure's perfect insulation.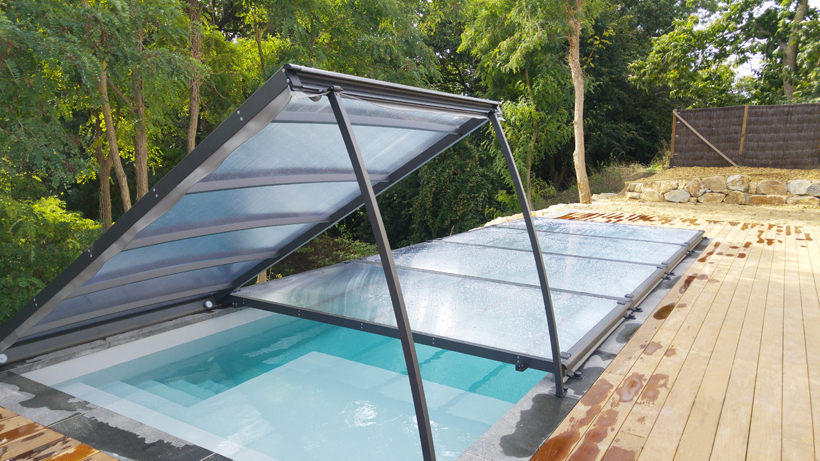 Advantages

The most discreet pool enclosure on the market
Enjoy the discretion of a pool cover coupled with the full advantages of a low pool enclosure. Anthracite grey in colour and quality finish allow this enclosure to fit perfectly into your pool environment.

Pool enclosure without rails
No rails are required to open or close this enclosure's modules. This system has the advantage of avoiding the accumulation of dirt, such as leaves, debris, dust...) inside the rail.

Easy to use
The modules which compose the enclosure are manually superposed
on ending sections to ensure maximal insulation. Their structure is slightly curved to optimise rainwater evacuation.

Even better
Made in France and guaranteed for 2 years. The enclosures structure, made from polycarbonate and aluminium benefits from a 10-year guarantee for total peace of mind.
Prolongs your swimming season
This insulation gains 6 to 8 degrees in temperature, allowing you to swim for longer, more often:
- Early morning or evening when the ambient temperature is cooler, as water keeps the calories accumulated during the day.
- All year round using the heat provided by the sun's rays.

The black curve depicts water temperature without the use of a pool enclosure. The red curve depicts water temperature without the use of a pool enclosure.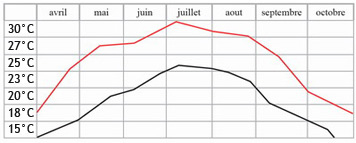 Adapted to all pool configurations
The
CELESTE
pool enclosure is composed of independent modules that can be raised and lowered.
Each module measures 2.16m in width but made to measure adaptations are available in width and length to reply to specific needs, such as stairs at the end of a pool.
A pair of 1.80 m opening struts complete with blocking system equips each module.
Important : If your pool uses coping it is important to install the CELESTE so that there is no more than 4cm in height of coping towards the inside of the enclosure.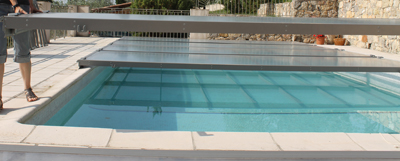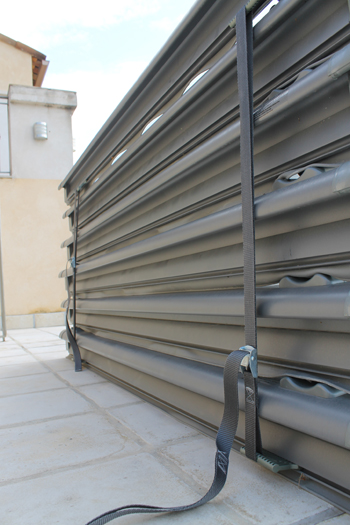 Easy to use and install
This enclosure has been designed for easy installation by 2 persons in approx 6 hours.
Required material

- automatic screwdriver
- hammer drill
- 5mm allen key
- measuring tape
- mallet (wooden or plastic)
- cutter
- 10 and 12 mm concrete drill bit
- 10 mm wooden drill bit
- 12 mm milling cutter for wood

Supplied material

- hardware
- rawlplugs
- stoppers
- joinery concealers
- connecting profiles
- connection parts required for the assembly of larger sections
- locking wheels
- key lock
- strap kit to secure modules when stacked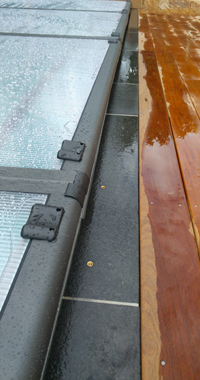 Our advice: place a cover or other protective element on the ground surface when working to avoid friction damage.
A system which guarantees optimised security
Conform to the norm NF P 90-309, the
CELESTE pool enclosure
features a key lock. To access the pool water, the enclosure's locking wheels must be released. One is locked by key.
The modules are manually lifted using the supplied supporting struts.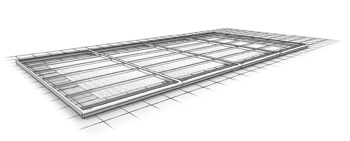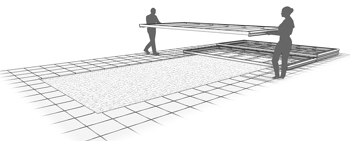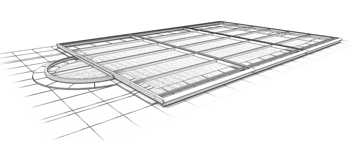 Modules are lifted and moved using the integrated handles inside the enclosure. The profile design allows ergonomic handling, adapted to all users.
All manipulation can be carried out without the risk of sharp or cutting edges.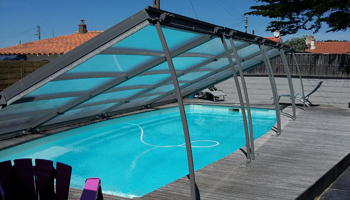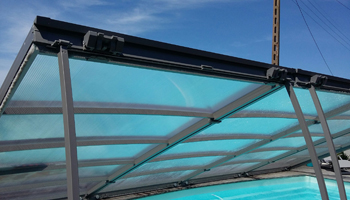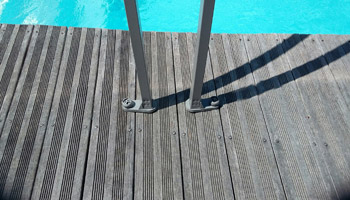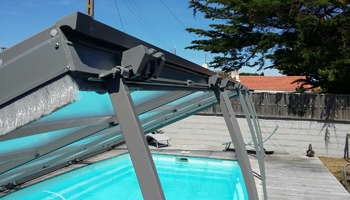 Technical features
Structure material
Thermolaquered aluminium
Structure colour
Anthracite grey (ral 9007)
Panel material
8mm multi-walled polycarbonate
Guiding system
Nylon wheels on ground level
Available options
Stair extension at pool end)
Packing and transport
Delivered as kit, à minimum of 2 persons are required to reception of material
Warranty
2 years
Photos non-contractual
Price incl. VAT