Pool equipment

Counter current units

Jet Strem Aquajet 100
Jet Strem Aquajet 100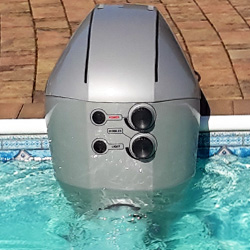 Recommended retail price 2023 :
Our Price :
Ref. Abatik 020898
Ref. Provider 3BTE0423
Jet Strem Aquajet 100 counter current unit
Monobloc system for inground residential pools.
Pump flow adjustable between 60 and 100 m³/h,
7 coloured integrated LEDs,
Easy to use and install,
No hydraulic connection required
In stock
Without modification to your hydraulic circuit, the Jet Strem Aquajet 100 transforms your pool into a mini aqua-center.
Innovating, this counter current unit features an adjustable flow pump, ranging from 60 to 100 m³/h.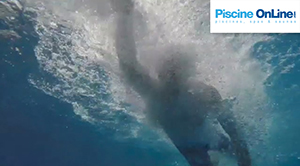 YouTube conditions the playback of its videos on the deposit of tracers in order to offer you targeted advertising based on your browsing.
By clicking on "I authorize" the plotters will be deposited and you will be able to view the video. You have the option of withdrawing your consent at any time.

For more information, visit the YouTube cookies policy
.
By using the adjustable flow pump, you use the jet you need to attain your objectives and desires :
- Intensive swimming : Performance gain, muscular and cardiovascular reinforcement
- Leisure, aqua games
- Hydro relaxation and massage : Evacuation of tension, draining, pain relief
Specifically designed for
in ground pools
, this
counter current unit
does not require installation work. The
Jet Strem Aquajet 100
comes in an independent,
monobloc
form. The units self-contained pump indicates that no modification is needed to the hydraulic circuit. Installation is easy - just an anchoring plug is required on the pool edge.
The
Jet Strem Aquajet counter current unit
features multicoloured, immersed LEDS that can be adjusted from the pool.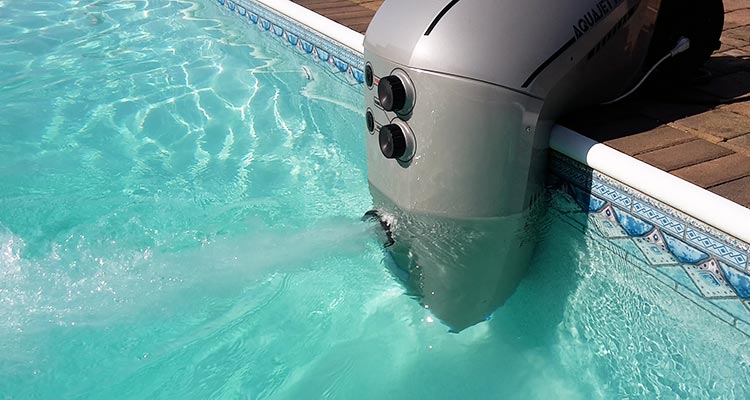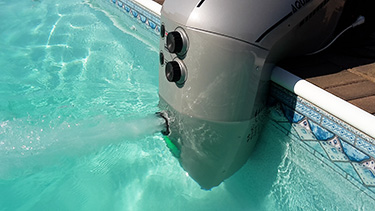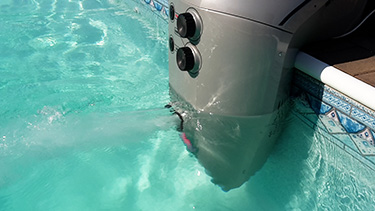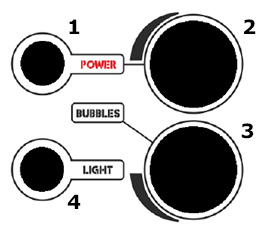 Easy to use
The
Jet Strem Aquajet 100 counter current unit
can be controlled by the user whilst in the pool. The power switch, stop button, intensity of jets and lighting can be adjusted depending on your wishes at any time :
1)
Start/stop button of the counter current unit
2)
Intensity dial of the counter current unit
4)
Star/stop/lighting control button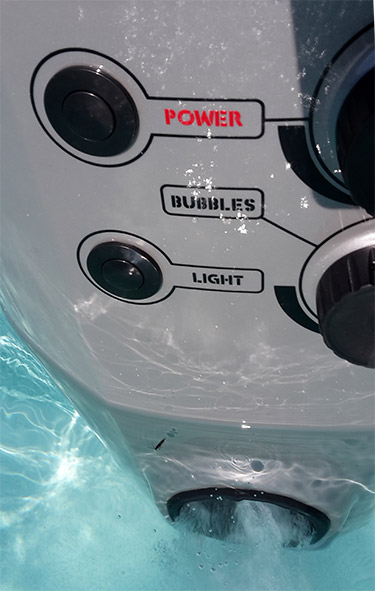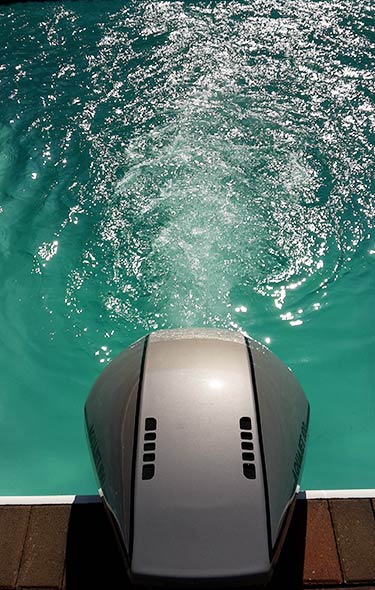 Technical details
Pump flow
Adjustable from 60 to 100 m³/h
Power consumption of pump
1,1 kW
On/off switch for water jet
Pneumatique
On/off switch for lighting
Pneumatique
Atmospheric lighting
Yes, 7 LEDs
Packing
145 x 70 x 77 cm, approx 37kg
Security
The power supply of the
Jet Strem Aquajet 100
must conform to the norm C15-100 and be situated at a minimum distance of 3,50 meter from the pool.
The unit is protected by a magnesiothermic trip switch, suspending activity in the case of overheating
To guarantee correct operation of your equipment in total security, the water temperature should not be greater than 35°.
Dimensions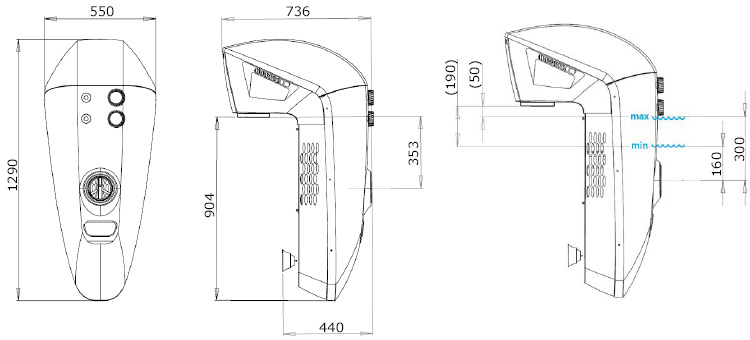 Warranty
2 years
Photos non-contractual
Price incl. VAT
Ask for a free quote jet strem aquajet 100
Other product : Jet Strem Aquajet 100
At best price 3010 eur Including VAT.
Please fill in this form carefully. Our commercial service will handle your request promptly.
---
UK freephone hotline
Monday Friday 9.00 19.00, Saturday 10.00 18.00

---