Spas

Accessories for spas

Acti Spa Box Bromine treatment for spas
Acti Spa Box Bromine treatment for spas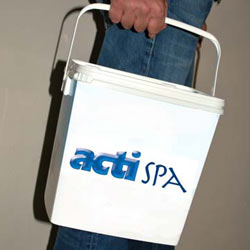 Recommended retail price 2023 :
Our Price :
Ref. Abatik 008763
Ref. Provider 334453100
Acti Spa Box Bromine treatment
Complete treatment for your bromine spa treatment in one box.
Contains: Bromine Spa shock, Bromine Long Spa, Spa sparkle, Waterline Cleaner, 1 Aquacheck bromine tester.
In stock
Complete kit to ensure the everyday water treatment of your spa.
Includes :
- ACTI Bromine Spa shock, 1 kg
- ACTI Bromine Long release Spa, 1 kg
- ACTI Spa sparkle 1 L
- ACTI Waterline Cleaner 1 L
- 1 Aquacheck red bromine tester
- 1 spa treatment guide
Photos non-contractual
Price incl. VAT
Ask for a free quote acti spa box bromine treatment for spas
Other product : Acti Spa Box Bromine treatment for spas
At best price 131 eur Including VAT.
Please fill in this form carefully. Our commercial service will handle your request promptly.
---
UK freephone hotline
Monday Friday 9.00 19.00, Saturday 10.00 18.00

---