Saunas and accessories

Sauna accessories

Harvia stones for sauna stove
Harvia stones for sauna stove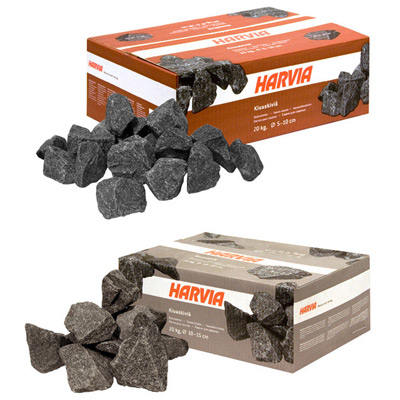 Recommended retail price 2023 starting from :
Our Price starting from :
Ref. Abatik 008309
Ref. Provider AC3000
Sauna stones calibrated to 10cm 20 Kg box
20kg pack of volcanic sauna stones to power your stove
Calibrated to Ø5-10cm or Ø10-15cm
In stock
Harvia sauna stones have been specifically developed to recreate the atmosphere of a traditional Finnish sauna.
Volcanic stones are used to produce steam when in contact with water to raise the humidity level present in the sauna.
Only split face sauna stones are adapted for use with electric and wood burning stoves : they collect and store an important amount of heat. The split face of the stone creates a greater surface area providing better water evaporation.
The fact that split faced stones are angled indicates air passes through the hearth of the stove, which is particularly useful in the case of electric stoves as circulating air heats between the stones, the sauna heating elements and the sauna's atmosphere.
Correct air circulation also lengthens the lifespan of the electric heating resistances.
Harvia sauna stoves are made from Diabase and contain traces of olivine. Once ignited, this mineral stone offers better rendering than ceramic or saponite smooth stones, that can often be a cause of problems with electrical stoves.
Harvia stones are available in 2 dimensions :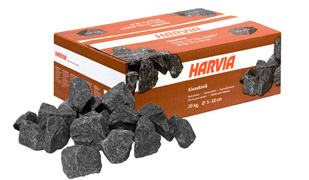 Stones calibrated between 50 and 100 mm suitable for wall mounted stoves with a low capacity.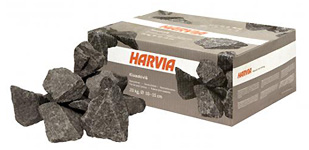 For larger saunas (between 100 and 150 mm) for larger capacity stoves, electric and wood burning
Photos non-contractual
Price incl. VAT
Ask for a free quote harvia stones for sauna stove
Other product : Harvia stones for sauna stove
Starting from 39 eur Including VAT.
Please fill in this form carefully. Our commercial service will handle your request promptly.
---
UK freephone hotline
Monday Friday 9.00 19.00, Saturday 10.00 18.00

---