Material and equipment for your technical shelter

Filtration pumps for pools

Pump for Solubloc filtration block compatible with Desjoyaux®
Pump for Solubloc filtration block compatible with Desjoyaux®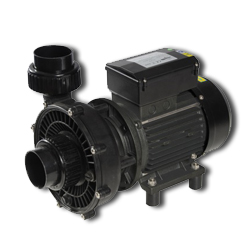 Recommended retail price 2023 starting from :
Our Price starting from :
Ref. Abatik 021213
Ref. Provider 600902
Pump for filtration block compatible with Desjoyaux Solubloc 10 single-phase
Pump for filtration blocks with 0.4 and 1.1 kW
Compatible with Desjoyaux® filtration blocks,
Resistant to high temperatures (up to 65°C) and poorly ventilated areas,
Without pre-filter, ideal replacement for your pump
In stock
The Solubloc pump from ACIS® Has been designed to equip your pool filtration block.

Compatible with Desjoyaux® filtration blocks, the Solubloc pump replaces single speed pumps. The use of these pumps as a replacement does not require an adaptation to the existing electrical or plumbing system.

Integrating a specific motor, offering resistance to high-level temperatures up to 65°, contrary to traditional motors that cannot be operational over 35/40°C.


Resistance to high temperatures


This characteristic allows the Solubloc pump to operate:

- In poorly ventilated filtration blocks
- In filtration blocks which are exposed to direct sunlight and strong heat during the summer months
- In underground technical shelters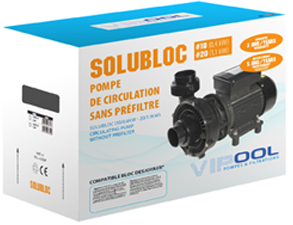 The Solubloc range of pumps offers two models, so the capacity is adapted to the volume of your pool water: 0.4 and 1,1 kW
Technical characteristics
| | | |
| --- | --- | --- |
| Model | Solubloc 10 | Solubloc 20 |
| Capacity | 400 W | 1000 W |
| Voltage | 230V/50 Hz | 230V/50 Hz |
| Desjoyaux® comatability | Filtration block P18 | Filtration block P25 |
Guarantee:
3 years on the pump, 5 years on the motor (excluding bearing and condensors)
Performance chart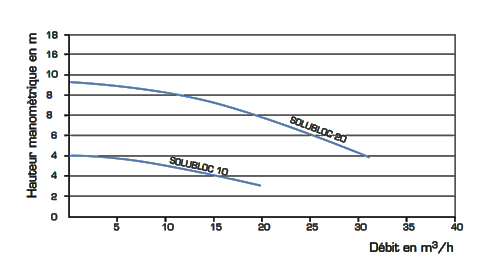 Dimensions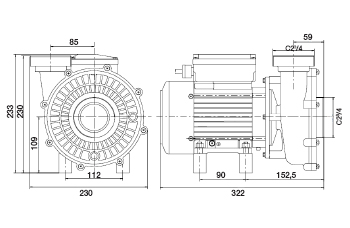 Dimensions of pump - Solubloc 10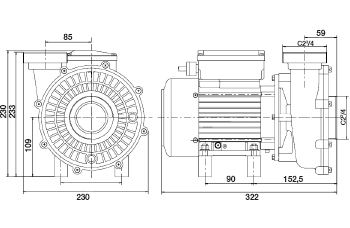 Dimensions of pump - Solubloc 20
Note:
The brand DESJOYAUX® belongs to a third party. This brand name is used solely to inform the Client of the compatibility of the pump PHT with this brand name and referent product, being the «Desjoyaux® filtration block». In no way is it suggested that the products described above are identical to the product and installation of the aforementioned brand name, or that there is a relationship between ACIS - the manufacturer of the PHT pump and owner of this brand. In the quality of pump manufacturer, ACIS guarantees that a replacement installed following perfectly the given installation instructions does not affect original performances of the material.
Warranty
3 years, 5 years on motor (excepting bearings and condensers)
Photos non-contractual
Price incl. VAT
Ask for a free quote pump for solubloc filtration block compatible with desjoyaux®
Other product : Pump for Solubloc filtration block compatible with Desjoyaux®
Starting from 616 eur Including VAT.
Please fill in this form carefully. Our commercial service will handle your request promptly.
---
UK freephone hotline
Monday Friday 9.00 19.00, Saturday 10.00 18.00

---