SeaMAID stainless steel LED lighting post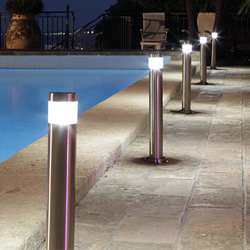 Recommended retail price 2023 starting from :
Our Price starting from :
Ref. Abatik 019164
Ref. Provider 501016
Seamaid stainless steel lighting post white 18 LED 3 watts
Outdoor lighting esthetic and high performance,
Adapts to pool borders, terraces, walkways and gardens,
Low consumption LED bulb,
Does not overheat,
Without danger or risk of glare,
Easy to install (hard or soft ground surface),
Installation stake supplied
In stock
The
SeaMAID lighting post
is attractive by its pure esthetic coupled with its solidity. Dependable and resistant, performant and economic lighting in an optimal manner your pool border to your garden. The post in easy to install on a supplied positioning stake. This type of
outdoor lighting source
can be installed with a specific distribution box or can be added in complement to your pool existing lighting system. The SeaMAID lighting post uses a LED bulb. An economic solution for your
outdoor lighting system.

Fast installation - the SeaMaid lighting post
The
SeaMAID lighting post
has been designed to adapt to your needs. Delivered with an installation stake, you can install the unit on a hard or soft ground surface, fitting perfectly into your pool or garden environment. The electrical connection offers two options : Your SeaMAID lighting post operates on 12 V. You can connect to the electrical distribution box of your pool without a problem. If you do not have an electrical distribution box available, go for the specifically designed SeaMAID radio module to command your
SeaMAID lighting post.
The SeaMAID lighting post is oriented towards automation operation and on option includes its equipment to command at a distance . A radio command module enables you to pilot your lighting at a distance, meaning you can manipulate one or several lighting posts without manipulating the electrical installation. To do so, you just need to simply fit a switch onto your power supply.

The SeaMAID radio module is based on a secure radio signal system with a choice of 1 or 4 channels. The remote control has a good range so you can control your lighting system at a distance easily and efficiently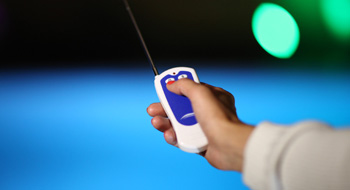 The SeaMAID lighting post : Optimise your outdoor lighting
The
SeaMAID lighting post
resolves pertinently your
outdoor lighting system
. Equipped with a LED bulb, ensuring a quality source of light for your pool surroundings, walkways or garden. Once lit, your
SeaMAID lighting post
instantly reaches its lighting potential, giving an optimal beam immediately. Using a reflector, your
SeaMAID lighting post
throws off an intense light in a homogeneous manner. High-performance, the lighting post has a long lifespan. A
LED bulb
has a superior lifespan than an incandescent bulb. You can, therefore, enjoy
your outdoor lighting
longer.
Featuring a
streamlined look
your
SeaMAID lighting post
integrates perfectly into your landscape design, giving a modern touch to your outdoors. Available with white or multicolor, SeaMAID lighting posts help to create a relaxing and warm atmosphere.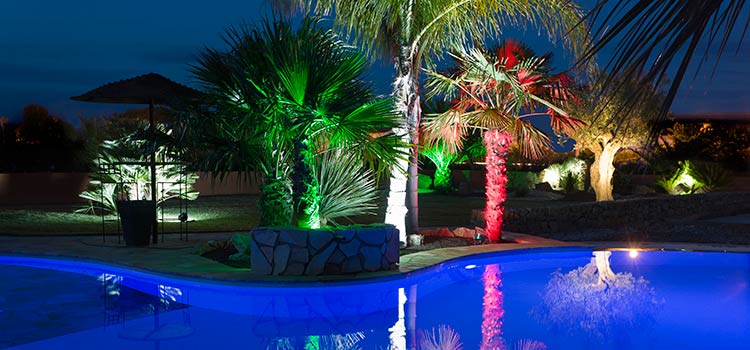 Durable and resistant lighting
Your SeaMaid lighting post has been designed from stainless steel 316L, offering optimal resistance. SeaMaid is not subject to oxidation or corrosion and can withstand climatical variations without difficulty all year through. Its construction materials constitute a long lifespan.
The LED bulb of your SeaMAID lighting post constitutes high-resistance properties. Its LED bulb boasts an advantage towards shocks. You can enjoy your outdoor lighting for longer with your SeaMAID lighting post.

Likewise, if you choose the radio control module, its components are protected from climatical variations and its box is waterproof.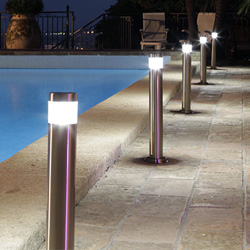 An economic lighting solution using LED technology
As well as proving efficiency your
SeaMAID lighting post
means you can make economies. The LED bulb proves an excellent energetic performance, offering great value for money. Choosing a
SeaMAID lighting post
, you economise energy and money. The choice of LED lighting is also environmentally friendly. Reducing consumption, therefore, your carbon footprint. LED bulbs do not contain mercury and can be recycled.

Technical features
| | | |
| --- | --- | --- |
| _ | White SeaMAID lighting post | RGB Multicoloured SeaMAID lighting post |
| Reférence | 019164 | 019165 |
| Number of LED | 18 | 18 |
| Lighting programmes | 1 static colour | 11 static colours, 5 sequences |
| Capacity luminous flux | 220 lumens +/- 10% | 90 lumens +/- 10% |
| Power supply | 12v/50 / 60 Hz | 12v/50 / 60 Hz |
| Height | 74 cm | 74 cm |
| Installation stake | Yes | Yes |
| Distance commande | On option | On option |
| Movement dectection | No | No |
Warranty
2 years
Photos non-contractual
Price incl. VAT
Ask for a free quote seamaid stainless steel led lighting post
Other product : SeaMAID stainless steel LED lighting post
Starting from 129 eur Including VAT.
Please fill in this form carefully. Our commercial service will handle your request promptly.
---
UK freephone hotline
Monday Friday 9.00 19.00, Saturday 10.00 18.00

---