Material and equipment for your technical shelter

Pool filters

WATERCO MULTICYCLONE PLUS cartridge filter
WATERCO MULTICYCLONE PLUS cartridge filter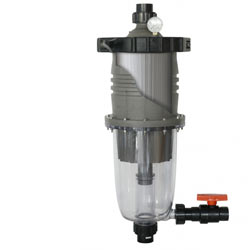 Recommended retail price 2023 starting from :
Our Price starting from :
Ref. Abatik 012442
Ref. Provider 200380
WATERCO MULTICYCLONE plus MC12- 50mm cartridge filter
The MULTICYCLONE PLUS cartridge filter combines centrifugal and cartridge filtration in one sole tank, creating an efficient and ultra compact filter system.
2 step filtering
Water enters by my multiple hydro cyclones, creating a powerful centrifuge effect. Approximately 80% of impurities descend in a spiral towards the filters transparent sediment tray.
At the outlet of the sediment tray, water is clarified one last time by the passage through the filters integrated cartridge filter, producing crystalline water.
Reinforced filtering capacity
The centrifugal filter of the Multicyclone plus filters up to 80% of impurities that enter the system before even reaching the filter cartridge. This amplifies up to 5 times the capacity of the filter cartridge.
The filtering capacity of the Multicyclone plus is equivalent to a filtering cartridge of 18.6m² or a sand filter of 600mm.
Easy maintenance
Cleaning the sediment tray of the Multicyclone is easily effectuated by opening the purge valve.
This emptying cycle uses only 15 litres of water.
Ultra compact filtering
The simplicity of Multicyclone plus centrifugal cartridge filter allows the system to be installed in a vertical position, reducing the required installation area.
Minimum pipework reduces global pressure loss on the filtration system as a whole.
Multicyclone plus can alternatively be installed beside a pump using the base available on option.

Pressure loss chart
Details of the MULTICYCLONE PLUS centrifugal cartridge filter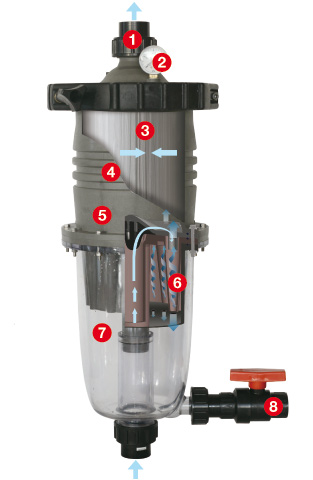 1- Multicyclone filter outlet 1"1/2 or 2" fast connections (depending on model)
2- Pressure gauge
3- Corrugated filter cartridge 3.7 m² offering filter surface
4- Thermoplastic, glass-fiber reinforced tank
5- Hydrodynamic design for better water circulation
6- Hydrocyclone
7- Transparent polycarbonate sediment tank
8- 1" purge valve
Technical details
| | | | | | | | |
| --- | --- | --- | --- | --- | --- | --- | --- |
| Model | Hydrocyclones | Pipework diameter | Minimum water flow (m³/h) | Maximum water flow (m³/h) | Filtration surface | Maximum volume of water | Maximum pressure |
| Multicyclone MC 12 | 12 | 1" 1/2 - 50 mm | 2.4 | 9 | 3.7m² | 55m³ | 350kPa (50psi) |
| Multicyclone MC 16 | 16 | 2" - 63 mm | 3 | 13.5 | 3.7m² | 80m³ | 350kPa (50psi) |
Dimensions of MULTICYLONE PLUS cartridge filter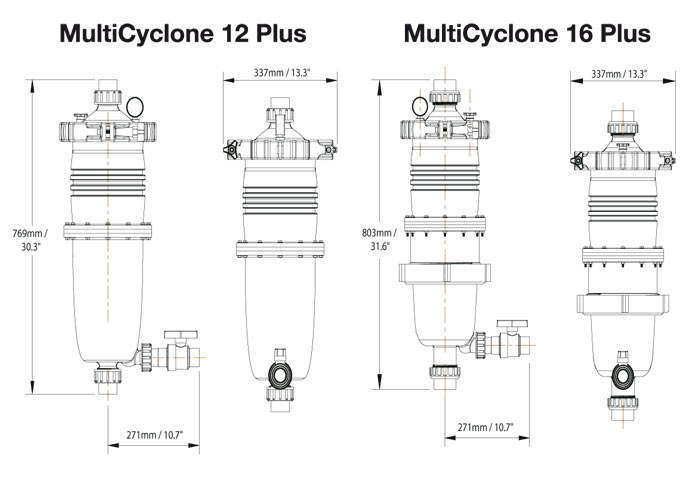 Multicyclone Plus installation options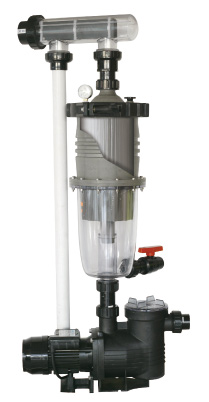 Installation on pump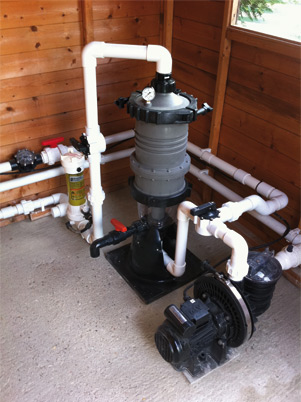 Installation on base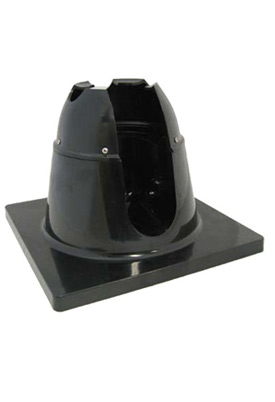 Supporting base
Guarantee:
2 years on parts
Photos non-contractual
Price incl. VAT
Ask for a free quote waterco multicyclone plus cartridge filter
Other product : WATERCO MULTICYCLONE PLUS cartridge filter
Starting from 599 eur Including VAT.
Please fill in this form carefully. Our commercial service will handle your request promptly.
---
UK freephone hotline
Monday Friday 9.00 19.00, Saturday 10.00 18.00

---