How do I order with swimming pool online?
Select your products
1 - Choose the products that you want to buy.
- Click on a product range via the main menu bar at the top of the page, or by clicking directly on one of the products on our home page (new, promotional or star products…)
or
- Use the research motor to find the product you want.
2 - Add to your basket
To put a product in your basket, browse through our pages and click on order.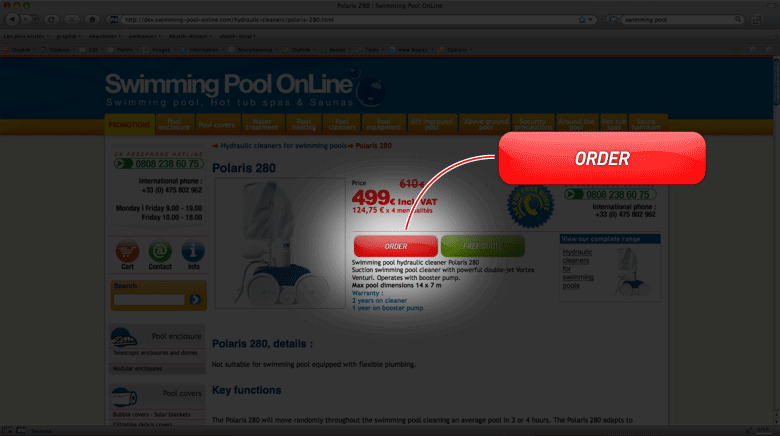 3 - Continue shopping
You can
add to your basket
by clicking on "continue shopping". To return to your basket, click on the basket symbol at the top right-hand corner of your screen.
4 - Edit my basket
You can also
edit your basket
at any time using the symbol at the top right-hand corner of your screen:
* Edit the quantity of products,
* Delete a product.
Confirm your order
To confirm your order, return to your basket.
1 - Choose your payment method
Choose one of the four payment options.:
- Credit card,
- Paypal,
- Telephone,
- International bank transfer.
Easy and secure, just follow the instructions.
2 - Confirm our terms and conditions
Following confirmation, you will see a summary of your order. You can also send us a message at this stage.
3 - Confirmation
You will receive a
confirmation by e-mail
that recapitulates your order.
Need help? Have a question ?
Our commercial team is here for you : International Number + 33 (0)4 75 802 962 or UK freephone: 0808 238 60 75
Thank you for your confidence