Pool security material

Pool alarms, fall detection

AQUALARM V2
AQUALARM V2
AQUALARM V2 pool alarm in detail
Aqualarm V2 is
conform to the norm NF P90-307 1
.
This alarm permanently analyses movement in your pool water.
Regardless of maintenance equipment that may be in operation in your pool (cleaners, counter current units...) or weather conditions, this alarm's advanced technology can efficiently detect falls into your pool water, avoiding needless activation.
Easily installed on the pool coping, the Aqualarm V2 requires no adjustment or electrical power source.
The Aqualarm V2 features two operational modes: supervision and pool in use.
Aqualarm V2 does not require the use of a key or remote control, just type in the code to the keypad. When using the mode "pool in use", just press a button on the keypad to deactivate the siren. After pool use, the Aqualarm V2 automatically resets to ensure maximum security.
Aqualarm V2 features an anti-theft system. Any attempt of removal without the touchpad code will activate the alarm's siren.
Characteristics
Maximum dimensions of pool
10 x 5 m
Anti-theft system
Integrated
Restart
Automatic, Following pool use
Waterproof electronic bloc
Yes
Low energy consumption
Yes
Power supply
4 standard alkaline batteries LR20 1.5 V (supplied)
System indicators
(batteries, liaison, radio, etc.) indicated by light and audio signals
2 integrated sirens
115 dB
Compatible pools
The vast majority of pools
Casing bloc
UV and shock resistant
Dimensions
25,5 x 25,5 x 6,5 cm

Available on option - unit reporting
Unit reporting allows, at a distance :

• Alert signal :
in the case of a detected fall, the siren is activated and heard at a distance.
• Default signals :
Eventual problems (low batteries, sensor default...) are reported.
• System management :
all operations can be managed at a distance or on the alarm panel (switch to swim mode ...)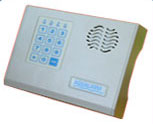 Characteristics of distance management unit :
• Secure multi-frequence radio liaison with alarm
• Tactile touchpad for system management
• Waterproof 115 dB siren
• Very low energy consumption technology
• Powered by LR20 standard alkaline batteries type LR20
• Indication of system status (activation, low batteries, radio liaison status ...) indicated by light and audio signals
• ABS with anti-UV and shock treatment
• Reduced dimensions 180x155x60mm
Warranty
2 years
Photos non-contractual
Price incl. VAT
Ask for a free quote aqualarm v2
Other product : AQUALARM V2
At best price 255 eur Including VAT.
Please fill in this form carefully. Our commercial service will handle your request promptly.
---
UK freephone hotline
Monday Friday 9.00 19.00, Saturday 10.00 18.00

---
Spare parts order
You are looking for a spare part for «AQUALARM V2» ?
Please click the button below. Our commercial service will handle your request promptly.